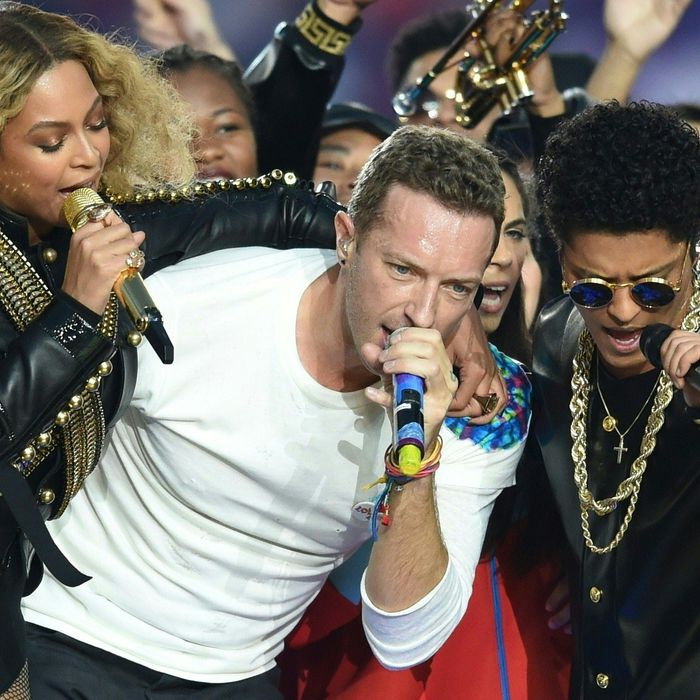 (L-R) Beyonce, Chris Martin and Bruno Mars perform during Super Bowl 50 between the Carolina Panthers and the Denver Broncos at Levi's Stadium in Santa Clara, California, on February 7, 2016. / AFP / TIMOTHY A. CLARY (Photo credit should read TIMOTHY A. CLARY/AFP/Getty Images)
Photo: TIMOTHY A. CLARY/AFP/Getty Images
I'm sure I'm not the only one for whom a question infinitely more pressing than "Broncos or Panthers?" was "Will she play it or won't she?" As everyone and your football-loving grandfather now knows, yesterday afternoon Beyoncé stopped the world and dropped the gloriously provocative, instantly iconic video for her new single, "Formation," the most explicitly political work she's released to date. The visuals are timely and stirring: A dancing, hoodie-clad black boy commands a line of riot-geared police officers to put their hands up; Beyoncé double-flips the bird in an image that makes me want Alejandro Jodorowsky to direct a remake of Gone With the Wind; and in the powerful final scene, Bey, proud daughter of the American South ("My daddy Alabama, my ma Louisiana"), sinks atop a cop car into Katrina's murky waters.
I was afraid she wouldn't play this song. That she'd take a more conservative route in the face of an organization that has banned or fined women of color for stepping out of line. I prepared myself for the disappointing possibility that she might just show up to do a cameo for that truly inexplicable Coldplay duet, do a few "Single Ladies" moves, and go collect her check. But now I must ask for forgiveness for doubting the Queen even for a second, because not only did she play "Formation," she fearlessly led a squad of women dressed as Black Panthers across the field at the goddamned Super Bowl, all while dressed like the democratically elected ruler of Rhythm Nation. New plan: If Trump gets elected, I'm not moving to Canada — I'm moving to Beyoncé's utopia.
This motley hodgepodge of a Pepsi-sponsored Super Bowl Halftime Show had a theme, senior-prom-style, and that theme was "Past, Present, and Future." Those three words do literally nothing to explain what Coldplay, Bruno Mars, and Beyoncé were doing on a stage together, save for throwing some gentle shade at Coldplay's tired old Sgt. Pepper–does–Mardi Gras aesthetic. But I'll go easy on the Fab Adequate Four, who took the stage first. The internet's inevitable deluge of Coldplay-snark felt excessive; their performance was spirited and benignly feel-good, even if I am not exactly seeking out a copy of Chris Martin's isolated vocal track. But the exuberant and anthemic quality of "Viva La Vida" worked in a context like this, and their disco-tinged recent single "Adventure of a Lifetime" suitably sustained the energy. Chris Martin seemed happy to be there and also seemed to be getting a great cardiovascular workout, complete with many squats. Were the children watching at home more scandalized by Janet Jackson's boob or M.I.A.'s middle finger than they were by almost seeing Chris Martin's butt crack? Only time will tell.
Then the preternaturally suave Bruno Mars came out in an expertly tailored Missy Elliott garbage bag and did a kind of B-Boy remix of "Uptown Funk." Was this supposed to represent "the Past"? Or was this "the Present," and considered an homage to the "this sick beat" part in Taylor Swift's "Shake It Off" video? (I kid!) This was the precise moment I stopped asking questions about the performance's theme, and also the precise moment I went back on my words that I would never tire of hearing "Uptown Funk."
Beyoncé's performance of "Formation" was a welcome gust of now-ness and relevance in a show so often bogged down with Greatest Hits montages and (see above) played-to-death radio smashes we never needed to hear again. Has anyone ever used the Super Bowl Halftime Show as a showcase for a song they released yesterday? The whole thing was a display of Beyoncé's unimpeachable confidence in her own cultural influence and artistic vision, and the contrast of Coldplay and Bruno Mars emphasized just how radical that vision really is. Would the show have been more entertaining and thematically coherent if Beyoncé had been given the whole 15 minutes? Of course. But something about the contrast between the performers and her casual domination of that shared stage actually asserted her singularity in the pop landscape more dramatically than she might have on her own. There it was, plain to see for 100 million people: Chris Martin is left shark. Bruno Mars is right shark. Beyoncé is the nucleus.
After "Formation," the performance inexplicably turned into an "In Memorium" montage set to the soaring strains of one of Coldplay's best songs, "Fix You." Sure, why not. Coldplay's music has a kind of one-size-fits-all grandeur about it, so this audiovisual pairing made as much sense as any. "Fix You" on the jukebox at 3 a.m.? If you insist. "Fix You" at your bar mitzvah? Not mad. But Coldplay's aural vagueness only served to put the precision of Beyoncé's message into harsher relief. Sure, in the midst of the nation's continued racial tensions, Coldplay's fuzzy message that everything will be okay if we just (hold your cards high, audience) "BELIEVE IN LOVE" might have struck some as tone-deaf and silly. But Beyoncé, on the other hand, didn't need to say it. Her song, her staging, her slaying delivered a harder-won message loud and clear.
As the crowd roared, we still did not get our answer to that other pressing question: "Yeah but why's she here again?" And then we did: An ad for her just-announced Formation World Tour ran in one of the televisual year's most sought-after commercial slots. You could almost see the ripple of lightbulbs going off across the globe: Beyoncé, that Black Bill Gates in the Making, basically just got paid to run an ad at the Super Bowl. It felt, elegantly, like an echo of that last line of "Formation": "Always stay gracious, best revenge is your paper."