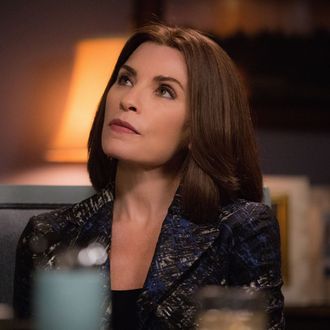 Bye, Alicia.
Photo: Paul Sarkis/CBS
What's been rumored for weeks — but not confirmed — is now a reality: The Good Wife will end its seven-season run on CBS this May. In a Super Bowl–size move, CBS broke the news to fans of the critically beloved Julianna Margulies drama during a surprise promotional spot, which aired Sunday evening during a break in the big game. Speculation that this could the final season of the show picked up last month, when Good Wife creators/showrunners Robert and Michelle King confirmed that they would be leaving once production on the current cycle of the show wrapped. And at an awards show a few weeks ago, Margulies added fuel to the fire by joking about her pending unemployment. But at January's semi-annual TV Critics Association press tour, CBS Entertainment president Glenn Geller told reporters in Los Angeles that, despite the Kings' pending departure, there was still a chance the show would return for an eighth season with new executive producers. Ultimately, after discussions with both the Kings and executive producer Ridley Scott, CBS and its partners decided to stick with the Kings' long-stated plan of ending The Good Wife in its seventh year. Over the weekend, Vulture began hearing rumblings that CBS was nearing a decision and asked the network whether it planned to announce the news during the Super Bowl. Publicity representatives for the company, however, declined comment.
The Good Wife has never been a Nielsen blockbuster, particularly on a network such as CBS, where dramas regularly attract more than 15 million viewers, but the series has become something of a crown jewel for the Tiffany network. It drew rave notices from critics, competed for Emmys and other awards, and did amazingly well with advertiser-coveted upscale viewers (i.e., people with money). And on a network with a slew of cop dramas like CBS, The Good Wife was one of only a few highly serialized hours. Just how much CBS values The Good Wife can be seen in how the network announced the news of its end. Most shows in TV are either canceled late on a Friday afternoon or find out their fate in early May, hours before networks decide which new series they're ordering for the following season. The Super Bowl promo spot was clearly meant to signal CBS's intention to treat the end of The Good Wife as a major event, not unlike the final season of Everybody Loves Raymond (which aired in 2005). And, in another sign of CBS's commitment to the Kings and their brand of television: The network has already ordered another show from the duo, political satire BrainDead. That series is currently scheduled to premiere this summer.
Update: CBS has followed up its promo with a press release confirming The Good Wife news and specifying that the finale will air May 8. The Kings issued a joint statement saying that the show was "the creative experience of a lifetime" and that collaborating with the show's cast and writers was "a dream." "We're looking forward to using this seventh season to bring Alicia's story to its natural conclusion," the duo wrote. "We couldn't be more excited and grateful." For her part, Margulies added via a statement that it has "been an absolute honor to be a part of a series that, throughout seven years, never settled on being just good — but always strived to be extraordinary. I have witnessed magic happen when Robert and Michelle King put pen to paper, and it has been a privilege to be in the company of their brilliance." Finally, Geller and CBS Television Studios president David Stapf issued a joint statement praising the show and arguing that it "will only grow in prestige as its episodes are watched again or discovered by new viewers for many years to come."