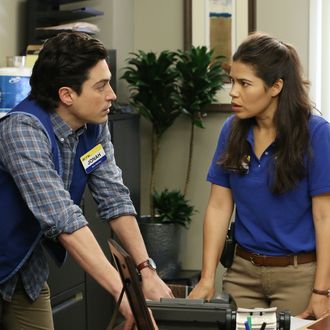 Discount on comedy! Great deal on seasons! Renewal in aisle two! Corporate jokes!
Photo: Michael Yarish/NBC
Good news for NBC sitcom lovers, Sisterhood of the Traveling Pants stans, and people hypnotized by Ben Feldman's hair: NBC has renewed Superstore for a second season. The comedy stars Feldman and America Ferrera as workers at a big box store and features the kind of bighearted corporate satire that defined some the network's best late-2000s comedies (see: The Office, 30 Rock). Justin Spitzer (The Office) created the series, which finished its 11-episode first season last night. Go catch up now!