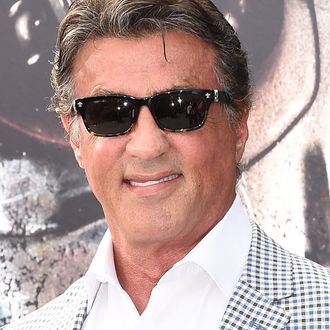 Sylvester Stallone.
Photo: Jason Merritt/2015 Getty Images
Sylvester Stallone might have forgotten to thank Michael B. Jordan and Ryan Coogler during his Golden Globe speech, but he gave his Creed co-star and helmer nothing but praise during a Monday Oscar nominee luncheon. The 69-year-old actor revealed he even considered boycotting the Academy Awards out of respect for them, despite the fact that his return as Rocky Balboa has netted him his first Oscar shot in nearly 40 years. "I remember I spoke with Ryan Coogler when [the nominee fallout] happened," Stallone explained at the Beverly Hilton Hotel. "I said, 'Ryan how do you want to handle this? Because I really believe that you are responsible for me being here.' Michael Jordan, every time, I looked into his eyes as an actor, I said, 'He is making me better.' I think he should have been given a lot more respect and a lot more attention. And [Coogler] said, 'Just go there and try to represent the film. We feel you deserve it, but you know, eventually things will change.' I said, 'If you want me to go, I'll go, and if you don't, I won't.' And he said, 'No, I want you to go.' That's the kind of guy he is."
Amid the #OscarsSoWhite uproar, Stallone remains hopeful that the Academy's inclusion problem will change for the better — especially in light of the recently announced plans to rebuild a more diversified membership by 2020. "Certainly there is a universal law of existence that you either adapt to or cease to exist, so I think adaptation and evolving is definitely necessary," he said. "I do believe that anything can change. It's just a matter of time, and eventually all talent will rise to the top. It's just a matter of getting a new paragon, a new way of thinking, and it's going to happen. I really do owe everything to these two young men." Well said, Stallone.