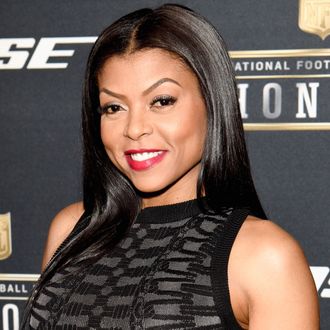 Never change.
Photo: Tim Mosenfelder/Getty Images
When you're sitting in a fancy suite way above all the action at the Super Bowl, a bunch of ant-size dudes in a band could be anyone. Who among us can really tell the difference between Jesse Carmichael and Guy Berryman? Be honest, do you even know who they are? Likely, no, and neither does Taraji P. Henson, who courageously posted what millions were too scared to own up to: She has no idea who Coldplay are. Chris Martin, Adam Levine — same person! In a since-deleted Instagram post, she accidentally referred to the Left Shark of this year's Super Bowl (a.k.a. Coldplay) as Maroon 5, brilliantly summing up the state of rock in one hilarious snafu. But let Taraji tell it, and this was the devil's work — that little red devil named Kool-Aid. ""So, I don't know if you know how it goes down in the suites," she explains. "They put a lot of drinks in there — Kool-Aid, lemonade, iced tea. I mixed it all, and I sat there, and I'm sitting with people who drank the Kool-Aid as well." No argument here.
But even before she fired off the Instagram ("YAAAAAAASSSSSS Maroon 5 is life to me!!!"), Henson did what everyone at your Super Bowl party did and asked all her other drunk friends who was onstage. She had a hunch it wasn't Maroon 5, but they all insisted it was, and who was she to doubt the Kool-Aid? It gets better: When she realized her post had caused internet outrage, she assumed, like any victim of the Beyhive would, that it was because she hadn't mentioned Beyoncé yet. "I [thought] they were mad because I didn't give all my eyes to Beyoncé, and I'm like, 'The Beyoncé post is coming!' Then I realized it was Coldplay." Not nearly as big a deal, obviously; Chris Martin knows when he's not wanted. In the end, Taraji only has Kool-Aid to blame for her error. Now, what's your excuse?