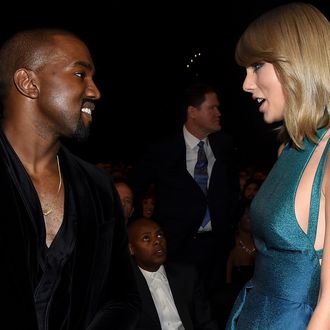 A conversation.
Photo: Larry Busacca/2015 Getty Images
We have a new contender for the most awkward phone call in history. Earlier tonight, TMZ reported that Kanye West called Taylor Swift in advance of the release of The Life of Pablo to give her fair warning about that lyric on "Famous" that made thousands cringe at once: "I feel like me and Taylor might still have sex / I made that bitch famous." But according to a statement from Swift's team, as reported by the New York Times's Jon Caramanica, Swift did not give her approval, nor was that the purpose of the call. In Taylor's spokesperson's telling, Kanye called to ask the singer to release "Famous" on her Twitter account. Swift declined and "cautioned him about releasing a song with such a strong misogynistic message." At that point, Kanye did not reveal the actual lyric "I made that bitch famous," which seems a particularly inaccurate addition given that Swift was, after all, receiving an award on the night of that famous interruption.
See all the looks from the Yeezy Season 3 show here.
According to TMZ, the line was a joke (it's always a sign of a good joke when you have to tell people it's a joke). Anyway, those close to Swift have banded around her, as Gigi Hadid, who was at Madison Square Garden today, tweeted support for her friend, while Taylor's brother posted a video of himself throwing away Yeezy brand sneakers. Is the joke that Swift will clearly win the long game in the end?
Update: Kanye has responded to Taylor's statement in an extended series of tweets posted this morning, in which he claims that he "did not diss Taylor Swift and I've never dissed her," and that he did have a conversation with the singer in advance of the release of The Life of Pablo. Kanye went on to say that "Taylor came up with" the infamous line in "Famous."