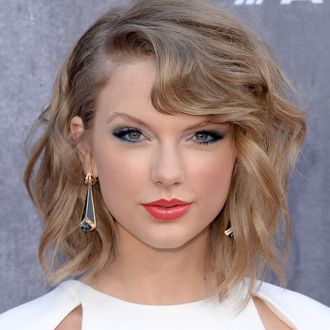 T-Swift.
Photo: Jason Merritt/2014 Getty Images
Taylor Swift and Glu Mobile are teaming up so the singer-songwriter can finally infiltrate the gaming space, because, well, the celebrity arena apparently has another blank space, and she wants to write her name on it. Announced Wednesday, the pact will spawn a "one-of-a-kind" app for smartphones and tablets. "We realize that Taylor and her global fan base expect a new and highly differentiated mobile gaming experience," Glu's CEO said. "Glu is equally committed to designing never before seen gameplay elements that utilize Taylor's unique creativity. Accordingly, we will spend the required development time to ensure this innovation is achieved."
Swift's deal comes on the heels of similar Glu arrangements with Katy Perry and Kim Kardashian. But details on how Swift's project will be different haven't been released — really meaning it's unclear if the game is simply just a game, or rather a very low-key, freemium strategy for Swift to finally get her revenge on Kanye and sap his empire in light of that infamous VMA incident.
(Just kidding, they are BFFs, remember?) Either way, the game is slated for a global release — with more info coming — later this year.