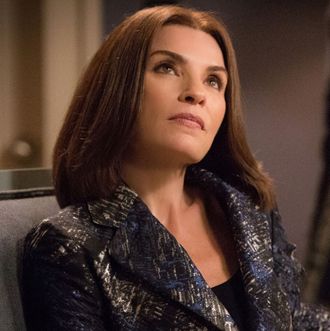 After a few months of hemming and hawing, CBS announced in a Super Bowl ad Sunday night that The Good Wife will conclude this season. The network was considering keeping it on the air without its creators, Robert King and Michelle King, who announced they would be leaving the show this year.
But now CBS has come to terms with life sans Alicia Florrick (Julianna Margulies), and the creators are very pleased. "It's really lovely that CBS will allow it to end," Robert King said during a press call on Monday morning. The producers only learned last week that CBS was considering making the announcement as a Super Bowl promo.
"We knew we could control our fate, but we were very aware that we did not control the fate of the series," Michelle King said. "That was for the studio and network to decide. So we felt very fortunate and flattered that we're being allowed to end the show with the writers and producers the way we want it to end."
The show will conclude on May 8, which means fans only have nine episodes left with Alicia. The Kings said they're excited to fashion the ending they've always wanted, citing the series finales of Breaking Bad and Six Feet Under as ones they've admired. "The story won't change from what we were intending, but it allows us to be a little more definitive. We're writing the same things in pen instead of pencil," Michelle King said. Here are a few more details they revealed about where there series is headed.
If The Good Wife were a movie, the last nine episodes would be its third act, Robert King said. Without getting into spoiler territory, viewers can expect the following areas of Alicia's life to be addressed: a final verdict on her marriage to Peter (Chris Noth); Alicia's empty nest as Grace (Makenzie Vega) leaves for college; and her return to work at Lockhardt/Agos/Lee. There will be no time-jump as the series heads for its conclusion.
You may not have noticed, but the writers have been pulling some title wizardry all along. In the first season, the episode titles were just one word. In the second, they had two words; in the third, they had three; and in the fourth, they had four. Then the writers started working backwards until this season, bringing it back one-word titles. The idea was for the Kings to leave their mark on seven seasons, which was the number of seasons they had intended to be involved with from the beginning, whether CBS continued the show without them or not.
Julianna Margulies had not made a decision about whether she wanted to continue on the show without the Kings before CBS made the call. "I think she was torn," Robert King said. But she didn't have to think about it for very long because "everybody came to the same decision — to be able to go all together is what we all wanted," Michelle King said.
Some characters will return for the final episodes. The Good Wife has been praised over the years for its use of A-list actors in recurring guest roles. The Kings hope to check in with a few of them, including Robin (Jess Weixler), before the series ends. But don't sit and wait for Archie Panjabi to reprise Kalinda, or for the ghost of Will Gardner (Josh Charles) to appear. Neither of them will be coming back.
The Kings are busy working on their next CBS drama, BrainDead, but they're open to a possible Good Wife spinoff. "Sure, maybe," Michelle King replied when asked if it was in the cards. "We're not saying no to anything at this point." Robert King said the idea of spinning off a less prominent Good Wife character appeals to him.