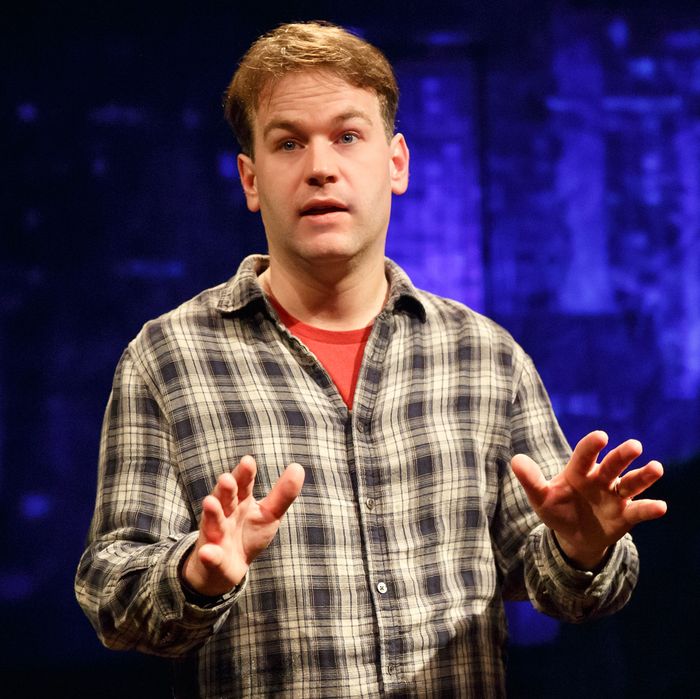 Mike Birbiglia in Thank God for Jokes at the Lynn Redgrave Theater.
Photo: Joan Marcus/Joan Marcus
This review of the Off Broadway run of Thank God for Jokes originally ran in February 2016. We are republishing it as the show premieres on Netflix this week, mostly unchanged.
A comedian walks into a bar. Actually, wait, let me start again: A comedian walks past a bar, onto a stage, places notes on a stool, takes a microphone off its stand, and starts telling jokes. He is a stand-up comedian, and what he's doing looks like stand-up and sounds like stand-up. He calls it a one-man show.
Why?
Though there have been one-person shows for ages, the first comedian to do a one-person show in a big way was Lily Tomlin, who took her stardom from performing on Laugh-In and her incredible facility with characters to Broadway in 1977 with Appearing Nitely, which led to her winning a Special Tony Award; and then again in 1985, with The Search for Signs of Intelligent Life in the Universe, for which she won a Best Actress Tony. Around the same time, Whoopi Goldberg released her Direct From Broadway special on HBO. Consisting of a series of tragicomedy character monologues, her act was honed both in small theaters and in the Belly Room of L.A.'s Comedy Store.
However, it wasn't until the '90s, correlating with the rise of storytelling, that the stand-up one-person show really blew up. John Leguizamo is arguably the biggest success story of this time period — he won an Obie and a Drama Desk Award — however, in the late '90s/early '00s, you couldn't swing a dead cat at the Aspen Comedy Festival without hitting a comedian with a one-person show. For example, during this time period, Marc Maron had his one-man show, Jerusalem Syndrome. (Side note: This is all referring to American comedy, as the one-person show is very typical in British stand-up.) Throughout all of this, especially for the shows that consisted of thematically stringing funny stories together, it was always hard to decide what exactly made them one-man shows and not stand-up acts. Mike Birbiglia has lived in this ambiguity for more than a decade.
In many ways, Birbiglia's newest show, Thank God for Jokes, which opened on February 11 at Noho's Lynn Redgrave Theater and, after a recent extension, is now set to run through May 29, seeks to answer that question. At first, a one-man show about jokes sounded more like someone parodying Birbiglia, but over the course of 90 intermissionless minutes, Birbiglia at minimum proved the show's fundamental concept valid: Thank God for Jokes is a trenchant portrayal of what it's like to be a comedian, think like a comedian, live like a comedian. "A comic is a guy who says funny things," Milton Berle famously said. "A comedian is a guy who says things funny." Comedians are not comedians because they say jokes; they are comedians because they live jokes. In the show, Birbiglia tells the story of a doctor who asked, "If you're a comedian, then how come you're not funny now?" Birbiglia, who is at his best imaging what he should've said in conversations, continues, "What I wanted to say was, 'I'm going to take this conversation we're having now and then repeat that to strangers. And then that's the joke. You're the joke, later." Thank God for Jokes is a show about people — mostly Birbiglia himself — being the joke, later. Earlier this month, Vulture tried to tell the story of modern comedy through 100 jokes; with Thank God for Jokes, Mike Birbiglia tries to tell the story of Mike Birbiglia in about ten.
"Where's John Kransinki?" Jimmy Kimmel asks in a pretaped video that plays at the show's open. "John, please tell everyone to be quiet and pay attention." It's disorientating and arguably postmodern. Kimmel ends his intro telling the audience to welcome Mike Birbiglia. So we do. Out walks Birbiglia. He places his folder of notes on a stool, takes the microphone off its stand, and says, "That was three years ago." We learn that this was the intro Kimmel recorded for when Birbiglia hosted the Gotham Awards in 2012, something Birbiglia did not feel up to doing, as the thought of telling jokes about people in front of those people sounded terrifying. Not unlike how Steve Jobs told the story of Steve Jobs by focusing on him right before he gave a pivotal speech, Thank God for Jokes is the story leading up to this hosting gig. After every chunk, Birbiglia would come back to center stage, put the mic on the stand, and update where we were in the lead-up: three days before, the flight there, the night before, etc., as if each story is a memory he's thinking of as he prepares.
These stories, each running about ten minutes, make up the funniest comedy of Birbiglia's career. There's a reason John Mulaney, who used to open for Birbiglia, calls him the "best comedian [he] knows." As Mulaney told me in an interview last November, "I learned from him about crafting stories, and how it's a story, but it's also about 600 jokes as well." Birbiglia works the hell out of his stories: In a post–Louis C.K. era of comedians constantly turning material over, Birbiglia will continue polishing jokes for years.
Take this one section from his first main story, which is about how his wife is always late to things, while he's always on time:
What late people don't understand about us on-time people is that we hate you. And the reason why we hate you is that it's so easy to be on time — you just have to be early. And early lasts for hours. And on time lasts a second. And then you're late forever. Late people are always trying to rebrand being late. They say, "I'm fashionably late." Which is like saying, "I'm stylishly racist." Which is another thing about late people: A lot of them are racist. And the reason these late racists drive me crazy …
That goes by in by about 30 seconds and includes roughly nine laugh lines. That is a Seinfeld-ian density, all while maintaining narrative momentum and effectively conveying what Birbiglia's relationship is like with his wife.
Throughout the show, Birbiglia is at his best when he is telling stories about his marriage. There's a story about when he and his wife met the president, and she said to him what Birbiglia claims is the funniest thing he ever heard: After Obama gave them parenting advice, she said, "If you think of anything else, text us." And then there's also the show's highlight: the story about how great bad jokes between partners can be. Birbiglia starts by explaining that for some time, the terrible pun "Cats-achusetts" was the joke of their household, which results in a mix of groans and silence from the audience. He continues to tell a story about the joke that ends with an equally terrible pun; however, this time, the audience laughs. It's a beautifully crafted piece of theater in its ability to bring the audience into Birbiglia's household and mind, which sees jokes as peak closeness.
I've seen or heard these three stories before. "Cats-achusetts" was part of a This American Life episode two summers ago. The Obama story I've seen live and told on The Tonight Show. The late-people bit I've seen about five times — everywhere from a crowded bar for Michael Che's birthday-party stand-up show to Carnegie Hall, where Birbiglia told it when opening for Judd Apatow. It's common for comedians to do material many times before presenting it as part of a complete act; really, it's essential. And Birbiglia has done this for all his previous one-man shows. As a person who consumes a lot of comedy, I expect this to happen, and even welcome it, as I'm interested in how things evolve or change with time or setting. These jokes, as well as the ones that were new to me, hit harder and deeper as a result of being part of a one-man show. However, I'm less certain if the relationship is reciprocal.
Framing a one-man show around the idea of jokes is an interesting thought, but not necessarily the most compelling narrative. So, though funnier that his previous work, Thank God for Jokes never reaches the emotional heights of Sleepwalk With Me, which he was able to adapt seamlessly into a movie, or My Girlfriend's Boyfriend, which was so dramatically rich that it already felt like a movie (so much so that I put it on a list of the best indie rom-coms of the last ten years). The overall story of Thank God for Jokes doesn't match the heights of the stories within it.
Birbiglia ends his show in the moments after finishing the story of what actually happened when he hosted the Gotham Awards (which I won't spoil, but you can Google it — it didn't go great) with an epilogue about "context." The internet has removed context and humanity from jokes, which, for a comedian or person like Birbiglia, who sees jokes as the most human of acts, is devastating. Birbiglia uses the authority of a one-man show to try to return the context. And in that moment, the show clicks. Context!
More than anything, the reason this is a one-man show and not a stand-up act is because it's a one-man show, not a stand-up show. Framework matters. A urinal in a gallery is art; a fart joke in a theater is theater. Beyond anything else, with Thank God for Jokes, Birbiglia is trying to get an audience to appreciate jokes as much as he does. When he tells a joke about how we don't see a streaker interrupting a baseball game and then respond by throwing him a mitt and yelling ,"Third base!," alluding to the famous kicker from "Who's on First?," he's connecting himself to the vaudeville theaters where that joke was created and polished, and saying that it, and all the jokes in between, matter. Jokes matter to him as a comedian, and they matter to the sort of world Birbiglia hopes for. In front of a faux-ecclesiastical stage setting, this is his way of paying tribute to all of them, his way of thanking God for jokes.