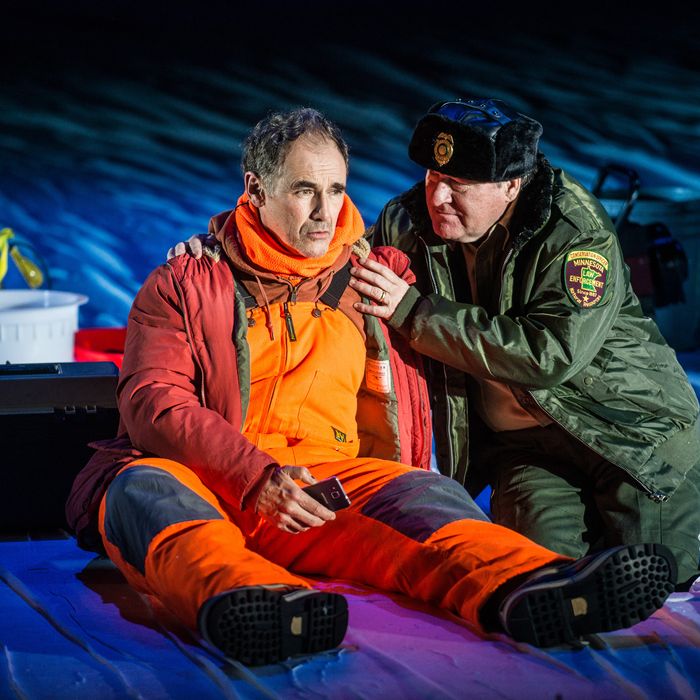 Photo: Teddy Wolff/Teddy Wolff
When Mark Rylance accepted the 2008 Tony Award for his performance in the French farce Boeing-Boeing, and when he accepted again in 2011 for his performance in the English drama Jerusalem, he sidestepped the usual recital of agents and wigmasters in favor of brief prose poems by Louis Jenkins, of Duluth. This was either delightfully or annoyingly odd, depending on your taste for whimsy, and the same taste will probably determine whether you love, enjoy, or merely tolerate Nice Fish, a play by Rylance and Jenkins drawn from Jenkins's work. Another good litmus test would be your reaction to A Prairie Home Companion, on which Jenkins has often been a guest. Nice Fish has the flat, folksy vaudeville quality of that radio show, with its rime of humor and undertow of malaise. But with Rylance bringing his usual brilliance to the proceedings, and with a magical production directed by Claire Van Kampen at St. Ann's Warehouse in Dumbo, the play is clearly aiming for something deeper, and sometimes, despite the thin ice, achieves it.
Rylance plays Ron, a Wisconsin-born doofus spending the last day and night of ice-fishing season far out on the frozen surface of a Minnesota lake. A newcomer to the sport, he immediately starts losing things down an ice hole. Luckily he is accompanied by his high-school friend Erik, an experienced fisherman who, to judge from his armamentarium of fancy equipment, is having a midlife crisis. In the classic manner of mismatched clowns, Erik, a melancholic fussbudget, tries to model the proper technique and demeanor, but is soon driven crazy by his wide-eyed nitwit pal. (When Erik finally gets a bite on his line, it turns out to be one of Ron's beer cans.) A series of blackout sketches built on Jenkins's droll musings prove the pair to be no more successful at understanding each other than at understanding the joy and sadness of the universe — or, for that matter, than at catching walleye. 
Other odd characters appear: an officer from the Minnesota Department of Natural Resources, demanding licenses; a kooky young woman named Flo, who calls herself Art; and Wayne, Flo's grandfather, a forbidding spear fisherman who seems to represent the ancient spirit of the lake. (Jenkins himself was supposed to play Wayne but has been replaced for the St. Ann's run by Raye Birk, who is excellent.) The format prevents you from wasting much time worrying about the reality and particulars of these apparitions; they materialize suddenly as the lights come up after a blackout, and are cut off by another as soon as their punch lines are delivered. Well-edited in this way, what might otherwise seem to be banal utterances ("It's so easy to lose track of things," "How quickly the days are passing") achieve a kind of profundity by proxy. But it is also helpful that the physical production, with its windstorms and starry skies, is so spectacular. Todd Rosenthal's set design offers a view of the lake in deeply forced perspective: a literal "sheet of ice" (the frozen ripples are suggested by fabric) stretching back to the shore's horizons, where distant streetlights and bare poplars are visible in miniature. The costume, lighting, and sound design (by Ilona Somogyi, Japhy Weideman, and Scott W. Edwards) all work in perfect concert to support the jokes without diminishing the poetry of the awesome terrain.
The poetry of the poetry is another matter. Perused in collections or offered onstage for much more than the 95 minutes of this production (which originated at Cambridge's American Repertory Theater), Jenkins's noodles might well stick together. In a program note, Rylance humorously suggests that prose poems are not "real" poems because, among other things, the poet is "incapable, either too lazy or too stupid, of breaking the poem into lines." (He compares the skill involved to that of tossing wadded up newspaper balls into a trash can 20 feet away.) One of the reasons the stage adaptation works is that the collaborators have un-clumped the prose by turning most of it into dialogue — providing, in effect, the line breaks Jenkins didn't. They have also, with their attention to theatrical rhythm, and to the "rhyming" effect that design elements and stage pictures can offer, made up for the original material's lack of discipline and shapeliness. 
But the biggest thing the Nice Fish team has done to strengthen the material for the stage is to give fine actors enough time and space to alchemize types into characters. Most of the Jenkins originals are in the first-person, or perhaps I should say the only person; there's very little variety in the point-of-view. Onstage, though, the generic is particularized. The mostly Minnesotan cast members (the play was commissioned by the Guthrie Theater in Minneapolis) seem to come by their back-of-the-mouth vowels naturally, and all of them, especially Jim Lichtscheidl as Erik, are skilled portraitists. They bring a Shakespearean attention to language and a contemporary approach to behavior to bear on even the plainest material. Of course, no one does this better than Rylance, who though born and later trained in England spent a lot of his childhood in Milwaukee. His verbal prowess aside, he approaches characterization with the multilevel attention you sometimes see in great pianists, who seem to have several engines going at once. Watch his eyes, or watch his hands, or watch his posture. (He can act even when basically made invisible by his big orange parka.) He is never just a mouth; words are just one part — a smaller part — of his intelligence.
That's the saving grace here. What Jenkins's prose poems lack in depth and variety, Rylance and the production provide instead. The theater, too. When St. Ann's opened its new home last November in the landmarked Tobacco Warehouse beneath the Manhattan Bridge, the space was arranged for Henry IV like a prison gymnasium, complete with bleachers. Reconfigured for Nice Fish, the playing area is unrecognizable: It appears to be in some other building entirely, with a different orientation, different walls, different seats, even a different entrance. What a marvel of transformation! And how apt for Nice Fish, which almost makes the complexity of change seem worth it.  
Nice Fish is at St. Ann's Warehouse through March 27.