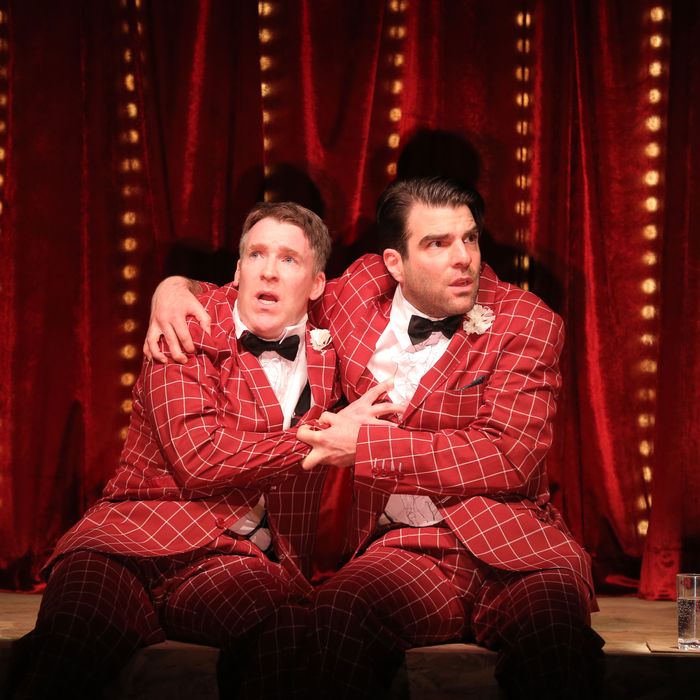 From Smokefall, at the Lortel.
Photo: Joan Marcus
Serious naturalism is the New York house style this season, with works like The Humans, Eclipsed, and Blackbird highlighting the spring Broadway lineup. What a surprise, then, that for the lighter touch we normally associate with crowd-pleasing we must look to Off Broadway, where whimsy keeps tipsily crashing the dignified soirée. Last week, Bill Irwin and David Shiner brought their clown act Old Hats back to the Signature; last night, Mark Rylance opened in Nice Fish, a kind of Prairie Lake Home Companion, at St. Ann's Warehouse. I'm not a great fan of goofiness as a genre but have to admit that both shows made successful entertainments, with dark undertones, out of sketches and gags that would not have shamed Laurel and Hardy. I wish I could say the same about Smokefall, an MCC Theater production of a play by Noah Haidle that had two much-praised runs, in 2013 and 2014, at Chicago's Goodman Theatre. It's as dark as you please — the title is taken from T.S. Eliot's unimpeachably dour Four Quartets — but so cute in its approach and so heavy-handed in its symbolism that it ends up belittling the very ideas it wants to advance.
Part of the problem is that those ideas are much too big for the fey vessels Haidle has built to contain them; Smokefall is awash in its own importance. That might almost seem unavoidable in a play that takes place in one house over the course of 85 years and four generations. At the start, Violet is pregnant with twins, whom she speaks to constantly in the soothing tones of a kindergarten teacher. ("We're making breakfast for our family. Do you know what a family is?") A character named Footnote annotates the action, pointing out, for instance, that the fetuses are "mistakes and they suspect as much." Violet's daughter is called — oh, dear — Beauty; she stopped speaking a number of years ago, and now, as a further sacrifice, eats only found "foods" like dirt from the backyard. ("Beauty, can I get you a cup of paint to drink?" Violet asks cheerfully.) Violet must also deal with her father, the Colonel, a man whose advanced senility is somehow merely an adorable nuisance, and her husband, Daniel, who is planning to leave her that very day. We know this because Footnote tells us. 
The rest of the play, whose three short acts are divided by one intermission, explores the ramifications of Daniel's departure on Violet, Beauty, the fetuses, and even further down the family twee. However gnarly those ramifications — they include long estrangements, wasted lives, and metaphysical agonies — the tone remains whimsical and the action cloyingly symbolic. Some of the symbols, including a jigsaw puzzle that is reset each morning, are so obvious you wonder why Haidle bothered, while others are so elaborate they lose all meaning. (The apple tree is alive; the apple tree is dead; no, the apple tree is alive again, and has broken into the house.) Asking for so much on-the-spot interpretation, the play is, except for one scene, a slog. It would be a spoiler to say exactly what that scene is, except that it presents two characters we have already been introduced to in a new, meta-theatrical setting. For 15 minutes, loud costumes, rim-shot jokes, and musical interludes ("Send in the Clowns") somehow come together to make a joyful verbal vaudeville about big ideas indeed. Unfortunately, they are the only minutes all evening that successfully connect the play's themes to its methods.
What went so wrong? Haidle, best known in New York for Mr. Marmalade, a black comedy about a 4-year-old whose imaginary friend is a coke fiend, evidently has a lot on his mind: the mystery of procreation, the claustrophobia of families, the heritability of guilt. Reasonably, he set out to address these ideas sidelong, in his own house style. But, at least in this production, which Anne Kauffman has directed without her customary verve and precision, the theatrical energy almost never rises to the level necessary to support such a complicated agenda. Even when it starts to, it is usually shut down by another bit of annoying whimsy, or by the realization that the philosophy underlying it is often no more profound than a Dr. Phil nostrum: "Our aim must be to find bliss inside the circle." "The greatest possible act of courage is to love." Thus burdened, the cast, led by Zachary Quinto as Footnote and two other characters, is left to push and push at what turns out to be a stalled car of emotion. Even when someone occasionally succeeds (Robin Tunney, a movie and TV actress making her stage debut, has a few moments of real feeling as Violet) the play can't build on it. A much lighter touch — not more whimsy, please, but better whimsy — was needed. Was it not T.S. Eliot who said, "Send in the clowns"? 
Smokefall is at the Lucille Lortel Theatre through March 20.