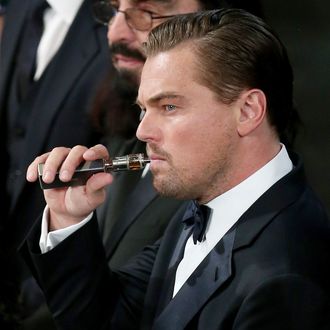 You have to make a lot of sacrifices to be a winner.
Photo: Christopher Polk/Getty Images
Will Leonardo DiCaprio's trials never cease? In order to finally get that Oscar, the actor has eaten raw bison liver, met with the pope, and even (possibly) jettisoned a girlfriend. Now Leo faces yet another ordeal: He will have to sit through the Academy Awards ceremony without resorting to that precious vape pen. According to TMZ, the Dolby Theatre has a very strict no-smoking and no-vaping policy, so unless the man who was Hugh Glass gets up during the ceremony and heads for a smoking area outside the theater (as if Leo could leave his seat at a time like that), he's going to have to go without for a whole three hours (plus overflow time) — that's more than 24 minutes longer than the theatrical cut of The Revenant!