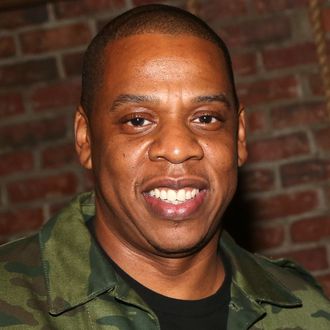 Hov.
Photo: Bruce Glikas/Getty Images
Ever since Jay Z got his army of big-name music friends in formation to relaunch Tidal nearly a year ago, he's been touting the streaming service's for-the-artist policy. He has claimed in the past that musicians whose work is available on Tidal will receive 75 percent of the royalties made on each song, a rate he's bragged is higher than any other streaming platform on the market. Even Jack White, one of Tidal's most vocal artist-owners, went to great pains to back up Jay Z's assertion that artists will be treated more fairly at Tidal. But a new class-action lawsuit, filed over the weekend, claims Tidal has been guilty of lip service: Yesh Music Publishing and John Emanuele (of the duo American Dollar) are suing Tidal and Shawn Carter Enterprises for $5 million over unpaid royalties and copyright infringement.
Emanuele alleges that Tidal licensed at least 118 of the American Dollar's songs without the duo's permission and has not paid the American Dollar any royalties for streams on those songs. "Different owner, same game," the lawsuit says of Jay Z's promises to compensate artists. The lawsuit also accuses Tidal of "deliberately miscalculating" its per-stream royalty rates and failing to send monthly reports on rates and streams of the American Dollar's songs to the duo.
In a statement to Vulture, Tidal says Yesh Music and Emanuele are "misinformed" about who owes them royalties. However, Tidal has removed the American Dollar's music from its service:
TIDAL is up to date on all royalties for the rights to the music stated in Yesh Music, LLC and John Emanuele's claim and they are misinformed as to who, if anyone, owes royalty payments to them. As Yesh Music, LLC admits in their claim, TIDAL has the rights to the Master Recordings through its distributor Tunecore and have paid Tunecore in full for such exploitations. Their dispute appears to be over the mechanical licenses, which we are also up to date on payments via Harry Fox Agency our administrator of mechanical royalties.
 
The main compositions in question were release by The American Dollar and their entire catalogue streamed fewer than 13,000 times on TIDAL and its predecessor over the past year. We have now removed all music associated with Yesh Music, LLC and John Emanuele from the service. This is the first we have heard of this dispute and Yesh Music, LLC should be engaging Harry Fox Agency if they believe they are owed the royalties claimed. They especially should not be naming S Carter Enterprises, LLC, which has nothing to do with Tidal. This claim serves as nothing other than a perfect example of why America needs Tort reform.
The American Dollar previously sued televangelist Joel Osteen and his Lakewood church for copyright infringement. Recently, the New York Post reported that Samsung is in talks to acquire Tidal, with both Spotify and Google also interested in buying the service, which surpassed 1 million subscribers late last year and has changed its CEO three times.