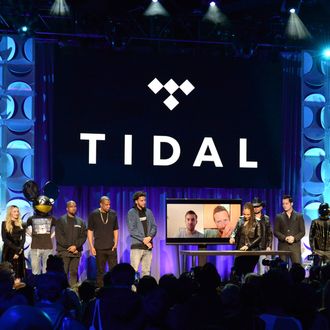 Photo: Kevin Mazur/Getty Images
On Trayvon Martin's 21st birthday, Tidal will donate $1.5 million to Black Lives Matter and a host of other charities, including Opportunity Agenda, Hands Up United, Sankofa, Community in California, Dream Defenders in Florida, Black Youth Project in Illinois, the Baltimore Justice Fund and Empowerment Development Corporation in Maryland, Million Hoodies, and the Gathering for Justice League in New York. The money comes from the first Tidal X: 10/20 charity concert that took place in Brooklyn last year with performances by Jay Z, Beyoncé, Nicki Minaj, Lil Wayne, and others, Mic reports. Tidal's grants will be administered through the New World Foundation, which funds several civil rights groups and social movements.
"The process of acquiring recommendations [for nonprofits] was collaborative and inspired by the message that speaks to racial and social inequities and injustice in our society," Roc Nation's managing director of philanthropy, Dania Diaz, told Mic. "Each year we will support a different initiative. Our ideology is to have a hi-fi level of consciousness in everything we do." The charities will receive the money later this month.