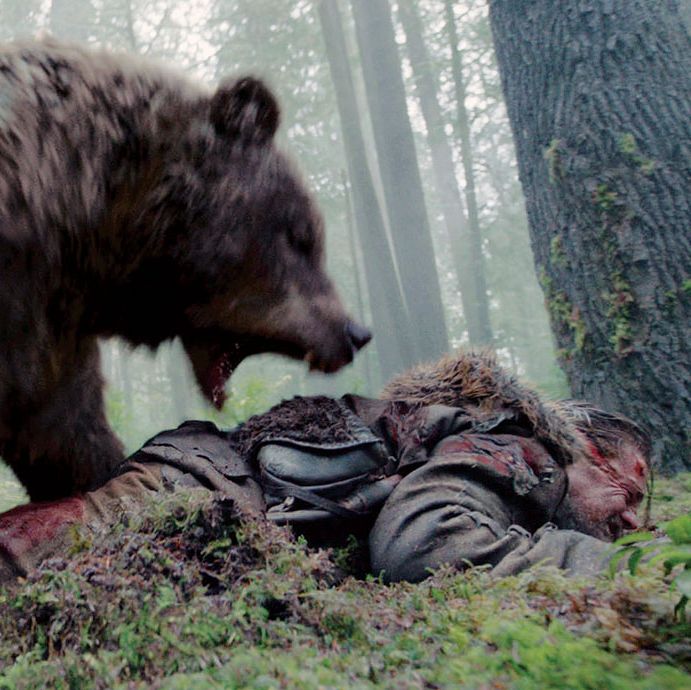 Photo: Twentieth Century Fox
On Sunday, an envelope will be opened, and the winner of the 2016 Academy Award for Best Picture will be announced. One of eight films — just kidding: one of three films — will become a part of cinema record, never to be forgotten, and its cast and crew will forever be able to say that they helped to create a piece of history.
But even if The Revenant's late-breaking move into pole position doesn't translate into an Oscar, it will still have something no other movie can claim: a scene in which Leonardo DiCaprio is mauled by a bear. Aside from, well, any part of Mad Max: Fury Road, that bear's savagery has been, without question, the most talked-about element of any Oscar-nominated film this year, a subject for weird rumors and movie magic and pure, visceral emotion. To celebrate the real Best Supporting Actor of 2016, then, let's take a look back at the history of Hugh Glass and the Amazing Not-So-Dancing Bear.
September 29, 2015: The Revenant's official trailer is revealed by 20th Century Fox, and 50 seconds in, there it is: an angry bear whipping poor Leo back and forth like he's a rubber chew toy. Damn, America thought. Look at that bear mauling, but definitely not having sexual intercourse with, beloved movie star Leonardo DiCaprio.
December 1, 2015: Not so fast, America. Maybe you didn't immediately think, That bear is raping one of the last great icons of the silver screen, but Matt Drudge doesn't think like any ordinary person — that's what's made him one of our top aggregators of hysterical race-baiting, not to mention a leading wearer of hats. After two months of everyone thinking that what happens between Leo and the bear was a platonic attack, Drudge reports that the bear was in fact raping Hugh Glass — "The bear flips Leo over and thrusts and thrusts during the explicit mauling," he writes, before quoting an unnamed source as saying, "He is raped — twice!"
Predictably, the culture is thrown into a very confused frenzy. What to make of this new turn? Is The Revenant way weirder than we thought? Is Iñárritu just messing with us now?
December 1, 2015: So, uh, our Kyle Buchanan had already seen The Revenant, and the bear doesn't rape DiCaprio. Also, it's a momma bear. Soooooooooooooo …
December 17, 2015: DiCaprio confirms: The bear did not rape him. "I have no idea where these ridiculous things come from, and what you do when you hear stuff like that?' he says. "It's absurd. It's absurd.' Also, did you know he ate raw bison liver? Leo's going to tell you about the time he ate raw bison liver.
December 18, 2015: But Iñárritu's kind of into the idea. "I have to say that my first thought was, 'Oh my God, that is a great idea — why didn't I shoot it like that?'" he told The Wrap. "That would have been one of the most memorable scenes ever. I thought it was brilliant. Why didn't I think of it?" Alas, Iñárritu will have to settle for his nine million Oscars.
December 31, 2015: FWIW: If you do get attacked by a bear, here's how to handle it.
January 4, 2016: Now that the bear-rape dust has settled, we can appreciate the scene for what it is: an amazing (and potentially award-winning) technical achievement. "It was a brilliant collaboration between Iñárritu, cinematographer Emmanuel (Chivo) Lubezki, Leonardo DiCaprio, production designer Jack Fisk, the stunt team, ILM, the sound editing/design team of Martin Hernandez, Randy Thom and Lon Bender, editor Stephen Mirrione and Technicolor in post," Indiewire writes, before outlining the research, development, and execution that went into pulling off the attack realistically and with the violence and power that Iñárritu desired.
January 8, 2016: An ursine voice weighs in at Jezebel: That bear deserves an Oscar, not Leo.
January 11, 2016: Leo says that Iñárritu watched over 100 bear attacks to prepare for the movie. So, the same process Nancy Meyers uses during pre-production of her films.
January 15, 2016: Canadian publication Global News talks to Glenn Ennis, the stuntman who provided the model for the CGI bear that did not rape Leonardo DiCaprio. Ennis did, however, get some intimate time with our soon-to-be-Best-Actor. "My face was in Leo's butt for a fair bit of time. I can see how that's someone's fantasy, but it wasn't mine!" This shoot was the weirdest.
January 17, 2016: The New York Post is too real, which is why they found a dude who actually got mauled by a bear and interviewed him about seeing The Revenant.
February 19, 2016: The people love bears mauling movie stars!
This week: And it's official: After six months in the public consciousness, this bear joke has jumped the shark.