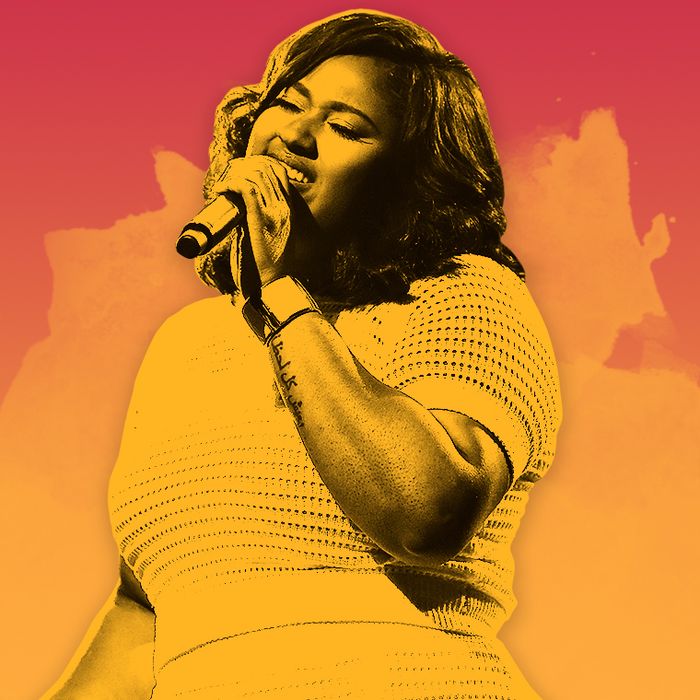 Ahead of the 2016 Grammys, Vulture spoke with a handful of artists whose albums are nominated this year about the toughest songs they wrote for them. Up first is Jazmine Sullivan, Philadelphia's sweetheart with a voice that's decade's beyond her years, who shocked the R&B world when she prematurely announced her retirement in 2011. Hiatus over, she reemerged with 2015's acclaimed Reality Show, now nominated for Best R&B Album. Here, she talks to us about how she nearly walked away from album standout "Brand New" after Kendrick Lamar couldn't contribute the verse she had her heart set on.
When I heard "Brand New," it had this hip-hop vibe to it, and I was excited because I knew I wanted Kendrick Lamar on the song. I thought he'd do it because I think the track sounds like something he would like. So I started writing the song, and I wanted him to do the second verse. I wrote the first verse, loved it and the hook, and I was like, All this song needs is Kendrick Lamar on that second verse. We did the song and we sent it to him a few times, but he just couldn't do it because of scheduling. I had got it in my head so much that it would be him on that second verse that there was just no other way. I didn't even want the song on the album if he wasn't on it.
The song started out in Philly, in the studio with just me and my engineer. I was really feeling the beat [by DJ Dahi], which surprised my A&R. He didn't think I'd pick that beat, and on another album, I probably couldn't have. I don't like when you have to force a song, and the melody and the lyrics don't just come to you. With this particular song, the first verse just kind of flowed out. I had been watching a lot of reality TV — Love & Hip Hop is like my favorite show — so when I heard this song, it made me think of hip-hop and just rappers in general. So I thought I could incorporate that vibe, but from a woman's perspective. It reminds me of my older work, in a way, because I talk about love and heartbreak, I'm just doing it in a more contemporary way. It seems like it'd be a scene from a reality show: the man blowing up [in his rap career] and wanting to leave his woman that he's been with forever. It felt like a story I hadn't heard yet on a song, but it happens a lot.
[When Kendrick's verse fell through,] I went back to the studio to work on it, and I got it pretty much to the second verse that's on the album now, but I just didn't like it. It needed Kendrick. I kept saying, "It's not right, I don't even want it on the album." But my mom actually convinced me — because she loves the song — she was like, "You have to put this on there. It's great. You can try to get Kendrick for the remix, but don't not put the song on the album." That was so hard. I wrote that second verse maybe 50 times over a month trying to get it right. But I know people love this song, so hopefully we can get him on a remix.
"Forever Don't Last" was tough, too, but tougher on an emotional level. That song was really a page from my life, and I was actually going through a breakup. But, as a writer, "Brand New" was so hard because I had to figure out how to be happy with what I wrote [after going back to the drawing board]. Some songs just work. The way I sing on "Brand New" really isn't my natural flow, but it just came out that way. I love when a song just works itself out and you don't even have to try. I didn't even think, Let me do a rap flow. The flow just came out as soon as I heard the track. If I have to think too hard about what I'm writing about or how the melody should be, I usually just move on. Even with this song, I was going crazy trying to tweak little things on the second verse. I overdid it.
I still want to keep growing as a songwriter for as long as I can. This isn't it for me. It doesn't feel like I've arrived just yet.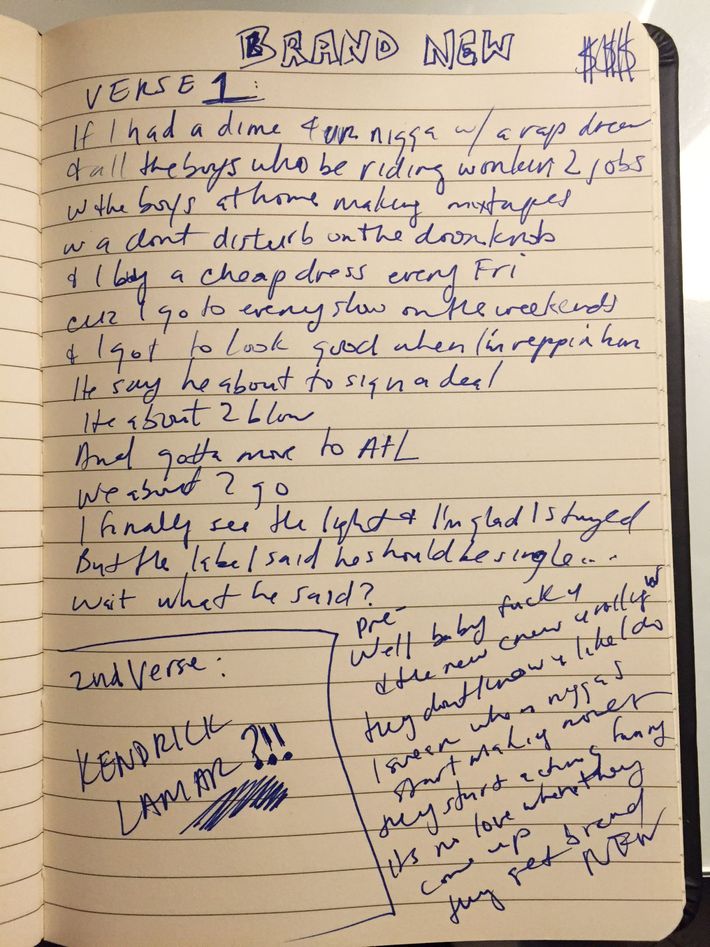 Below, watch footage shot by Marcus Washington of Jazmine recording "Brand New."