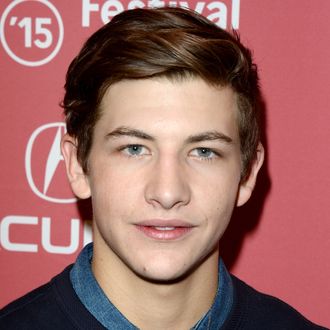 It's you, it's you, it's all for you.
Photo: George Pimentel/2015 George Pimentel
Tye Sheridan, who was once that cute little boy in The Tree of Life and will soon be Cyclops in the next X-Men installment, apparently has enough game to lead Steven Spielberg's Ready Player One. Deadline reports that Sheridan will play Wade Watts in Spielberg's adaptation of Ernest Cline's 2011 novel. Watts is a boy from the outskirts of dystopian Oklahoma who loves to play a massive virtual-reality game known as OASIS and eventually stumbles on a series of Easter eggs in the form of pop-culture references left by the game's creator. Sheridan joins Bloodline's Ben Mendelsohn, who will play the villain, and Olivia Cooke, who will play the female lead. Ready Player One is set to open on March 30, 2018, after moving back from December 2017 to make way for Star Wars VIII.