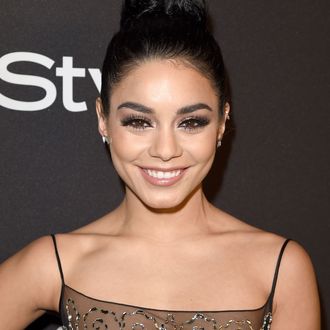 Vanessa Hudgens is here to process your claims.
Photo: Jason Merritt/Getty Images
NBC's mysterious The Office–meets–DC Comics comedy pilot Powerless has found its hero, in the strictly non-superpowers sense. Vanessa Hudgens, hot off her turn in Grease: Live, will dazzle once again as Emily Locke, a boring insurance-claims adjuster living in a world filled with superheroes. Locke "likes to fly under the the radar and just get her work done," which means "she's increasingly exasperated by the disruptive antics of the various superheroes in the city. " Conflict! Powerless comes from A to Z's Ben Queen and Warner Bros. Television, which also produces DC Comics series like The Flash, Arrow, and Supergirl, all of which star careless people Emily Locke probably hates.