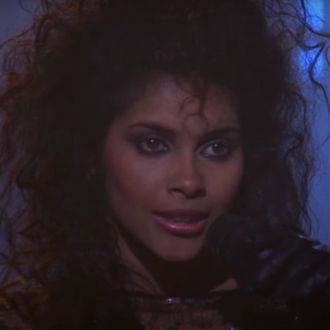 Denise Katrina Matthews, face of the '80s-era female funk trio Vanity 6 and musical apprentice of Prince, died Monday in a California hospital. Reports note the 57-year-old singer (f.k.a. Vanity) succumbed to kidney failure and abdominal illness, both of which were linked to a previous history of drug abuse. "Vanity was everything to me," Questlove tweeted, along with others, after the news broke. "SADDEN my FRIEND IN CHRIST gone 2day," another of Prince's early protégé's, Sheila E., added. "MISS YOU DEARLY. U ARE IN HIS ARMS NOW, NO Pain."
Born in Canada, Matthews began modeling in her late-teens. But upon moving Stateside and meeting Prince in 1980, she became a funk protégé of his and fronted Vanity 6. The group's most explosive hit came in the form of "Nasty Girl," written and produced by none other than Prince. After a couple years and one album, Matthews shifted to a solo career that included 1984's Wild Animal and 1986's Skin on Skin.
Throughout the '80s and some of the '90s, Matthews continued to model and also acted, appearing in The Last Dragon, 52 Pick-Up, Miami Vice, Action Jackson, and Highlander. In her earlier era of fame, she developed an addiction to crack cocaine, one that almost killed her and in 1994 led to renal failure. Survival meant devoting the latter part of her life to sobriety and evangelism. In 2010, she also released an autobiography, Blame It on Vanity, a book that detailed her rise to stardom and subsequent road to religion.
Late in 2014, a GoFundMe page was created in Matthews's name to raise money for medical costs. A recent update there, signed by Denise, indicated she might have had encapsulating peritonitis sclerosis, a complication that obstructs the intestines and can stem from certain kidney-failure treatments. "Boy it is not fun suffering in this body of weak flesh … but Jesus is straightening out all my crooked places in my heart as i go thru this time of pain," the message read. "I lift my head up high to the sky and do thank my Jesus that He has kept me thus far and even as much as this body would love to be with Him in Heaven right this minute … for He is my true love and King over my life."
"I was looking for her Sunday and the announcement came that she fell ill during the night, she ended up on life support," MC Hammer tweeted Monday night. "She was childlike in her exuberance for God. She loved & trusted him wholeheartedly. Heaven is hers."
This post has been updated throughout.