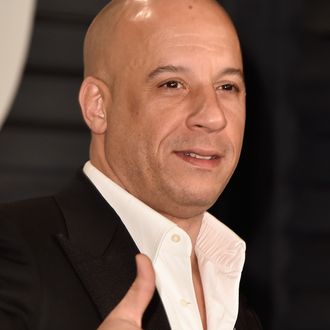 Vin.
Photo: Pascal Le Segretain/Getty
Aside from revisiting Xander Cage, Vin Diesel has also been teasing fans with murmurings of more Fast material — and not just in the form of one sequel, but three, because he's a boy who appreciates a good action movie, regardless of the number. Well, good news: There will be less talking and more racing, as the actor took to social media late Tuesday night to confirm that trilogy you might have heard of, and to offer some clarity in the process. "The studio has asked me to release some very big Fast news," the actor wrote on Instagram earlier in the evening. "As most of you know I like to stay in character, [Xander], for the most part when given the opportunity to make magic. However, it was Toretto Tuesday and the studio gave me big news to share …  So I will share it." And share he did, with his Toretto Tuesday update officially revealing the next entrants (and release dates) of a now-ten-film saga:
Even though he's supposed to be fully in the Xander zone (i.e., production is beginning for The Return of Xander Cage) right now:
That movie's also slated for sometime in 2017, so until then, keep your eyes on Diesel's social accounts for more behind-the-scenes peeks, as well as potential updates, for all things Xander and Toretto.