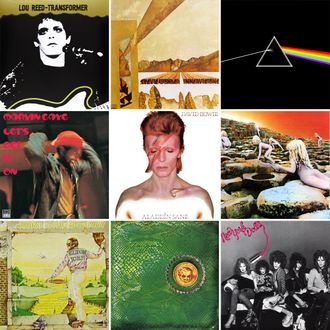 Martin Scorsese and Mick Jagger's HBO series, Vinyl, is set in the music business of 1973, the point at which the overbearing weight of the reigning Establishment was beginning to foment rebellion. The underground began to bubble up, so there were different choices and new contenders for the charts and the airwaves, as well as more esoteric noises for the ears and minds and hearts of music connoisseurs.
"Does it make you want to call the radio station and find out who the band they just played was?" exhorts Richie Finestra (Bobby Cannavale), American Century Records head honcho to his A&R (artists and repertoire, the people who find new music for the label) team. They're busy trying to equate new artists with established artists, while Finestra desperately wants to find the new sounds and artists that could save his company.
Vinyl believably contextualizes all of the music it uses, whether in flashbacks to the '50s and '60s, or in present-day action. The characters complain about terrible music on AM radio, argue about poor background-music choices at the office, make fun of artists that teetered on the edge of bombast (and some who shamelessly walked straight into it, sat down, and had a cup of coffee), and bubble effusively about music they love.
To help further set the tone, Vulture has put together an extended Vinyl soundtrack of some of the music that was in the background of that world in 1973, whether on the air or on the turntable.
1. New York Dolls: New York Dolls
In the 1973 CREEM magazine reader's poll, the New York Dolls were voted both "Best Group of 1973" and "Worst Group of 1973." That's because their eponymous debut album is the kind of record that either feels like coming home — Oh, honey, where you been all my life? — or is single-handedly the worst, most unlistenable thing you've ever heard. It is raw guitars, Johnny Thunders flying fast and free, with Girl Group harmonies underpinned by David Johansen's gravel-laden voice. The Dolls were sonically proto rock and roll, with brutal lyrics about teenage angst, not fitting in, subway trains, bad girls, and Frankensteins. This record goes far beyond "Personality Crisis," the Dolls' trademark: There isn't a dull number in the lot, but "Jet Boy" (with fuel-powered riffs from Thunders), "Lonely Planet Boy" (an actual ballad), and their very Dolls-esque version of "Pills" are highlights.
2. Lou Reed: Transformer
Transformer technically came out in December of 1972, but Lou is such an important part of the Vinyl milieu, we'll call it close enough. Produced by David Bowie (who was still at that time considered to be a world-class weirdo) and Mick Ronson (better known at that time as the guy the aforementioned weirdo would mimic giving head to onstage), Transformer is probably the ne plus ultra of this particular time period. "Walk on the Wild Side" is the least important song on a record that also includes "Vicious," "Perfect Day," and "Satellite of Love," but "Walk on the Wild Side" charted (it broke the top 20) and somehow got played on the radio, probably squeaking through whatever crack in the wall was previously created by the Kinks' "Lola." It became a signal flag for music fans trying to find something to hang on to that didn't involve 20-minute self-indulgent prog rock.
3. David Bowie: Aladdin Sane
The follow-up to Ziggy Stardust and the Spiders From Mars, Bowie referred to Aladdin Sane as "Ziggy goes to America," and wrote much of the material while on the road for Ziggy. Aladdin Sane opens with "Watch That Man," the story of Bowie's experience at the after-party following a New York Dolls show at the Mercer Arts Center, the lyrics referencing Warhol Factory star Cyrinda Foxe, who dated David Johansen from the Dolls. "The Jean Genie" was written at Cyrinda's apartment, and Bowie would later dedicate it to Iggy Pop when he debuted it live. "Time" references New York Dolls' late drummer Billy Murcia ("Time, in Quaaludes and red wine / demanding Billy Dolls / and other friends of mine") who had OD'd on the Dolls' first trip to London a year earlier. (If it all feels very incestuous at this point, that's because it definitely was.)
4. The Stooges: Raw Power
Raw Power is absolutely, utterly truth in advertising. If there were a more in-your-face opening song than "Search and Destroy," it would likely melt your earbuds. That's followed by tracks like "Your Pretty Face Is Going to Hell," "Penetration," the title track, and the irresistibly catchy "Shake Appeal." Savage would be the best adjective to describe this record, the knifelike quality of Iggy's vocals, and James Williamson's guitar work.  And none of this would exist if David Bowie hadn't stepped in and saved Iggy Pop, who was floundering in the wake of the Stooges' breakup (and dealing with a heroin addiction) by getting Iggy signed to MainMan (the same management company that handled Bowie), and MainMan getting Iggy a solo deal. Iggy made the album with a revived, slightly altered version of the original Stooges. Bowie would end up producing it when Iggy proved unable to himself.
5. Mott the Hoople: Mott
Mott the Hoople had a reputation as a tremendous live act, but that did not translate to commercial success. After their fourth album fell flat, the band was on the verge of breaking up. Among their fans was David Jones of Brixton, who wrote them a song that he hoped would help save them: "All the Young Dudes." Mott is the record that followed the band's success with "Dudes," and would end up being their biggest hit in the U.S. Mott is an incredibly solid rock-and-roll album and an incisive chronicle of life on the road in the States, starting with the infectious piano opener on "All the Way From Memphis" (a tale of lost equipment) through "Honaloochie Boogie," a fan's jaded take on the scene. Other highlights include the surprisingly self-aware "The Ballad of Mott the Hoople" and Ian Hunter's vocals on the lovely, wistful closer, "I Wish I Was Your Mother."
6. The Rolling Stones: Goats Head Soup
Goats Head Soup isn't a bad record. It is, however, a terrible record as the follow-up to one of the best albums ever made, Exile on Main Street. Where Exile had tremendous depth and took real chances, Goats Head Soup falls flat. It's not that the songs are bad, but the overall experience is ultimately unsatisfying. It feels like they're trying too hard, whether it's Mick asserting his role as the Prince of Darkness in "Dancing With Mr. D" or the unnecessary nastiness of "Starfucker." On the other hand, "Angie" remains gorgeous and poignant, "Winter" has its moments (the piano is particularly lovely, and Mick Taylor's slide guitar is highly satisfying), and you forget just how many hypnotic riffs are in "Doo Doo Doo Doo Doo (Heartbreaker)." But that title …
7. Elton John: Goodbye Yellow Brick Road
Elton had had chart success before Goodbye Yellow Brick Road, but the hits just kept on coming on this double-album extravaganza. The record opens with the mini-rock-opera, statement of intent, and 11-minute bathroom-break favorite of FM DJs everywhere, "Funeral for a Friend/Love Lies Bleeding." But this is also the record with "Candle in the Wind," "Saturday Night's Alright for Fighting," "Harmony," and "Bennie and the Jets."
8. Stevie Wonder: Innervisions
Innervisions was a record that seemed to be everywhere in the summer of 1973. "Higher Ground" was released as the first single, one month ahead of the album's release in August, and that bubbling Moog bass riff took up residence in your head and would not leave. Along with "Living for the City" and "Don't You Worry About a Thing," Stevie Wonder infiltrated radio with an astonishing, complex record that addressed racism, politics, faith, love, and inner-city life.
9. The Who: Quadrophenia
As a rock opera, Quadrophenia was overly ambitious. But the music is vivid and transcendent. Pete Townshend absolutely captured all of the emotions of Jimmy, the story's main character. There's anger ("The Punk Meets the Godfather") and frustration ("The Real Me") and drug-fueled desperation ("I'm One"), as well as solace ("Drowned") and redemption ("Love, Reign O'er Me"), all of it executed with power and precision. The Who never sounded more like themselves than they do right here.
10. Pink Floyd: Dark Side of the Moon
Looking back at it now, it's improbable that this record succeeded as much as it did. Pink Floyd were prog rock, dense and inaccessible to the average music consumer. But here, they abandoned the indulgent noodling of previous records for concision and the esoteric subject matter for simpler themes ("Money," "Time," "Us and Them"). All of this was wrapped in an utterly pristine sonic landscape, which even the most stalwart rock fan had to (and did) appreciate. It remains more powerful as an album than it does on a song-by-song basis, but it's not like Floyd was ever trying to be a singles act (although versions of both "Money" and "Time" were edited down and released as singles).
11. The Harder They Come: Original Soundtrack
This record, the soundtrack to a film starring a yet-unknown Jimmy Cliff, was the gateway to reggae for a great many American music fans. Most people didn't even know reggae as a genre even existed, so this collection was an excellent introduction to many of the form's prominent artists, like Toots and the Maytals, Desmond Dekker, and, of course, Jimmy Cliff himself. Songs like "The Harder They Come," "Pressure Drop," and "Many Rivers to Cross" are now considered classics.
12. Chicago: VI
Chicago — originally "Chicago Transit Authority," but shortened when the actual CTA threatened suit — was a horn-based soft-rock band with a sound that was very, very popular in the '70s, as noted by the fact (well-advertised in the title) that this was their sixth album. It opens with a brisk, punchy track called "Critics' Choice," where the band takes issue with some of their reviews. The songs you probably know (from locations such as your dentist's office or a local supermarket) are "Just You and Me," a love song that was definitely the prom theme for hundreds of high schools across the country that year, and "Feelin' Stronger Every Day," a jazzy, inspirational tune with some genuinely interesting time changes that close out the record. But let's be clear: Records like this are why punk rock happened.
13. Al Green: Call Me
Call Me is one of the greatest soul records of all time. Produced by legendary Memphis mastermind Willie Mitchell, there are insufficient superlatives to describe the extent of the musicianship (the Memphis Strings and the Memphis Horns are both here), the brilliance of the production, and the quality of the songwriting. Green's vocals are smooth and effortless, floating along like fluffy clouds in a blue sky. Call Me is also one of the greatest make-out records of all time, and by the time you get to the end of it, you will perfectly understand why Green would feel guilty enough to renounce his career and return to the church. The hits are "Here I Am (Come and Take Me)," "You Ought to Be With Me," and the title track, but the understated pathos on "Have You Been Making Out OK" should not be overlooked.
14. Led Zeppelin: Houses of the Holy
Houses of the Holy was a sonic turning point for Zeppelin, moving away from their blues influences and the straight-ahead rock-and-roll approach that characterized their first four albums. It's mainstream as hell — "Dancing Days," "D'yer Maker," and "The Ocean" would burn up the airwaves on FM — but also reasonably experimental. The band played with reggae (badly, with "D'yer Maker") and funk ("The Crunge"), as well as something beyond guitar-based textures, adding prominent keyboards to "No Quarter" and Mellotron to "The Rain Song." It's the sound of a band heading straight for the bustle in the hedgerow.
15.  Alice Cooper: Billion Dollar Babies
Not everybody single-handedly invents a genre of music, the way Alice Cooper (real name: Vincent Furnier) did. Furnier created the persona of Alice by mixing Bette Davis, Barbarella, and Emma Peel, along with too much makeup and an overall noir-ish vibe. (Stage props included a guillotine, spider webs, and mutilated baby dolls.) All of this comes together on Billion Dollar Babies, the band's sixth and most successful record, which covers such cheery subjects as serial killers ("Raped and Freezin'"), necrophilia ("I Love the Dead"), and general evil ("No More Mr. Nice Guy"). The songs are backed by a tight band, playing satisfying, straight-ahead rock-and-roll riffs. Producer Bob Ezrin (Lou Reed, KISS, and more) provides a sonic clarity you wouldn't expect in this kind of music.
16. Marvin Gaye: Let's Get It On
While Al Green may have said, "Call me," Marvin is way more direct and honest: Let's Get It On. With tracks like "Keep Gettin' It On," "Just to Keep You Satisfied," and the single "You Sure Love to Ball," Gaye removes all doubt: This record is sex on vinyl, nonstop, all-night-long. It's also about seduction, and frank desire, and that special kind of midnight longing. Musically, it is smooth and sensual, and you could melt butter off of Gaye's voice. This was a groundbreaking album (and Gaye's biggest commercial success), and set the standard for future slow jams to follow.
17. Steve Miller Band: The Joker
Before this album, Steve Miller was a respectable working musician in the San Francisco Bay Area who was well regarded, but wasn't going to set the world on fire with his brand of psychedelia-fused blues. With The Joker, Miller abandoned any previous formats he may have embraced, and instead began his targeted foray into pop music and million-dollar stardom. This album is engineered for dulcet, pleasing sounds, accomplished both through instruments and as lyrics — whether or not the latter make any sense, or if they involve words that are completely made-up ("the pompatous of love"). The record sounded great on the car radio, the boom box at your barbecue, or the tiny transistor you tucked under your head at the beach, which is the whole key to Miller's success from this point onward.
18. Jesus Christ Superstar: Original Soundtrack
The Jesus Christ Superstar soundtrack was a guilty pleasure for a lot of rock fans in the '70s, either because they weren't religious or they were nice Jewish kids from Long Island. (You'd find the record or the 8-track hiding in the back of people's music collections.) But it shouldn't be all that surprising that a story that transformed Jesus into a rock star of sorts, soundtracked by music that was closer to glam, prog rock, and disco than musical theater and played and sung by a cast that included real rock musicians (Ian Gillan from Deep Purple was cast as Jesus) would have appeal that ranged far, far beyond your average matinee crowd. Of course, it was written by Andrew Lloyd Webber and Tim Rice, who are, y'know, pretty good at writing a catchy melody and good lyrics. "Heaven on Their Minds," "The Temple," and "Superstar" are actual rock-and-roll songs — the latter was an honest-to-goodness chart single. (P.S. Go for the stage recording over the movie, any day of the week.)
19. Roxy Music: For Your Pleasure
In 1973, the hip music fan was all about For Your Pleasure, the second album from Roxy Music. There is something distant, exotic, and secret implied with Roxy Music's sound, and they managed to slot themselves in somewhere next to glam rock without seeming at all out of place, but far enough away from mainstream rock to remind us they didn't belong over there at all. The songs borrow liberally from dozens of different rock-and-roll conventions, but Roxy gave them their own space and texture. Songs like "Do the Strand" and "Editions of You" exemplify Roxy — the combination of vocalist Bryan Ferry's sleek, cool detachment merged with Brian Eno's keyboards, Phil Manzanera's guitar, and the unexpected warmth from Andy Mackay's saxophone.
20. Blue Öyster Cult: Tyranny and Mutation
The pride of Stony Brook University on Long Island, Blue Öyster Cult managed to successfully inhabit a space hovering between heavy metal and concept rock. They had big, complex ideas, but they liked loud, heavy sounds to go along with it. Tyranny and Mutation was their second album, a concept piece with two disparate sides — side one is superior, with a strong progression of songs that fit together. Their sophomore release had better clarity and less sludge on the production side, and it's a surprisingly accessible record full of strong leads, melodies, and almost-hooks, without compromising energy or power. BÖC was a smart band, with lyrics written by founder Sandy Pearlman, along with guests Richard Meltzer ("Teen Archer") and Patti Smith ("Baby Ice Dog").