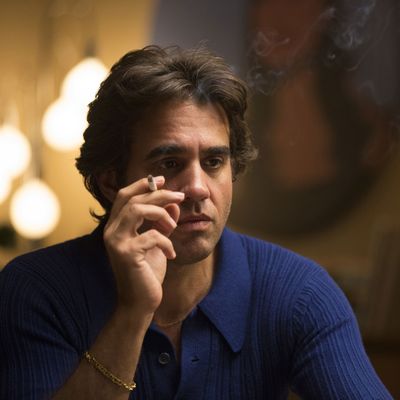 Bobby Cannavale as Richie Finestra.
Photo: HBO
In April of 1973, the New York Dolls recorded "Frankenstein," a theatrical number with a pounding beat, gothic overtones, and the crowd-pleasing opening line, "Something must've happened / Over Manhattan." When the Dolls released the song on their self-titled debut album that July, they had to append the abbreviation "(Orig.)" to the title, because two months earlier, the Edgar Winter Group had topped the Billboard Hot 100 with a different "Frankenstein" — a million-copy selling instrumental with a killer drum solo.
Meanwhile, on a hot night in lower Manhattan, a record executive named Richie Finestra was so electrified by the sound of another monster rock and roll song that he arose from the rubble of a collapsed building — like a lumbering, inhuman creature shocked back to life.
The Dolls are real, but Finestra is fictional. He's the protagonist of Vinyl, the latest HBO period drama from the Boardwalk Empire team of Martin Scorsese and Terence Winter. Like Boardwalk, Vinyl weaves the imaginary into the historical, trying to include as many real people and places as possible. Finestra is the head of a made-up label, American Century, which has a roster of actual pop stars like Donny Osmond and England Dan & John Ford Coley.
In Vinyl's two-hour premiere, a weakening American Century tries to poach Led Zeppelin from Atlantic Records in order to make the label more attractive for a buyout by worldwide-conglomerate Polygram. Zeppelin's lead singer, Robert Plant, appears briefly as a character, as does the band's notoriously volatile manager, Peter Grant. And the pilot is bookended by Richie stumbling into a New York Dolls gig, where he has an epiphany in the middle of a room-shaking performance of "Personality Crisis."
In other words, this show names names. It doesn't merely allude to bands like Slade, Suicide, or ABBA; characters talk about them as though they could walk into the offices of American Century at any moment, like wacky sitcom neighbors.
Vinyl has been in the works for nearly two decades. It began as Mick Jagger's idea for a film called The Long Play — a Goodfellas/Casino–esque spin through the music industry from the '60s to the '90s. In 2007, Variety reported that Jagger, Scorsese, and journalist Rich Cohen had tapped The Departed screenwriter William Monahan to write the script. But the deal collapsed, so Scorsese and Jagger brought the project to Winter, who'd written the Oscar-nominated screenplay for The Wolf of Wall Street in addition to creating Boardwalk Empire. Winter, a TV veteran who developed his chops on David Chase's The Sopranos, convinced his partners that this story was best suited for HBO. Last year, they finally shot a pilot for the newly named show, with no guarantee of a series pickup.
The first episode suffers a bit from that uncertainty about the show's future, as Winter and co-writer George Mastras (a Breaking Bad alum) focus on world-building at the expense of storytelling. Perhaps in an effort to convince HBO of the show's viability, the pilot loads up on characters and potential plotlines, but just marginally advances a few of them.
In addition to Richie (played by Emmy-winning Boardwalk Empire vet Bobby Cannavale), the premiere introduces Olivia Wilde as his wife, Devon, a former downtown scenestress adjusting to a sober domestic life in Connecticut. Also notable: Juno Temple as Jamie Vine, an American Century executive assistant with a deskful of hard drugs and a valuable connection to the younger generation; James Jagger (Mick's son) as Kip Stevens, front man for a sloppy proto-punk act called Nasty Bits; Ato Essandoh as Lester Grimes, a gifted bluesman whom Richie groomed for stardom and then abandoned in the '60s; and Bo Dietl as Joe Corso, a mob-connected record promoter hired by American Century to placate angry, unstable radio-station-chain owner Frank "Buck" Rogers (Andrew Dice Clay). Ray Romano, Max Casella, J.C. MacKenzie, and P.J. Byrne fill out the background as Richie's business partners.
That cast is terrific, though they barely get a chance to make lasting impressions. The female characters are particularly ill-served: Devon comes off as a standard-issue hectoring buzzkill, while Jamie seems to view sex, drugs, and rock and roll as a means to an end, not as pleasurable activities in and of themselves. The richest supporting player so far is Lester, even if his primary function is to represent the compromises our hero made on the way to the top.
Trim away most of the side characters and Vinyl's premiere tells a simple story. An ambitious music aficionado works his way up the industry ladder by selling out his taste and principles, and then, in 1973, finds himself on the verge of becoming a multimillionaire. The episode then closes with a bit of magical realism, as Richie takes in a New York Dolls show that literally tears the roof off, leaving him flat on the ground and covered in debris. What happens next should be clear: He'll scrap the Polygram deal, then try to reinvent American Century as a home for the exciting new sounds of his city. But Winter and Mastras don't tack on any kind of cliffhanger scene that says this directly, the way most TV creators would.
Some may take issue with that, but Vinyl's pilot is a stunner anyway — and the gutsiness of that ending is a big reason why. At times, this first episode resembles David Chase's Not Fade Away, in that it's a rambling hodgepodge made meaningful by a thrillingly poetic final scene. The closing sequence doesn't come out of nowhere, though. Throughout these two hours, Scorsese, Winter, and Co. punctuate the action with a kind of Greek Chorus of musical interludes. Some are diegetic. Some are more fantastical — like when an actress impersonating Ruth Brown sings "Mama He Treats Your Daughter Mean" in the middle of American Century's Brill Building offices.
Scorsese packs as much style as he can into the production, despite working with a fraction of his usual budget and schedule. Cinematographer Rodrigo Prieto (who shot The Wolf of Wall Street, as well as Brokeback Mountain, 8 Mile, 25th Hour, and Scorsese's upcoming Silence) keeps the frame moving, often to magnificent effect. The pilot is filled with memorable images, from gender-bending New York Dolls fans stepping over the camera to a jarring push-in on Lester when a mob goon crushes his windpipe. Scorsese also takes advantage of the extended length of this episode, lingering over the musical sequences, and letting the office scenes play out to capture the collegial rhythms of master schmoozers.
More importantly, the pitch of the pilot — the "here's a bunch of stuff we could do" of it all — reveals just how well Winter and his team grasp this era. It's not just the hairstyles, clothes, and graffiti-covered New York streets that Vinyl gets right. It introduces dozens of key details: The influence of the mob on the music business; the rebirth of payola in the form of "promotion"; the first flowerings of punk and disco in low-rent New York neighborhoods; the takeover of rock and roll by corporate-media conglomerates; and so on.
It remains to be seen how well Winter can put all these pieces together. Boardwalk Empire, as enjoyable and artful as it was, sometimes felt like an assortment of well-crafted parts in search of a machine. But it's encouraging to see that Vinyl already has a point of view, and not one as reductive as "corporate rock sucks." This first episode is as much about Richie realizing that he needs a position of power to spread the gospel of rock and roll as it is about how each contractual concession leads to another. The show seems set to explore a big question: Can a bunch of businessmen reinvent themselves as idealists?
And then there's the other big question: What is "good music?" A lot of scenes in the premiere have characters tossing the names of their favorite musicians back and forth, and at times, it seems like Vinyl's writers are trying to establish how much they know. But there's more to it than that. Those lists are like mantras, repeated as an act of spiritual centering. When Richie describes seeing Blackboard Jungle for the first time, or talks about borrowing his mother's broom and pretending to be Bo Diddley, he's reminding himself why he's in this business.
Some of the episode's best moments occur while Richie stands stock-still, hearing and seeing something that other people can't. He does it when he hears ABBA's first single. ("Three bars and I can tell they'll be filling football stadiums," he says to his skeptical staff.) He does it when he stands in the wings of an arena, watching Led Zeppelin cover Eddie Cochran's "Something Else." And he does it when the Dolls launch into "Personality Crisis." Whenever this happens, it's like he's hearing pop and rock for the first time. He's trying to understand why he's stirred.
Vinyl intends to document a time when rock and roll became sickly and cynical. But it's also about the visionaries who want to demolish the beast and salvage its best pieces — stitching back together the body, the brain, and the heart.
It's Only Rock and Roll (But I Like It)
When Richie comes into the office at one point, he's told that he's missed calls from Lester Bangs and David Geffen. The episode doesn't say whom he phones back first, but as Vinyl plays out, that choice will be key to the future of American Century. Who's more important: a critic advocating for the raw poetry of primitive rock and roll or a music executive stoking the star-maker machinery behind popular songs?
The Zeppelin-poaching story line piggybacks on a real piece of rock history. The band's original Atlantic contract expired in 1973, and other labels scrambled to sign them. Ultimately, as noted in the show, Grant used his leverage to get Atlantic to distribute Led Zep's own label, Swan Song Records. This was a common story in the early '70s. Labels would lure artists to new homes, then promise them their own imprints. Jagger would know: the Rolling Stones' original Decca deal wrapped up in 1970, at which point they formed Rolling Stones Records, regularly reselling distribution rights and the back catalog to the highest bidder.
Think Nasty Bits sound a little too punk for 1973? Pay heed to Jamie, who compares them to the Neon Boys, the nascent version of the band Television. This episode also drops references to "Iggy" and "Lou," partly to remind sticklers that the Stooges and the Velvet Underground were very much a part of the musical conversation in the early

'

70s.
As near as I can tell, Lester Grimes's song "The World Is Yours" (sung by Ty Taylor) is original to this show. And maybe an homage to Scarface?
Apparently, Richie has spent years claiming he went to Woodstock, but he spent that weekend in a hotel room with Devon. But you know who was there? Martin Scorsese, who took notes in his capacity as an assistant editor on the documentary Woodstock, and also helped tell director Michael Wadleigh's cameramen what to shoot.
The two sequences where Richie's team meets with Polygram's German execs are a perfect example of Winter's skills meshing with Scorsese's love of improv, as the two groups passive aggressively poke at each other with funny, natural-sounding dialogue. ("No one knows more about hate than you. I mean not you specifically. Not specifically your generation. Thirty years ago. Like your father. But not him specifically.")
I looked at the cast list for upcoming episodes, and it appears that Vinyl will continue to tell this semi-true story with very real characters, such as Andy Warhol, Gram Parsons, Stephen Stills, and David Bowie.
The New York Dolls' debut album consists almost entirely of songs written by David Johansen, Arthur Kane, Sylvain Sylvain, and Johnny Thunders. The lone exception? The song "Pills," which is a cover of a 1961 single by … Bo Diddley.
In October of 1973, Victor Erice's arty coming-of-age drama The Spirit of the Beehive came out in his native Spain. The film follows two young sisters through the immediate aftermath of the Spanish Civil War, as they're inspired to contemplate the meaning of life, death, and monsters after watching Frankenstein. Man, there was definitely something in the air that year.
Soundtrack to this review:
The Miamis, We Deliver: The Lost Band of the CBGB Era
The Edgar Winter Group, They Only Come Out at Night
Various artists, I Want to Take You Higher: American Soul 1966-1972
Various artists, Nuggets: Original Artyfacts from the First Psychedelic Era (1965-1968)
Various artists, The Wild Angels (Original Motion Picture Soundtrack)