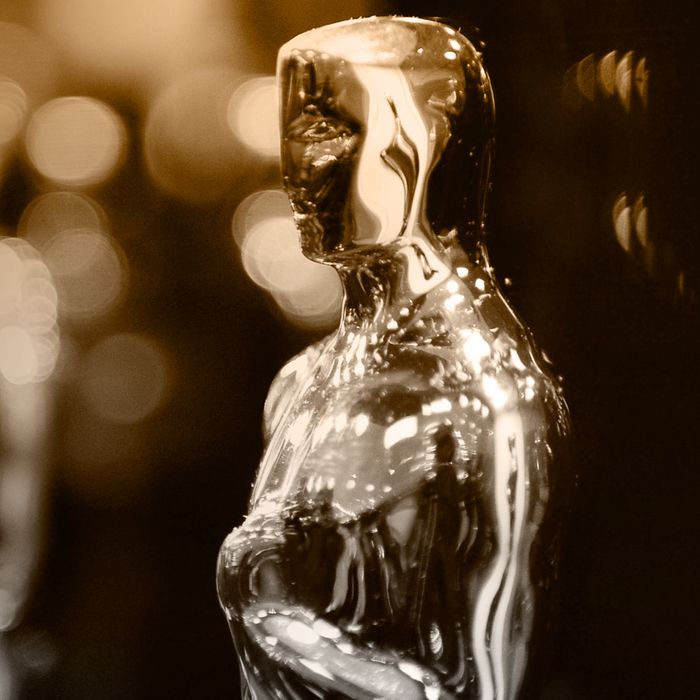 Usually, when I make my final Oscar predictions, I feel pretty confident about it. Two years ago, I called eventual Best Picture winner 12 Years a Slave months before the actual ceremony. Last year, I didn't quite see Birdman coming, but once it started to sweep the guilds and I adjusted my picks accordingly, I did pretty damn good.
If I can pull that sort of streak off three years in a row — call it the Emmanuel Lubezki special — it'll be a damn miracle, because going into this year's Oscarcast, this is the least certain I've ever been about my picks. Yes, the acting races are all but locked in, and there are a few other likely winners I feel sort of sure about, but in so many categories (including the biggest one, Best Picture) we've got ourselves a real race.
So, while some of these matchups still feel too close to call, I'm going to do my best to call them anyway. Here are my final predictions in every single category.
Best Picture
The Big Short
Bridge of Spies
Brooklyn
Mad Max: Fury Road
The Martian
The Revenant
Room
Spotlight
This remains a very close contest between three big contenders that all scored with the Hollywood guilds: The Big Short, which won the usually predictive PGA award, SAG ensemble winner Spotlight, and DGA victor The Revenant. You could make a case for literally any of them — and throughout this season, we've done just that — but if we're measuring momentum and the likelihood that the Best Picture winner must take home three or more trophies, then The Revenant has the slight edge.     

Best Director
Alejandro González Iñárritu, The Revenant
Tom McCarthy, Spotlight
Adam McKay, The Big Short
George Miller, Mad Max: Fury Road
Lenny Abrahamson, Room
While there is still a lot of strong sentiment for Mad Max director George Miller, the tide has turned in favor of Alejandro González Iñárritu, who may make Oscar history with The Revenant: If the movie does indeed take Best Picture the year after Iñárritu's Birdman won, it will be the first time ever that a director has made back-to-back Best Picture winners.

Best Actor
Bryan Cranston, Trumbo
Leonardo DiCaprio, The Revenant
Michael Fassbender, Steve Jobs
Eddie Redmayne, The Danish Girl
Matt Damon, The Martian
Fortunately, this category isn't nearly as difficult to predict. Leonardo DiCaprio will win, in what's considered to be the biggest Oscar lock of the night.

Best Actress
Cate Blanchett, Carol
Brie Larson, Room
Jennifer Lawrence, Joy
Charlotte Rampling, 45 Years
Saoirse Ronan, Brooklyn
This race, too, seems to be sewn up. For her harrowing work in Room, 26-year-old Brie Larson is likely to triumph, as she has all season.

Best Supporting Actor
Christian Bale, The Big Short
Tom Hardy, The Revenant
Mark Rylance, Bridge of Spies
Sylvester Stallone, Creed
Mark Ruffalo, Spotlight
Sentimental favorite Sylvester Stallone is poised to scoop up this trophy for his career-capping work in Creed — it's the first time he's been nominated for an Oscar since the very first Rocky — but I still feel like an upset could happen here, since Stallone was snubbed by SAG for what should have been a gimme nomination. If either Spotlight's Mark Ruffalo or The Big Short's Christian Bale pull it out, expect their respective films to claim Best Picture. 

Best Supporting Actress
Rooney Mara, Carol
Rachel McAdams, Spotlight
Alicia Vikander, The Danish Girl
Kate Winslet, Steve Jobs
Jennifer Jason Leigh, The Hateful Eight 
Oscar loves an ingenue, and The Danish Girl's Alicia Vikander had a breakthrough year that demands recognition. This likely win takes her terrific work in Ex Machina into account, too.

Best Adapted Screenplay
Drew Goddard, The Martian
Nick Hornby, Brooklyn
Adam McKay and Charles Randolph, The Big Short
Phyllis Nagy, Carol
Emma Donoghue, Room
Any winner here would be worthy, but The Big Short has several advantages: The movie is nearest to winning Best Picture, and it already picked up several screenplay awards earlier in the season, including from the WGA.

Best Original Screenplay
Tom McCarthy and Josh Singer, Spotlight
Matt Charman, Joel & Ethan Coen, Bridge of Spies
Pete Docter, Meg LeFauve, Josh Cooley, Ronnie del Carmen, Inside Out
Alex Garland, Ex Machina
Jonathan Herman, S. Leigh Savidge, Alan Wenkus, Andrea Berloff, Straight Outta Compton
Spotlight also scored at the WGA, and this is the nomination most likely to turn into a win. Still, a surprise victor could come from the spiky, well-liked Ex Machina or Straight Outta Compton. (While Inside Out would get my vote, animated films have never triumphed in this category.)

Best Foreign Language Film
Son of Saul (Hungary)
Mustang (France)
A War (Denmark)
Embrace the Serpent (Colombia)
Theeb (Jordan)
This comes down to two films: the Holocaust drama Son of Saul, and the more intimate Mustang, about sisters resisting their arranged marriages. I wouldn't bet against a Holocaust movie when it comes to Oscar, and I know Academy members who were so enamored of Son of Saul that they wrote it down for Best Picture on their nomination ballots, so that's my pick, too.
Best Documentary Feature
Amy
Cartel Land
The Look of Silence
What Happened, Miss Simone?
Winter on Fire: Ukraine's Fight for Freedom
Amy, which chronicles the brief but bold career of Amy Winehouse, was a documentary breakthrough that left plenty of industry members in tears. It has plenty of superlative competition, but the film's emotional accessibility should push it through.

Best Animated Feature
Inside Out
Anomalisa
Shaun the Sheep
When Marnie Was There 
Boy and the World
This one goes to the movie that deserved a Best Picture nomination, too: Inside Out.
Best Film Editing
Hank Corwin, The Big Short
Margaret Sixel, Mad Max: Fury Road
Stephen Mirrione, The Revenant
Tom McArdle, Spotlight
Maryann Brandon, Mary Jo Markey, Star Wars: The Force Awakens
To me this is nearly a 50/50 pick: It's either going to go to the flamboyantly edited The Big Short or Mad Max: Fury Road, the kind of action movie they'll teach in cinema schools for decades. Since there are fewer recent winners similar to The Big Short, I'm going to choose the action spectacular Mad Max: Fury Road (as tense and suspenseful as former Oscar victors like The Bourne Ultimatum, Black Hawk Down, and The Hurt Locker) and pray that I'm right. 

Best Original Song
"Earned It" from Fifty Shades of Grey
Music and lyrics by Abel Tesfaye, Ahmad Balshe, Jason Daheala Quenneville, and Stephan Moccio
"Manta Ray" from Racing Extinction
Music by J. Ralph and lyrics by Antony Hegarty
"Simple Song #3" from Youth
Music and lyrics by David Lang
"Til It Happens to You" from The Hunting Ground
Music and lyrics by Diane Warren and Lady Gaga
"Writing's on the Wall" from Spectre
Music and lyrics by Jimmy Napes and Sam Smith
The best song in this category is "Earned It," but there is no way on Earth that the Academy is going to give an Oscar to Fifty Shades of Grey. Lady Gaga has been promoting her song from The Hunting Ground with a vengeance, and I suspect "Til It Happens to You" has the advantage because of it.
Best Original Score
Ennio Morricone, The Hateful Eight
Carter Burwell, Carol
Jóhann Jóhannsson, Sicario
John Williams, Star Wars: The Force Awakens
Thomas Newman, Bridge of Spies 
John Williams hasn't won for a Star Wars movie since the first one, and I don't think The Force Awakens represents his best franchise work. If I had my vote, I'd cast it for Carol's Carter Burwell — somehow, this is his first nomination, even though he worked on acclaimed movies like Fargo and No Country for Old Men — but the towering Ennio Morricone has better odds for The Hateful Eight, especially since the movie has a whole prologue drenched in his music.

Best Cinematography
Emmanuel Lubezki, The Revenant
Edward Lachman, Carol
Robert Richardson, The Hateful Eight
Roger Deakins, Sicario
John Seale, Mad Max: Fury Road 
Expect The Revenant's Emmanuel Lubezki to make even more Oscar history: When he wins for his eye-popping visuals, he'll be the first cinematographer to score three Oscars in a row (on the heels of his wins for Birdman and Gravity).

Best Costume Design
Sandy Powell, Carol
Sandy Powell, Cinderella
Paco Delgado, The Danish Girl
Jenny Beavan, Mad Max: Fury Road
Jacqueline West, The Revenant 
This trophy almost always goes to a lavish period film, and voters don't lack for options this year: Double-nominated Sandy Powell made Carol look immaculate and Cinderella resemble a dream, while Paco Delgado's dress material in The Danish Girl receives no shortage of caresses from Eddie Redmayne. But again, I'm crossing my fingers for Mad Max: Fury Road, since costumer Jenny Beavan made those now-iconic designs from scratch and will henceforth dominate Halloween and Comic-Con. 

Best Makeup and Hairstyling
Mad Max: Fury Road
The Revenant
The 100-Year-Old Man Who Climbed Out the Window and Disappeared 
Everything The Revenant has got — namely, a lot of artfully applied dirt and grime — Mad Max: Fury Road can boast, too, on a more phantasmagoric scale.

Best Production Design
Bridge of Spies, Production Design: Adam Stockhausen; Set Decoration: Rena DeAngelo and Bernhard Henrich
The Danish Girl, Production Design: Eve Stewart; Set Decoration: Michael Standish
Mad Max: Fury Road, Production Design: Colin Gibson; Set Decoration: Lisa Thompson
The Martian, Production Design: Arthur Max; Set Decoration: Celia Bobak
The Revenant, Production Design: Jack Fisk; Set Decoration: Hamish Purdy
For those incredible cars and the towering Citadel, this one ought to go to Mad Max: Fury Road.
Sound Editing
Mark Mangini and David White, Mad Max: Fury Road
Oliver Tarney, The Martian
Martin Hernandez and Lon Bender, The Revenant
Alan Robert Murray, Sicario
Matthew Wood and David Acord, Star Wars: The Force Awakens
Will Mad Max's below-the-line dominance persist in the sound races? I suspect that here The Revenant will assert itself …  

Sound Mixing
Benjamin A. Burtt, Andy Nelson, Gary Rydstrom, Star Wars: The Force Awakens
Ben Osmo, Chris Jenkins, Gregg Rudloff, Mad Max: Fury Road
Mac Ruth, Paul Massey, Mark Taylor, The Martian
Chris Duesterdiek, Frank A. Montaño, Jon Taylor, Randy Thom, The Revenant
Drew Kunin, Andy Nelson, Gary Rydstrom, Bridge of Spies
… because while many voters still don't understand the distinction between these two sound categories (editing involves the creation of the sounds, while mixing has more to do with the sound tapestry as a whole), they'll remember the roars and screams from that brutal bear attack in The Revenant, and the film's Best Picture momentum will carry it through.  

Visual Effects
Andrew Whitehurst, Paul Norris, Mark Ardington and Sara Bennett, Ex Machina
Andrew Jackson, Tom Wood, Dan Oliver and Andy Williams, Mad Max: Fury Road
Richard Stammers, Anders Langlands, Chris Lawrence and Steven Warner, The Martian
Rich McBride, Matthew Shumway, Jason Smith and Cameron Waldbauer, The Revenant
Roger Guyett, Patrick Tubach, Neal Scanlan and Chris Corbould, Star Wars: The Force Awakens
That's also why I wouldn't count The Revenant out in this category: That damn bear really sank its claws into voters. I'm not sure that Star Wars: The Force Awakens is as strong as some pundits would posit, since the franchise didn't win effects trophies for its more pioneering prequels and much of the motion-capture work was unconvincing. So let me pick Mad Max: Fury Road one last time, since its incredible assemblage of practical stunts and invisible effects made action movies pack a wallop again.
Best Short Film, Live Action
Basil Khalil and Eric Dupont, Ave Maria
Henry Hughes, Day One
Jamie Donoughue, Shok
Benjamin Cleary and Serena Armitage, Stutterer
Patrick Vollrath, Everything Will Be Okay (Alle Wird Gut)
How unsettled is this year's Oscar race? Even the short-film categories are totally up in the air! No one can decide what has the edge in Live-Action Short: The Kosovo War story Shok has a lot of weight to it, while Day One has won admirers for its story about a female translator's first day with the army. Still, this category often goes to something a little more charming, so I'll pick the light Stutterer — which is about exactly what you think it's about — to prevail.
Best Short Film, Animated
Bear Story
Prologue
Sanjay's Super Team
We Can't Live Without Cosmos
World of Tomorrow
The best entry in this category is the future-shock allegory World of Tomorrow, which you can (and should!) watch on Netflix right now. The most widely seen contender is Sanjay's Super Team, which played before The Good Dinosaur and would be the first Pixar animated short in almost 15 years to win. But the most moving nominee, and the one that may resonate most with the voters who've actually watched all these shorts, is Bear Story. So let's go with that one.
Best Documentary, Short Subject
Body Team 12, David Darg and Bryn Mooser
Chau, beyond the Lines, Courtney Marsh and Jerry Franck
Claude Lanzmann: Spectres of the Shoah, Adam Benzine
A Girl in the River: The Price of Forgiveness, Sharmeen Obaid-Chinoy
Last Day of Freedom, Dee Hibbert-Jones and Nomi Talisman
All of these picks are brutal downers, and many pundits are picking Body Team 12 to win. Its backdrop of the Ebola epidemic is certainly a significant one, but, like I said before, I don't bet against Oscar nominees about the Holocaust: For name recognition alone, I'm giving this to Claude Lanzmann: Spectres of the Shoah.