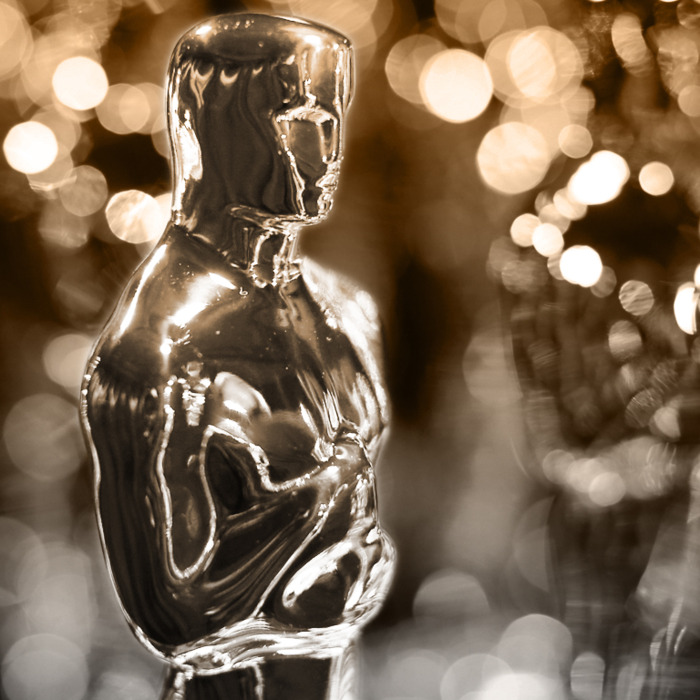 You can read David Edelstein's 2016 Oscars preview and live blog introduction here.
After what has seemed like a never-ending awards campaign, it's Oscars night. Will Leo finally get his? Will Chris Rock be funny? Will Iñárritu repeat? Will the diverse array of presenters the Academy has lined up contrast uncomfortably with the lily-white nature of the nominees?
While you wait for these questions and more to be answered, watch the big show with Vulture film critics David Edelstein and Bilge Ebiri. They'll be live-blogging the Oscars right here, delivering facts, responding to questions, and reminding everyone of all the movies and performances that got robbed. Join them starting at 8 p.m., and remain with them through the announcement of the first three-way tie in Best Picture history.
And be sure to check out the rest of our coverage tonight, including our red carpet highlights.
******
David Edelstein: Good night.
David Edelstein: Very political Oscars and I love that! Go diversity! Bless you all, my friends. Keep reading Vulture/NY Mag. Keep in touch.
Bilge Ebiri: Thanks David. This was a hectic, fun way to make my official exit at Vulture. (Those who don't know yet - I'm going to the Village Voice to be their film critic. But Vulture will always be my family.)
David Edelstein: Thank you all for staying with us on this wild ride. Lowest yield Best Picture ever! -only 2 awards. Bilge, go with God. You're one of the great film critics and  and I'm thrilled at your success.Everyone follow him at the VV. Good guys win!!!!!!
Bilge Ebiri: Public Enemy playing over the end credits. Awesome.
Bilge Ebiri: Well, all in all I'm okay with this year's winners, though the award I most wanted to see was George Miller winning Best Director. He'll probably never be up there again, but we'll see.
David Edelstein: You rock Bilge. I didn't have the faith.
David Edelstein: Gio called this
Bilge Ebiri: SPOTLIGHT wins. I had actually predicted this, with very little confidence.
David Edelstein: SPOTLIGHT!!!!!!
David Edelstein: HOORAY!!!!!!!!!
David Edelstein: WHAT????????
Giovanni: Big upset coming? Will there be any surprises tonight?
David Edelstein: Let us not take this planet for granted,.. but we can take a win for The Revenant for granted, sadly
neiljanowitz: Sliding into the chat to share David's story
David Edelstein: HOTTEST YEAR IN RECORDED HISTORY… THANK YOU LEO
David Edelstein: He won it two years ago when McConaughey consoled him on the way to the stage
David Edelstein: correction: confirmation
Bilge Ebiri: I would have gladly given it to Leo for Django or Wolf of Wall Street. And he's very good in The Revenant. So I'd be happy with him winning. Again, weak category. Inexplicably.
David Edelstein: sorry. gender confirmation!!
David Edelstein: I hadn't heard "gender correction" Nice term
David Edelstein: Well, I hope Leo wins… because as I said… I have a piece about to post that I'll have to change otherwise. corrupt shill I am
Bilge Ebiri: Actor. Leo?
Bilge Ebiri: (They did Ex Machina, right?)
David Edelstein: The way Brie let out a pant of joy at the end was adorable. #soldonbrie
Bilge Ebiri: It's a good night for A24. Room. Ex Machina.
Bilge Ebiri: Best Actress: Brie. As expected. Yay.
Bilge Ebiri: No.
David Edelstein: Brie palm slaps Jacob. Beautiful.
Yoi: Bilge, you're saying it was an affirmative action win?
David Edelstein: Screams for Ser-sha
David Edelstein: Brie
David Edelstein: Hmmmm… I dunno. I think it might have been a savvy campaign. Who was the publicist? That's what it's often about.
jones: Which director would you guys have liked to win?
Bilge Ebiri: I liked BIRDMAN and was happy to see him win for that. But THE REVENANT was actually one of the more poorly-directed films of the year, I felt.
Bilge Ebiri: I wonder if the diversity issue helped Inarritu somewhat, since he was the only non-white nominee in a major category.
David Edelstein: Insufferable filmmaker. This means The Revenant wins Best Picture for sure.
David Edelstein:  F*ck
Bilge Ebiri: Director: UGH
David Edelstein: Getting ready to gag if it's Alejandro 2.0
David Edelstein: Random tweet: "Fun Fact: Sam Smith is the first person to be gay."
Guest: Kevin Spacey won an Oscar, but he isn't out in the way McKellen is.
Bilge Ebiri: Ah, I am wrong! McKellen did not win. But many others have.
David Edelstein: spectacular anyways
Irene Richard: Olivia Wilde looked spectacularly uncomfortable
David Edelstein: Did Ian McvKellen win an Oscar?
Bilge Ebiri: Dustin Lance Black. Ian McKellen. Many, many others. Producers. Writers. Filmmakers.
David Edelstein: no. bad intro for room. victim of sexual psycho
Freddie Dustin: Lance Black just fell off his chair, ouch!
Bilge Ebiri: Sam Smith's contention that no openly gay man has ever won an Oscar is spectacularly wrong.
David Edelstein: We needed Da Ali G. Represent
Guest: I love Sam Smith.  He has an amazing voice, but that song is garbage.
Bilge Ebiri: BURN THE F*CKING PLACE DOWN
David Edelstein: Do you need a context?
David Edelstein: Crapcrapcrapc
David Edelstein: I still think the bad moment of the night was playing off the Jewish director of a Holocaust film with Wagner.
Bilge Ebiri: "There isn't a great soundtrack without a great movie that inspires it." It's a nice thought from Morricone, but his career puts the lie to that statement pretty spectacularly.
Bilge Ebiri: What if they play off Morricone with one of his own scores?
David Edelstein: no one will dare play HIM off
BD: I hope the orchestra doesn't play off the musician of the night
David Edelstein: OMG he's there. Bilge, thank you for proposing a special award for Morricone at this year's New York Film Critics Circle meeting.
Bilge Ebiri: Winner: Morricone. F*cking finally.
Bilge Ebiri: Ironically, the best thing about THE REVENANT was its score by Ryuichi Sakamoto, which didn't get nominated. But Sakamoto has his Oscar…a well-deserved one for THE LAST EMPEROR.
ProfessorQbert: A great category of people; I actually really liked Sicario's score.
David Edelstein: He will
Bilge Ebiri: Best Original Score next. The favorite here is Ennio Morricone, and as someone who grew up obsessed with Morricone, I hope he wins.
Bilge Ebiri: David, you're right. Spielberg just got another shout out from Quincy Jones.
David Edelstein: And Hollywood isn't clean when it comes to sexual abuse needless to say
David Edelstein: Lady gaga sang that beautifully, btw. You can't say she lacks drama.
Bilge Ebiri: I forgot about de Oliveira. I thought he'd died in 2014. Yeah, major omission.
David Edelstein: Those who attacked Kirby Dick… I hope they're curled up in a ball now. And I'm sorry that Vulture actually ran a takedown of it, too. Bad move.
Bilge Ebiri: Great performance of a great song from a great, important movie. It'd be nice if it didn't lose to that garbage Sam Smith song from SPECTRE.
Sray: The Portuguese director Manoel de Oliviera, mostly known as the formerly oldest living director, was left off the In Memoriam segment, too.
David Edelstein: Everyone needs to see The Hunting Ground. Especially if you have a kid in college or are in college. .Male or female.
Bilge Ebiri: It was a beautiful speech, certainly.
David Edelstein: I'm not sure I agree Bilge. He handled it with delicacy.
Bilge Ebiri: Joe Biden's impassioned speech about rape and abuse and his intro of Lady Gaga are actually related, but whoever wrote that intro forgot to make it clear. And I think that transition confused people.
David Edelstein: lot of ignorant apologists attacked Kirby Dick's film. I won't name them. But I am glad to see it mentioned here. (Biden-Warren 2016?)
Stephanie: #OscarsSoRude
David Edelstein: They better not play him off with Wagner… THEY STARTED TO!
David Edelstein: Perhaps that movie doesn't deserve an Oy, but I have some reservations about it
David Edelstein: Oy.
Bilge Ebiri: SON OF SAUL is the favorite but I'd be SO happy to see MUSTANG win. Or THEEB.
David Edelstein: odd indeed
Bilge Ebiri: Sofia Vergara and Byung-hun lee here to award Best Foreign Film.
teamzissou: did they really feel the need to remind us she was in hot pursuit
Bilge Ebiri: Did Chris Rock really think he was introducing Idris Elba? I missed that, I guess.
Bilge Ebiri: People appear to be understandably upset that the great Jacques Rivette was not included in the In Memoriam montage. I agree with that, but what was there was very moving.
David Edelstein: Embarrassing moment for Rock thinking he was introducing Idris Elba.
Guest: genuinely surprised but incredibly pleased to see that Holly Woodlawn was included
David Edelstein: Let us vow to celebrate those greats still with us, in their lifetimes.
David Edelstein: chantal, chris lee, haskell, vilmos, nimoy, slocombe, rickman… people who truly enriched our lives. May they rest in peace
Bilge Ebiri: Nice close on Leonard Nimoy. Lovely In Memoriam montage. As always.
David Edelstein: a staggering number of greats
David Edelstein: We lost too many this year
Bilge Ebiri: This is an unpopular opinion probably, but: Cheryl Boone Isaacs has one of the most thankless jobs in the film industry, and she pulls it off with real grace.
David Edelstein: She is properly shifting the focus from the Oscars to the industry
Bilge Ebiri: A Penny Marshall film!
David Edelstein : people who have the OPPORTUNITY says Cheryl Boone–
Bilge Ebiri: They've been playing Oscar winners from the past. "Up Where We Belong." "Against All Odds." Etc.
teamzissou: why was the song "i'll always love you" playing as the president came up…
Bilge Ebiri: I do like seeing Whoopi up there. I recently rewatched both GHOST and THE COLOR PURPLE. She was pretty fantastic in those.
David Edelstein: Indeed.
Bilge Ebiri: I mean, Debbie Reynolds! Spike Lee! These people are giants.
Bilge Ebiri: So sad that these honorary awards have been taken out of the main ceremony. That was often my favorite part of these shows.
David Edelstein: Critic Lisa Rosman said she would like a spy cam on Stallone for the next three hours. Ouch.
David Edelstein: It was a joke about child labor.
hehud: Asians still fair game folks, doc category winners be damned!
David Edelstein: The Republican presidential candidates are going to have a lot of fodder for their campaigns from this show. I hope they choke on it.
Guest:  does the use of the 3 asian kids and rock's comments about them making phones feel exploitative?
Guest: Question: How has Louis not hosted yet? Other than the obvious lack of interest.
David Edelstein: The favorite wins. For a better doc about a deceased genius, see Janis: Little Girl Blue
Bilge Ebiri: AMY wins Best Doc. An expected win.
Bilge Ebiri: The mix of Ride of the Valkyries walk-off music and 80s soft-pop intro music is giving me a bad trip, man.
David Edelstein: You could take the Ride of the Valkyries getting her off as she started talking about Pakistani women as the legacy of colonialism
Bilge Ebiri: "This is what happens when determined women get together." Important issue that hasn't really been addressed tonight. Oscar has a race issue, sure, but it also has a gender issue.
Guest: What about other culturally marginalised groups, Chris Rock? Latinos, Asians, women?!
David Edelstein: Louis gets real with doc short. The voice helps.
Bilge Ebiri: "This Oscar is going home in a Honda Civic."
Bilge Ebiri: Louis CK giving out doc short. Hilarious. "These people will never be rich for as long as they live."
Bilge Ebiri: I knew a guy who worked with Rourke on a couple of movies, who said at the time of THE WRESTLER that there was no way in hell anyone who had ever worked with Rourke would vote for him for an award.
Bilge Ebiri: What God is to the Grammys, Spielberg is to the Oscars.
David Edelstein: When Murphy was nominated, Hollywood was abuzz with the news that he almost never stayed to act with co-stars for their reaction shots. Reynolds was generally loathed for being a pain. Rourke… guess. Stallone…guess
Bilge Ebiri: I'm still tickled by that lady in the Chris Rock bit who said, sincerely, that her favorite white movie last year was BY THE SEA. It actually is a way better movie than its reputation. Flawed, but very much worth it. IMO, of course.
mycupoftea: Rylance, so richly deserved!
David Edelstein: Apparently Spielberg is the most thanked person ever in the Oscars
Bilge Ebiri: David, we have our answer. Stallone joins Mickey Rourke and Eddie Murphy in the ranks of people whom the industry remembers actually having to work with.
David Edelstein: I am surprised that Rylance got this. But it is a sign of general dislike for Stallone's collective work.
Bilge Ebiri: RYLANCE!
David Edelstein: Rylance was so great–he showed how powerful minimalism can be in the hands of a maximalist.
Bilge Ebiri: I think Patricia Arquette is still burned by her experience last year and was trying not to say anything wrong (or "problematic," ugh.)
Bilge Ebiri: Best Supporting Actor next. I guess this is Sly's. Unless it isn't!
Bilge Ebiri: Yeah, I was wondering that, below.
David Edelstein: Rock did a similar bit the last time he hosted, btw.
David Edelstein: The chasm between white and black moviegoers is great.
Bilge Ebiri: Didn't Chris Rock do this bit the last time he hosted?
Bilge Ebiri: It did fine financially, as I recall.
Bilge Ebiri: It's interesting how Bridge of Spies was such a quiet Oscar nominee. Usually a Spielberg movie has a lot more marketing aura around it. Very good movie, though.
David Edelstein: Reese seems still to be sober.
Bilge Ebiri: And Mickey Rourke… I'm predicting a Ruffalo upset, but I will be wrong.
David Edelstein: So… Stallone is going to win, right? Unless there is residual hatred of him a la Eddie Murphy and Burt Reynolds in their respective comeback years.
Bilge Ebiri: This spot for The Family looks like a fake trailer.
David Edelstein: hash tag goes at the beginning apparently
Bilge Ebiri: Blame Auto-correct!
David Edelstein: I embarrassed myself by spelling Weekend wrong. dadsowhiteandold#
Bilge Ebiri: I was gonna say.
David Edelstein: I don't think
David Edelstein: Not that she is having sex.
KLD: Wanna talk Oscar sexism:  a man would never be hanging from the rafters in lingerie.
David Edelstein: The Weekend makes good sex music says my 17 year old daughter.
David Edelstein: great f–ing congratulations? what was bleeped?
David Edelstein: I love Pete Docter. No one played him off either. Pixar could employ them
David Edelstein: I'm thrilled about Inside Out but I don't trust Buzz Lightyear to have read that card correctly.
Bilge Ebiri: Best Animated Feature: INSIDE OUT. No surprise there. Great movie.
David Edelstein: text JUSTICE to 83224 to give money to Justice for Flint.
David Edelstein: Frog-march Rick Snyder in 24 frames
David Edelstein: Instead of Chris Rock's daughters, give money to the people of Flint.
Bilge Ebiri: Best Animated Short - Bear Story wins. Many of my fellow film critics are in mourning over World of Tomorrow losing.
David Edelstein: This makes me glad I missed the Minions movie–though it made a billion
Bilge Ebiri: This is better than Ellen's selfie bit.
Bilge Ebiri: Okay, Chris Rock selling his daughters' Girl Scout cookies. I hope this is real.
David Edelstein: Williams really brought Max Steiner/Korngold type music back.
Bilge Ebiri: It is worth noting that, once upon a time, most of the films in the Top 10 box office winners of all time had John Williams scores. That man shaped so much of modern cinema.
David Edelstein: In other business, Marco Rubio accused Donald Trump of having a small dick. ("short-fingered vulgarian" reference)
Bilge Ebiri: Interesting. I must admit, I had that sense memory with THE PHANTOM MENACE. Less so with this one. I was surprised at how little an impact the score made on me this time, actually.
David Edelstein: What is interesting re: Williams is that for all the money Disney spent promoting it, nothing worked on me in a Pavlovian way like the memory of that score.
Bilge Ebiri: Good point.
Bilge Ebiri: He's won plenty of Oscars, too. Not all of them deserved.
Guest: I thought it was nice of them to recognize John Williams.  50 noms is a lot
David Edelstein: Bilge, it was Disney plugging its own
Bilge Ebiri: That droids bit was weird.
ProfessorQbert: Ha! I love how Jacob Tremblay jumped up on seeing the droids.
David Edelstein: Bear tweets: Oscarssoandroid#
David Edelstein: I think Academy members liked looking at Alicia's body
Guest: Bear was overexposed… backlash
David Edelstein: I'm pissed on the bear's behalf, actually
David Edelstein: Upset! The bear is PISSED
Bilge Ebiri: EX MACHINA! Upset!
David Edelstein: This has to be The Revenant for the bear.
Bilge Ebiri: VFX next. Star Wars? Mad Max? Revenant?
David Edelstein: Best anti-Trump joke of the night so far.
Bilge Ebiri: YES!!
Bilge Ebiri: Great to give Andy Serkis his moment like this.
David Edelstein: Everyone needs to see that Andy Serkis montage.
David Edelstein: I'm no Oscarologist. Failed my boards.
Jay: Hey David and Blige the Academy DOES listen to you Oscarologists!
David Edelstein: Guess I'm wrong.
Bilge Ebiri: It happens. I think it happened with HUGO.
David Edelstein: Mixing might be the Revenant.
Guest: At this point it's looking like any movie beating out Mad Max will be an upset.  Directing is still up, but has there ever been a film that raked up this many of the technical awards and still lost Best Picture?
Bilge Ebiri: I love that they're not saying the names of the films when showing the clips. Letting the sound have its moment.
Bilge Ebiri: Sound mixing next. I'm not picking winners anymore.
Bilge Ebiri: It was bleeped out. I'm pretty sure.
David Edelstein: Was something just bleeped or was it a glitch n my cable?
Guest: the nominee montages are really on point this year! (with the exception of best pic)
Bilge Ebiri: The MAD MAX sound editors look like thinner versions of George Miller.
Bilge Ebiri: MAD MAX it is!
Bilge Ebiri: I think this goes to REVENANT. But we'll see!
Bilge Ebiri: I always love the clips/effects they use for Sound Editing.
ProfessorQbert: This is actually an excellent demonstration of sound editing
David Edelstein: Max or Revenant or SW?
Bilge Ebiri: Sound awards coming up.
David Edelstein: It might be time to Publicly Shame whoever came up with Ride of the Valkyries and directed the conductor to lay it on with a trowel. The speeches are NOT the boring parts of the Oscars
Marcus D'Arcy: Only credits to Sixel are Happy Feet and babe. Good to see her win an Oscar for a non animal led film."
Bilge Ebiri: It could still happen!
David Edelstein: Black Phillip rocked my world, Elysse
Bilge Ebiri: "And now, to tell you to shut up, here is noted anti-semite Richard Wagner…"
Elysse: If "The Witch" had come out sooner, maybe the next Black History moment would be Black Phillip
David Edelstein: That makes one of you who liked it
Bilge Ebiri: I think the idea is that Hollywood will find a way to make even that white.
David Edelstein: Many people are tweeting that ebony and ivory are not the only colors.
Bilge Ebiri: Okay, that Jack Black Black History month thing was pretty funny.
Irene Richard: I don't get the Black History month humor ~ help me plz!
Guest: Can this editing win mean that Mad Max *actually* had a good shot of winning best pic?
teamzissou: this music is so bad. literally the worst possible song you could pick. its ruining peoples moments
David Edelstein: I want to napalm the producer
David Edelstein: Robert Duvall is back
David Edelstein: A superb editor
Bilge Ebiri: Margaret Sixel also edited George Miller's beautiful, brilliant LORENZO'S OIL. I am very happy about this award.
Bilge Ebiri: And it does.
David Edelstein: Ah–George's wife takes it!
Bilge Ebiri: Editing up next. This is a big indicator for Best Pic. But I think people expect MAD MAX to win this.
David Edelstein: Has Chris Rock been inordinately sexist tonight? This seems to be the consensus on Twitter.
David Edelstein: Certainly not for Knight of Cups.
Bilge Ebiri: As a huge Terrence Malick fan, I can't be too upset about Lubezki winning. Since they will never, ever give it to him for a Malick film.
David Edelstein: Three-peat. Wow.
Bilge Ebiri: Chivo wins.
Ina: I love lubezki, but please let this be for Mad Max.
Giovanni: So a Suge Knight joke complete with an actor in an orange jumpsuit is supposed to make Hollywood want to hire more black people? Really?
Bilge Ebiri: Cinematopgraphy up next. I guess the expectation is Lubezki for a three-peat. But Seale could upset. Or Deakins and SICARIO.
David Edelstein: a shoulda been nominee, Michael B. Jordan. wow wow wow
Bilge Ebiri: I'm not sure I spelled that correctly
Guest: A winner just "thanked" his one week old child. My father was a newspaper publisher and he NEVER thanked me for an Op-Ed he wrote. #Makeitaboutsomething # selfimportantbreeders
Bilge Ebiri: David - your old colleague Mike Rezendes
David Edelstein: Oscarologists … program won't let me spell it even
hehud: Yay Benicio del Toro, apparently there are people who are more than "white" or "black" left in the world! Chris Rock's hosting was making me doubt my existence.
David Edelstein: exactly. Maybe they read more bloggers or (excuse me while I poop my pants) "Oscarogists."
Mick: It does…
Bilge Ebiri: This whole extended awards-season run-up has been very weird indeed. It SHOULD help the Academy voters see more of the films…but I'm not sure it does.
David Edelstein: But would anyone click on climate change odds?
David Edelstein: What is interesting is that the awards themselves have been the subject of so much blah blah blah (Vulture I think does it better than everyone but…) that this all seems to be happening a long time ago in a galaxy far, far away.
Bilge Ebiri: Agreed. Once upon a time, they were clips. I liked those.
David Edelstein: I hate when "clips" are from trailers.
Bilge Ebiri: They'll be back…
Guest: How could the Academy not indulge a Winslet/di Caprio dual victory for the ultimate end to this awards season of Titanic reunions?
Bilge Ebiri: I am under no illusions that FURY ROAD will take home Best Picture, so let me enjoy this moment, please.
David Edelstein: Has someone called off Robert Duvall and the choppers?
David Edelstein: Drink every time an Oscar speech begins with "Wow."
David Edelstein: Stop gloating, Bilge. It ends now.
Bilge Ebiri: Make that three Oscars for FURY ROAD.
David Edelstein: Your fault for going to the Voice.
Bilge Ebiri: I still say Jared Leto's best performance is his 90 seconds in THE THIN RED LINE.
David Edelstein: not with us I hope
Bilge Ebiri: I am happy that MAD MAX has two Oscars so far. I am happy that my posts are now public.
Irene Richard: I'm already bored
David Edelstein: Donald Trump tweeted to ask if Obama was in charge of the Oscars. F–ktard,
David Edelstein: Second funnest job would be production designer on Mad Max,
David Edelstein: The playing off has to stop. I want to play the producer into a pit.
brothernature: Jenny Bevan's jacket is awesome, and she seems to be, as well.
Guest: Mad Max may be the one of the most overrated movies ever. Besides, The Road Warrior is so much better.
David Edelstein: Costuming Mad Max must have been the most fun job in the world.
Bilge Ebiri: First award for MAD MAX. I hope the first of many. Who knows if my comment will ever appear.
ProfessorQbert: Mad Max is the only movie nominated that stars a former WWE wrestler.
Bilge Ebiri: I'M TRYING!!
zoothornrollo77: (Humor is still the best weapon against ignorance.)
Foolish one: It's also by far the worst Bond song ever.
David Edelstein: You have to hit PUBLIC. IT'S ANNOYING
zoothornrollo77: I'm hopeful that he makes us uncomfortable. While laughing.
Stephanie: also, what is the public thread?
Bilge Ebiri: Hilariously, I've been posting all night and none of my posts have been appearing, apparently. Something weird with my settings. Oh well.
Guest: The fact that they gave Stacy Dash any screen time after her idiotic and hateful comments is not just tone deaf, its not funny.
Stephanie: hopeful
David Edelstein: Are we all uncomfortable thinking about what Chris Rock will say next? Or hopeful?
mararai: The black jokes are getting pretty boring!
David Edelstein: Stacy Dash fyi called for the elimination of black history month on Fox. She was, I guess, walking it back here.
Guest: I wish she had said something more meaningful for the role she portrayed
David Edelstein: Twas a bad, bad idea. Everyone's ignoring it.
keanu: Why is the 'wrap it up' music Ride of the Valkeries?!
David Edelstein: She is a good actress… I cannot wait to see what she does next. I'm sure it will be better than The Danish Girl.
holah!:  if Leo wouldn't make it..hmmm some kind of bias? or what? hahahahaha
David Edelstein: The rabbits are all nominees.
brothernature: The chyrons at the bottom of the screen were supposed to make the winners make meaningful speeches instead of listing names, but so far, it ain't working.
Eyeball Origami: Kill the wabbit!
ToddG: What a joke, cry me a river, please intelligent people,  change the channel,  I just did. ….
ramon: Supporting actress- blah
ramon: blah
teamzissou: ah, another period piece wins….
ProfessorQbert: I'm happy Alicia won, but honestly I think she was superb in Ex Machina.
Bilge Ebiri: Vikander wins.
Bilge Ebiri: Winslet's accent was bad, but I think she was still quite strong in STEVE JOBS. I just watched it again the other night
Stephanie: Agreed David and it was very notable. Can't believe she was even nominated.
ProfessorQbert: Watching that clip from the Danish Girl makes me annoyed that Redmayne was nominated.
E.M.H: Man, I'm just amazed they found a scene out of Hateful 8 that didn't have the N word in it… :-S
Bilge Ebiri: He will always be that performance. Which is remarkable since he's given so many great performances. (J. Jonah Jameson!)
David Edelstein: Oh Lord. Winslet could';t even maintain her accent.
zoothornrollo77: I still want to flinch every time I see J.K. Simmons like I'm having a cymbal thrown at my head.
Bilge Ebiri: I'm rooting for Rooney. But I'd love for JJL to take it. Winslet could upset, too.
Elysse: I'm still laughing about "The Danish Girl"
Bilge Ebiri: She was very good in the Best Picture-nominated DJANGO UNCHAINED.
ProfessorQbert: JK Simmons has a beard that's pure magic.
David Edelstein: Here we go. Best support actress. JJL would be nice–but it's Alicia.
ginster: Can someone just give Cavill a Secret Service storyline on Scandal so we can see these two together more?
Guest: Kerry Washington, TV star.  Not relevant at the Oscars according to Chris Rock's earlier logic.
Irene Richard: Is Ridley Scott: unhappy, uncomfortable or nervous?
David Edelstein: Henry Cavill and Kerry Washington make kind of a gorgeous couple–and not so long ago I couldn't say that in public.
teamzissou: but i do miss the vh-1 show…
teamzissou: i cannot stand these pop ups that are  1.) boring and 2.) are entirely searchable facts via Wikipedia
ProfessorQbert: Henry Cavill's natural British accent always sounds like he's doing an impression of a British person.
Guest: These factoids would be better pop-up video style, complete with sound effect.
susanna: So, if the awards are presented in order of the process, will editing be right before Best Picture?
Liza: This is not a Bond song whatsoever. Zero sex appeal. And that's even with Sam Smith's new hair.
brothernature: Sam Smith's mad pitchy, y'all. Couldn't've they cropped this song a bit to make room for Anohni?
Guest: Dude just told everyone to vote for Trump since he's the only one not taking money from billionaires.
Bilge Ebiri: This song is so, so awful. It's actually the most embarrassing of any of the Oscar nominees this year. Did they just nominate it because it's "the Bond song"?
zoothornrollo77: Is that bear who raped Leo nominated for anything? The one in The Revenant, I mean.
Audrey: Anyone having technical difficulties with broadcast?  Screen is freezing…
Stephanie: I do not!
ProfessorQbert: I, like Sarah, have not seen Spectre yet. Should I?
Stephanie: Not even, David.
anyanka: Radiohead released their cut that was rejected for Spectre.  Thom Yorke's awkward dancing would be welcome
David Edelstein: Frankie Valli, eat your heart out,
Stephanie: This song is dreadful :(
teamzissou: You mean you don't enjoy the sounds of whale calling?
Bilge Ebiri: "Writing's on the wall" Excuse me while I take a nap.
ProfessorQbert: Nice to see a "street" reference re: Idris Elba as James Bond, even if the shtick was in general not funny.
Guest: Sarah Silverman is the most unfunny person ever.
lisaworthy: Chris Rock handled the topic with grace and humor in the beginning, but continuing with this topic throughout the show is getting old…
David Edelstein: Better this terrible Sarah Silverman intro than the g-damn SONG.
Emma: wow stacey dash…. extremely awkward
Bilge Ebiri: Oh god, are we about to get the awful f*cking song from SPECTRE now?
Guest: Stacey Dash is just trolling herself now
ProfessorQbert: Wow, that Stacey Dash thing was… weird…
zoothornrollo77: Tracy Morgan just saved the goddamn Oscars.
David Edelstein: The Martian scene was the best thanks to Wiig and Daniels. Superb comedians.
Bilge Ebiri: Okay, this bit with the black actors in Oscar movies… THE MARTIAN bit is brilliant. Not sure what we think of THE DANISH GIRL one.
David Edelstein: Is herding people off with Wagner anti-Semitic? Discuss.
Eyeball Origami: The scroll at the bottom is a big bellyflop.
dino: maybe nobody wants to see black movies   they get the Oscar for killing each other
zoothornrollo77: Could've been a Sanders endorsement, though.
David Edelstein: Is the herding off music Ride of the Valkyries?
Bilge Ebiri: Are Oscars commercials a thing? Should we be live-blogging those?
Bilge Ebiri: THIS IS A VERY GOOD POINT.
Drew: Isn't Hollywood big business filled with weirdo billionaires?
David Edelstein: That should say Adam McKay just endorsed Trump
Guest:  what was that a jibe at Hillary?
David Edelstein: Someone said, "Wow, Adam McKay bunch endorsed trump." (Sonny Biunch)
Bilge Ebiri: We still haven't had a Trump reference, have we?
ProfessorQbert: A clear "Trump" without explicitly saying so reference.
Guest: Have the odds for best pic winner just increased for Spotlight and The Big Short?
David Edelstein: Weirdo billionaires: Kochs, Sheldon Adelson….
David Edelstein: There were a lot of amazing scripts in this category… I love McKay for thanking Michael Lewis, too.
Bilge Ebiri: It's nice to know that both BIG SHORT and SPOTLIGHT are walking away with something. Though both were frontrunners in these categories.
Bilge Ebiri: BIG SHORT wins.
Betsy: Is this banter actually funny, or is The Gos just that powerfully charming…?
zoothornrollo77: If only Crowe would stop reading scripts on voiceover and punch Gosling for real actors instead. The applause said it all."
David Edelstein: Again: This is a beautiful way to show the connection between page and screen.
jakey19991: The scrawl is terrible
ProfessorQbert: Agree with David: Love the visuals on the scripts
Stephanie: LAME!
Irene Richard: Save us from bad banter
ProfessorQbert: Ryan Gosling & Russell Crowe (promoting their movie I guess), but will they mention it?
Giovanni: Chris Rock chickened out so bad that KFC just put him on their menu
David Edelstein: Gosling will read McKay's name. Interesting.
David Edelstein: They cut off Tom McCarthy. Not cool. Don't cut the speeches. Cut presenters' banter!
Chorl: It will be interesting to see how much overlap there is between the thanks on stage and the thanks on the crawl
Adrian_Nguyen: The speeches are gonna be short.
Zero: Well-deserved to Spotlight here.
Nightcheese: Did they start with this award so they could lead off with a Straight Outta Compton nom?
Guest: i'm a big fan of the new award order. I hope it sticks.
Bilge Ebiri: SPOTLIGHT wins.
David Edelstein: I LOVE the juxtaposition of filmed scenes and script lines. LOVE.
zoothornrollo77: Kind of like Hillary and black people?
readhead: Rock's monologue was a bit all over the place. It's main goal seemed to be to make everyone uncomfortable. mission accomplished.
ProfessorQbert: Seeing Charlize Theron and Emily Blunt makes me annoyed neither was nominated.
Bilge Ebiri: I guess SPOTLIGHT is the favorite here? But could COMPTON take it?
Bilge Ebiri: First up: Original Screenplay.
ProfessorQbert: I was a little surprised at the explicit shade to Ben Affleck.
David Edelstein: I think that is not entirely true… but worth posting here,
maren: I love that every year they praise writers but they still treat us like shit.
Audrey: Great job! Wonderful balance and great points.  Not too preachy.
Stephanie: how the hell did he mess up Chalize's name
Guest: He put down black actors and actresses in front of a white crowd.  How is that "amazing"?
Guest: Chris Rock just went there…
Guest: What would this monologue be like if there were a white host this year?
Amy R. Cohen: This is a perfect monologue; uncomfortable and hilarious.
Irene Richard: Hmmm… Hollywood is rife with unconscious bias.
Cb: I've already turned it off. Way to be another black idiot.
David Edelstein: Paul Giamati CHEATED black people in Straight Outta Compton, though.
Guest: This is amazing. He's speaking so much truth about racism in America, not just Hollywood. Casual racism. In denial racism.
Guest: cringeworthy to hear the crowd laugh at these jokes
Chorl: Chris Rock wearing a white tux, interesting
Guest: I love the fact that nobody is safe from Chris Rock's shade.
Bilge Ebiri: David, what Chris Rock is doing right now is proving what you just said a few posts ago re: comedy and Oscars. He's showing that "comedy can be a hugely moral and political force."
David Edelstein: See, he's TALKING to us. "Sorority racist." These beads are strung.
David Edelstein: One of the best ever… so far
Bilge Ebiri: This is a beautiful opening. Just gonna say that right now.
zoothornrollo77: Rock just "went there." (Good for him.)
David Edelstein: In memoriam: Black people shot by the cops on the way to the movies.
Bilge Ebiri: Wow. Surprisingly political opening by Chris Rock. Giving it to both sides!
David Edelstein: Rock is putting this in a historical context and making us laugh together about it. "Too busy being raped and lynched to care about who win for best cinematographer…"
lisaworthy: so far Chris is killing it…
Bilge Ebiri: "No one with a job ever tells you to quit." - good line by Chris Rock. AND: "The last thing I need is to lose another job to Kevin Hart." Nice.
Adrian_Nguyen: First #OscarsSoWhite jab of the ceremony.
Bilge Ebiri: Chris Rock agrees with me!
David Edelstein: Margaret Lyons hated it. Spoilsport!
Bilge Ebiri: Brie's line from ROOM gets me every time, sorry.
Bilge Ebiri: A nice montage. And, of course, way more diverse than the nominees!
David Edelstein: Let's hear it for a clever montage of the year's movies, good and bad.
The Kenosha Kid: I can't wait to see the 'interpretive dance' of The Revenant.
Bilge Ebiri: DADDY'S HOME is better than THE REVENANT.
Adrian_Nguyen: Daddy's Home is in the opening montage.
Bilge Ebiri: Agreed. He was excellent. And it would have been nice to see him get another shot at the big guy.
David Edelstein: My pal Bill McKibben has tweeted that he is glad to see two very committed global warming activists on the red carpet–Leo and Ruffalo. Amen to that.
Strongone: I think that was the intention but not the outcome.  Not that he wasn't good….  And I've always loved Keaton.  I didn't see this film as really having a lead actor.
lisaworthy: I just hope he handles this distressing topic with grace as well as humor….
David Edelstein: Let's say a little prayer for Chris Rock to kill it tonight. And good luck to everyone. This is an artificial exercise and it should not be the be-all and end-all of lives.
lisaworthy: I agree with you David on Michael Keaton…he did some great work on that flick.
David Edelstein: But Mark is still with Sunrise.
hombreficcion: I was seeing the Fug Girls blog the other day and they had a special post about fashion in the 2006 ceremony; it was sad that many of the couples attending back then are no longer together. Just that. Wanted to express it.
David Edelstein: I am still upset that Michael Keaton did;t get a Best Actor nom. Because I think he's the heart of that movie–the dramatic fulcrum.
Bilge Ebiri: Somebody brought up category fraud in the comments. And I guess it kind of became a thing this year, with Rooney & Vikander being put in Supporting Actress, and the whole Globes "scandal" about THE MARTIAN being a comedy. But it happens all the time. I mean, was Michael Douglas really the *lead* in WALL STREET? The movie was about Charlie Sheen's character. Was Forest Whitaker the lead in THE LAST KING OF SCOTLAND? Or Anthony Hopkins in SILENCE OF THE LAMBS? But I guess this year the fraud was particularly egregious because it seemed  driven by likelihood of winning, gaming the category, etc.
David Edelstein:… his liberal conscience
David Edelstein: It's a little unfortunate that Mark Ruffalo mixed lack of nominations for black actors with the black population in prisons. But kudos for…
Guest: There's a reason the reporters normally aren't allowed inside the theater. That was claw-your-eyes-out bad.
David Edelstein: I feel a song coming on
David Edelstein: I meant Sunrise.
David Edelstein: Mark Ruffalo has a wife named Sunshine. That is all.
David Edelstein: if anyone can help atl find out the name of that woman…
Bilge Ebiri: It's me. (I have no idea what you're talking about.)
Atl: Who is the wins in the background with the short green dress, white dots & fringe with mis-matched shoes?
David Edelstein: Amen to that, Bilge. Comedy is seen as flip. But comedy can be a hugely moral and political force.
Bilge Ebiri: I don't think it was the Globes, but that film's balloon did deflate a bit.
hombreficcion: My heart is with Winslet no matter what. But yep, Vikander will win. She probably deserves it, but let's not forget this outrageous and scandalous case of category fraud.
David Edelstein: The Globes… who knows about the Globes? Nutgalls.
Bilge Ebiri: Re: THE BIG SHORT. People always complain about how Oscars don't give enough love to comedy. But then whenever a comedy DOES get nominated, people complain a bit more that it doesn't deserve to be there.
Bilge Ebiri: And an onstage response from Sean Penn, aka El Chapo's Handmaiden, as I recall.
strongone: Matt Damon has much better performances in the Bourne films than in the comedy The Martian. BTW, do you think the Globes classifying it as a comedy has hurt its chances?
David Edelstein: Re: Chris Rock, yes, very much. His mistake was a riff on Jude Law getting all the parts over him that was a good idea but went on too long. It became awkward and earned him some rancor.
David Edelstein: Re: The Other Guys. I did a Q&A with McKay onstage and he said that he'd meant that movie to be a Wall Street satire and not a buddy cop movie. He failed, I'm afraid, although that movie had a strong political sub current. But he made up for it.
Bilge Ebiri: I think she had a really strong year (MAN FROM U.N.C.L.E.!) which is probably one of the reasons why she'll win tonight.
Bilge Ebiri: David, were you a fan of Chris Rock's last Oscars hosting gig? I remember enjoying it a great deal, and then being surprised when it got poor reviews the next day.
David Edelstein: she was even better in Testament of Youth, which no one saw
Bilge Ebiri: STEP BROTHERS is a masterpiece. As is THE OTHER GUYS, which absolutely is one of the best films of its decade. These films are pretty much canon at this point, as far as I'm concerned.
Chorl: Vikander also being in Ex Machina helps her I think
David Edelstein: Bilge, people snicker when I saw that Stepbrothers is one of my favorite comedies of the last decade. But it is a triumph of improvisation.
Bilge Ebiri: I think Vikander is favored, but Winslet seems to have won a lot of the awards leading up.
Guest: Is Vikander or Winslet favored tonight?
JanPatterson: @DavidEdelstein Agreed re: The Big Short, Room, and Spotlight. Wish Netflix movies were nominated: Beasts Of No Nation is strong.
Bilge Ebiri: Adam McKay is definitely some sort of genius. He already proved that with his Will Ferrell movies. I can't wait to see what he does next.
Bilge Ebiri: I went into THE BIG SHORT extremely skeptical, but it really did win me over. There are still parts of it that don't work for me, but I love so, so much of it. And I'm really wowed that they nailed the finance stuff, and didn't dumb it down too much.
Bilge Ebiri: I do think THE REVENANT winning that category over STAR WARS or MAD MAX would be considered an upset.
David Edelstein: Regarding The Big Short, it's unprecedented that a film has been such a weave of urgent journalism and comedy and drama. I know that not everyone loved it as much as I did, but I would give it an award for Best Syntax.
Bilge Ebiri: I guess its box office success would suggest otherwise. But THE REVENANT seems like a very divisive film, in many ways. Not really the kind of middle-of-the-road consensus-builder that's tended to win in recent years. (See: ARGO or THE ARTIST or THE KING'S SPEECH or maybe even BIRDMAN.) That, plus the fact that Inarritu JUST won Picture and Director last year, is the reason why I still predict that it won't win the big award. I'm picking SPOTLIGHT to win, with George Miller winning Best Director. I'd be happy to see THE BIG SHORT or ROOM or BROOKLYN win. And of course, I'd be ecstatic if FURY ROAD won…but that's not gonna happen.
Wrekkinball: I just wish they would have Steve Harvey present Best Actor.  When he reads Leo's name, everyone would be like "Is that a joke, or is he serious?"
Chorl: Would a Revenant beating Star Wars for Visual Effects be considered an upset?
Bilge Ebiri: I will admit, the recent surge of THE REVENANT as a front-runner has taken me completely by surprise. I'm on record as not liking the film much, so I'm biased and this should be taken with a grain of salt: But I've spoken to SO many people – ordinary people, not just critics – who didn't like that film. And even many of those who DO like it agree that it's also kind of bloated and flawed and far from a masterpiece.
David Edelstein: It breaks my heart that everyone is talking about The Revenant as the frontrunner. The Big Short and Room and Spotlight are much more important films.
Bilge Ebiri: But yeah, an unusually weak bunch of Best Actor nominees. And it wasn't that bad a year! There were many better male performances out there.
Bilge Ebiri: Good question! I think Saoirse Ronan for me, probably. And Fassbender for actor - out of that group.
David Edelstein: I do love Ser-sha, whose name I'm going to spell as it's pronounced. Charlotte Ramping talked herself out of an Oscar with her Oscars so white comments. I have no candidate for Best Actor. It's an unusually weak category.
Bilge Ebiri: So David, what are your predictions for tonight? I know you think Leo and Brie will win. Do you think that THE REVENANT will take it?
Guest: David and Bilge - If Leo and Brie weren't in the running, who would you choose to win amongst the other nominees?
David Edelstein: I'm curious what our readers predict will be the upset of the night? Let me know and I'll summarize.
David Edelstein: It's fascinating to look at Stallone's evolution. After Rocky–in which his father said he looked puny–he brought the camera up closer and bulked up ludicrously. He turned himself into a cartoon. Creed returned him to Philly, to the milieu. But yeah, he has done more harm to movies than good over the years.
Bilge Ebiri: He's too rich for a toupee. I'm sure he has fancy, expensive hair plugs, like everyone else.
Bilge Ebiri: Speaking of Stallone, I find it interesting that he's getting a "He's due" Oscar tonight, probably. Stallone movies were the bane of my existence for so many years. I find it odd that it is now accepted that he's due an Oscar. (I liked CREED a lot, btw, but he was the least interesting part of it for me.)
Wrekkinball: Speaking of prices, is Stallone sporting a toupee?
Guest: Good point. Rather like some Presidential candidates are mistaking muscle for intelligence.
David Edelstein: You'd need chemical help too if you'd been married to Noah Baumbach.
Guest: On a scale of 1 to Cheech and Chong, how stoned was Jennifer Jason Leigh on that red carpet tonight?
David Edelstein: Beyond their worth as films, it's the aesthetic that interests me. The relentlessness, the bullying. I know there's a moral rationale for Son of Saul, but I think it still mistakes muscle for imagination.
E.M.H: Test, test, OMG some folks on the 'net have bad things to say about Redmayne and Stallone, testing…
Bilge Ebiri: I just saw that piece. Thanks for the kind words in there, David. And I share your… well, can we say "discomfort" with the idea of both THE REVENANT and SON OF SAUL winning.
David Edelstein: By the way, Mental Floss has tweeted that first Oscar ceremony was 15 minutes long.
David Edelstein: Honestly, I thought that the ceremonies were beginning at 8 but it's 8:30 so by all means y'all send me thoughts I can share. Or check outThe Cut's live blog.
Neiljanowitz: Sliding into the live blog with another link to the piece
David Edelstein: You should all read my intro linked to above to hear the news about my co-blogger and friend, Bilge.
Bilge Ebiri: It's on! Hi David!
David Edelstein: Is this thing on? Test test. Rrrapata hemm hemmmm blegggg brrrrrrrrrr. Okay, diaphragm's working. We can open the doors and let the rabble in.