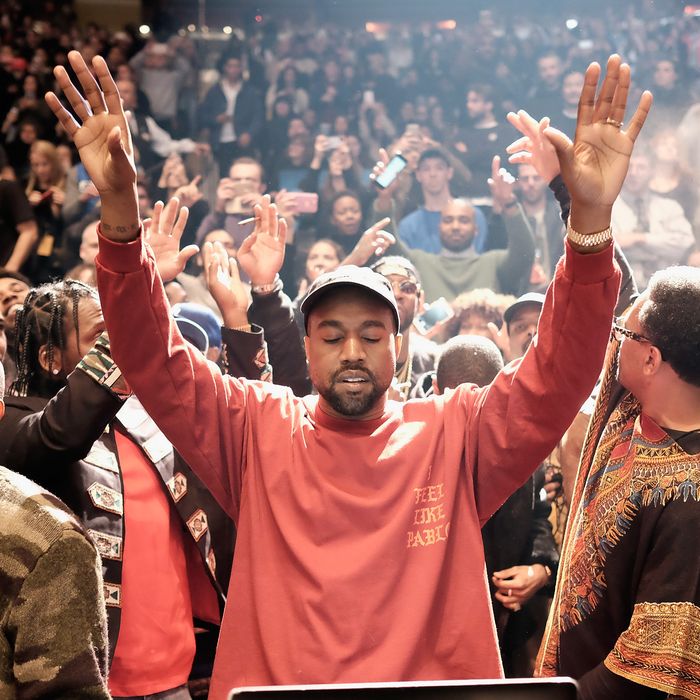 Kanye West.
Photo: Dimitrios Kambouris/Getty Images
Thursday, Kanye West unveiled Yeezy Season 3 and debuted his long-awaited new album, now titled The Life of Pablo, at Madison Square Garden. As we await the album's official release, Vulture music critic Lindsay Zoladz, New York writer-at-large Rembert Browne, and Vulture editors Dee Lockett and Kevin Lincoln discuss the spectacle, the controversy, and our first impressions of the album.
Lindsay: MY PABLOS, what's good? So, a new Kanye West album exists. We know this because we heard it once. Can we stream it or purchase it yet? At press time, no. But we did get to experience it yesterday, in a star-studded listening session/fashion show/clusterfuck that 20 million people (20 MILLION PEOPLE) streamed on Tidal. (How benevolent and professionally savvy of Beyoncé to give us all 90-day free trials for downloading "Formation"!) So much to discuss. The music. The klothes. The Kardashians.
First off, I'm curious about the different ways we all experienced this thing. It felt like one of those rare monocultural moments that everybody was tuned into. I was lucky enough to be at MSG, with a seat good enough that I could see the Royal Fam at all times, but far enough away that I legit thought Kim was Donatella Versace for the first ten minutes. (I was like, "Why are they letting Donatella hold the baby?! Oh.") Were you guys watching online? The whole show had this very charged sense of being A Big Cultural Event in person, but I'm curious to hear if that translated to the livestream.
Dee: I watched the whole mini–Summer Jam from my couch, courtesy of a spotty Tidal stream. But I'll be damned if my living room didn't catch the same spirit that I imagine permeated MSG as soon as Kirk Franklin and Kelly Price's voices hit. Kanye wasn't lying: This is a gospel album, but ratchet gospel — the kind of worship service that covers "Hotline Bling" because why the hell not. Everything about this listening party felt like a kickback in a college dorm, with the difference being that thousands of hypebeasts (fans and press alike, trust), tons of rappers (like Young Thug and his semi-performative ennui), Anna Wintour, and the entire Kardashian-Jenner-Odom clan (a few looking like a swarm of wig-wearing Lil Kim imposters right next to the Queen Bee) got the invite.
When's the last time Kanye did anything low-key? He spent over a year jerking us around in the longest rollout since Rihanna's Anti, trickling out detail after detail — at the first two seasons of this thing, at the Brits, at the goddamn Grammys. Then, like Yeezy Yeezy Yeezy does, he hit us with a deluge of last-minute, thinly veiled promo (beefs with Wiz and Amber, hopefully fake Cosby support, now this Taylor mess) and tons of oversharing about the minutiae of making an album (which I actually don't mind). I've said I'm a Kanye apologist (only the music!), and in the lead-up to MSG, even as recently as Tuesday, it felt like I was the only one still excited about Pablo. Still excited about Kanye West, even.
But y'all haters played yourselves, because when it comes down to #Facts, 20 million bots didn't break the Tidal stream. We did. Stop acting like you're not as much of a slave to the Kanye Machine as the next fuccboi (or fuckboy; whatever makes Vince Staples happy), someone I think we all become while taking in one of these megascale Kanye functions. His intention, I'm sure.
Kevin: I also watched from the comfort of my couch, using the Tidal livestream, and as spectacle, it was … weird. (I did get a free trial to Tidal for it, though! Which I immediately canceled! Hail, Tidal!) I've watched the Knicks play in Madison Square Garden, and compared to the last decade of that team, Kanye's squad might as well have been the '96 Bulls on HGH. (Love you, Kristaps.) But they should've left a camera on them, at least for a sidebar: All that ogling of those bored, dreary models — who collectively looked like an outtake from one of the more far-flung districts of The Hunger Games — proved a bit deflating, particularly as we shifted from "new Kanye" into "who gave Vic Mensa the aux cord."
Don't get me wrong, it was dope, for the mere fact of it happening — for Kanye in a baseball cap and red sweatshirt, like some dad hitting Intelligentsia on a Sunday, bouncing to his music with such obvious, unbridled glee. As a thing, though — as "art," which, come on — I was a tiny bit underwhelmed, watching it on my laptop at home by way of some already-obsolete tech service, staring deep into the maw of 2016.
How was the music? Well! It got me off my couch more than once, my arms going up and down like pistons, my legs in a quarter-squat, fully goofball in my living room. On first weird listen, Pablo (Pablo Pablo Pablo) kinda reminds me of a movie soundtrack, with those setpiece synths and the overwhelming grandeur. I also see the gospel influence, not least because of Ye's insistence. What struck me most, though, was that it is most noticeably Kanye: Yet again, he's made an album that sounds very little like anything anyone else is making, a slight tweak in the current formula of popular culture. For that reason alone, I'm feeling good right now, even if some of the songs, like "Wolves," had a soft landing, and a few others — "Feedback" — I can't remember at all. But part of this comes from excitement, because I was in the damn moment, and besides: I didn't know what to make of Yeezus at first either, and that shit's classic.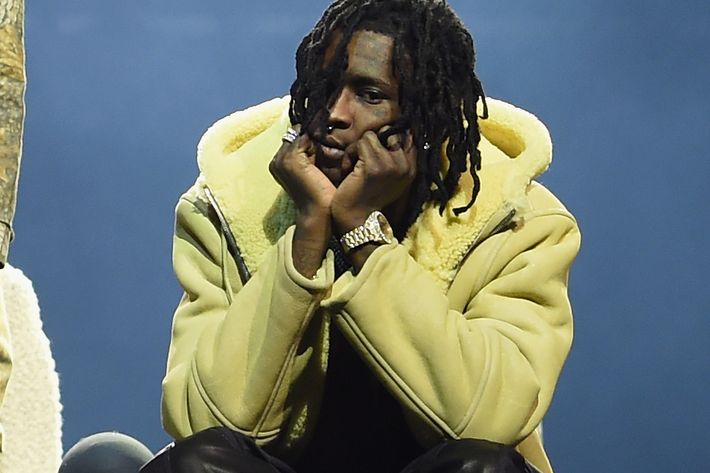 Rembert: At 4 p.m. EST, when the listening session at MSG was supposed to start, I was halfway between New York and Boston on Amtrak, cursing at the sky that I'd agreed to do a Black History Month talk at Boston College instead of wearing my one-piece yellow Helly Hansen outfit to Yeezy Season. But then 4 p.m. EST came and went and the show hadn't started, so I started to feel okay for missing the spectacle. The stream wasn't working, and I assumed that was the Wi-Fi of the Northeast Corridor, but it was actually just Tidal being Tidal, so I even started to feel okay, not even caring about the Kanye-related happenings. Maybe I'd read a book or something, you know — Amtrak shit. But then it finally began, and I've never hated Black History Month so much. The jealousy was real, and not because of the clothes, and not because of the stars present, and not even because of Thugger half-asleep onstage, but because I love few things more than music being played loudly in a place where it typically is not played (MSG on a Thursday afternoon).
I followed the show solely via my Twitter feed (because Amtrak + Tidal = deal broken). Every update was absurd. Every collection of people chronicled backstage was bonkers. I saw that Wale and Cudi hugged or something. There was a small sea of people in white outfits, and allegedly, those were the Kardashians. LAMAR WAS THERE. My thumb was in nonstop "that thing where you pull down on the phone screen with your thumb and it refreshes Twitter" mode. And every refresh, I got something new. With all of this, still, my FOMO was in some control — until I saw "Chance the Rapper" and "Kirk Franklin" in the same tweet. At that moment, I turned my phone on its face and took a walk through coach class, trying to think about anything else other than what was happening by Penn Station.
I WAS RIGHT THERE. I LEFT FROM GODDAMN PENN STATION. I COULD HAVE JUST WALKED ACROSS THE STREET. WHAT THE HELL IS WRONG WITH ME.
Lindsay: Rem, I feel your pain. And Dee, I'm with you about loving this album's gospel inclinations on first listen. It feels like a bit of a throwback to "Dark Fantasy" and "Lost in the World"–era Kanye, and I'm a huge sucker for both those songs. I confess that I have been a Swish Waves Pablo skeptic in recent weeks, and Kanye's outlandish behavior on Twitter was deepening my suspicions that the record wasn't actually going to be done on time for this event. (Those suspicions now feeling justified by the fact that the record's still not out.) But that all sort of fell away as soon as I got to MSG; there was such a flurry of excitement and possibility and something happening. Everyone was looking their best and boldest (shout out to the guy behind me sporting Super Bowl Gaga red eyeliner along his lower lash line).
It was indeed a professional fuccboi convention — and I say that with so much fondness. The merch lines were the longest merch lines I have ever seen in my life, like, I actually believe the show started 30 minutes late because half of the stadium was in line to buy $90 hoodies that said "I FEEL LIKE PABLO." (Okay, I don't actually believe that's why it didn't start on time; Kanye has never once been on time for anything.) Later in the show, when Kanye was talking about this dream of being creative director of Hermès or whatever, a guy behind me yelled out, "Did you make the merch last night?!" And I truly believe that he did make the merch last night, because I truly believe that he named the album like two days ago, and to appreciate both of these things is to appreciate an essential fact of Kanyeness.
This album has felt more up-to-the-deadline than his other albums, but that has more to do with the social media fishbowl and the increased access we have to artists' creative processes. He always been famous for working up to the 11th hour. Remember his immortal words to Rick Rubin upon finishing up Yeezus? "Don't worry, I will score 40 points for you in the fourth quarter."
So, yeah, MSG. As you 20 million people saw, we arrived to the sight of a giant, whale-size tarp hiding lumpy shapes beneath it, and a bunch of security guards having to flap it up and down like a kindergarten parachute because, as anyone familiar with Vanessa Beecroft's work had surmised, there were dozens and dozens of models under there, and they needed ventilation. That moment of anticipation was really thrilling, though, as was the spectacle of Kanye parading out his family in white sequins that glittered across the entire stadium. Just the sheer power of it all was impressive. There was a moment, right after the ripple of recognition went through the crowd that that was Lamar Odom, back from the near-dead, when I honestly thought he was going to bring out Tupac. Kanye was flexing for the world to see, proving that he's maybe the only person who can get Anna Wintour and Young Thug in the same room. (Though he still can't get Anna Wintour to rock to Vic Mensa! We all have our limits.)  Is there another cultural figure out there right now who could pull off this sort of event? Or even want to?
Dee: Beyoncé could, but she's not the sort to bring a laptop containing her latest project and fuss with an aux cord, then go on tangents about how misunderstood and hard it was for her to do it. I tweeted at Kanye after his Cosby troll that it's possible to release music in silence, like both Bey and Rih just did. But Kanye's on a constant quest to prove his worth, and he's too outspoken not to have to. (They kill black men for shouting the shit he does in their public spaces.) Speaking of Beyoncé — whom all things will revolve around this week, no matter what Kanye does — you think she sent Kanye a handwritten note gently demanding he have all those beautifully black-as-hell models throw up the black-power salute and middle fingers? Hov was there; he could've passed it along! Drake could also very well pull off this event, but, shockingly, I don't think he's reached that level of cockiness yet — no matter how much bigger he claims his pool is than Ye's — but just you wait. He's only on album No. 4. And need I remind any fellow journalists of those seven days in hell aboard Rihanna's jet plane media blitz? Talk about another mesmerizing power trip.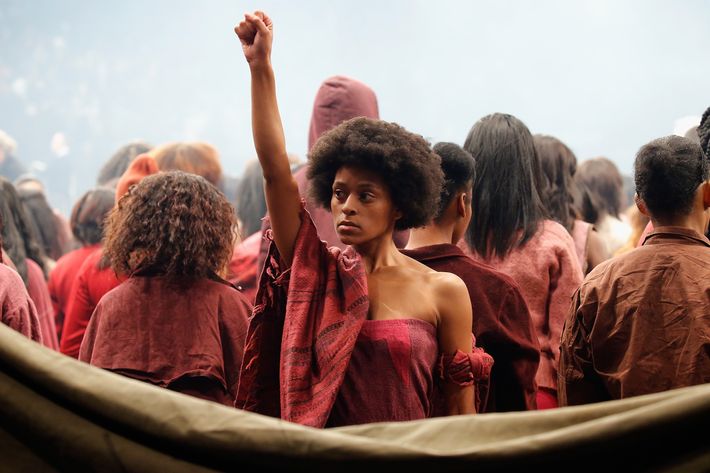 Lindsay: Anybody have any thoughts on Ye getting 20,000 people to chant "FUCK NIKE"? Kanye is obviously a man of many, many contradictions, but one that stood out most starkly to me yesterday was him telling people not to listen to what corporations are trying to sell you, blah blah blah, but then thanking Adidas for giving him the money to pull this thing off? The "fuck Nike" thing does not feel like "fuck all corporations," it feels like, "Fuck the corporation that was shittier to me than the other corporation from which I get all my money." Isn't that a really mixed and disingenuous message?
Kevin: I thought it was hilarious. It felt very athletic to me: this sort of meaningless tribalism that had much more to do with aesthetics and where the money is coming from than any meaningful cause and effect. I mean, Steph Curry wears Under Armour — it's all fucked up in 2016. Nothing would make me happier than Drake and Kanye potshotting each other over running shoes for the next few months. Some things don't have to be serious, and if Kanye wants to really get real with the anti-capitalist rhetoric, well: The young man Bernie Sanders is now taking donations.
Dee, I think your point about how they kill black men for shouting shit like this is an important one. Kanye is not only unafraid, he's steering straight into the nexus of fear, and that's what I'm constantly impressed by; he understands the power and radicalism of a black man behaving the way he does, and he wields it to great effect. Will "Formation" still prove to be the most important piece of music released this week? I think there's a good chance it will. I would give anything to have watched Roger Goodell watch that video for the first time. Anything.
Dee: Running with this idea of the nexus of fear: While I find his Taylor Swift line painfully wack (we get it, you made some POC culturally aware of Tay; your credit to her success ends there), it's not just the raging misogyny and continued disrespect for his wife that makes me, and I'm sure others, uncomfortable. There are racial layers to that line that shouldn't be ignored. We're six decades removed from Emmett Till's murder for allegedly chatting up a white woman, but those same irrational, racist fears of a black man (especially one with Kanye's complexion) speaking vulgarly about a white woman didn't die with Till. (There is also a line on "Highlights" about impregnating white women so they birth more niggas, so stand by for that #outrage.) I'd urge everyone to pay attention to the subtext of Kanye's media lynching over the new few days, and stay woke. Kanye's the perfect villain — loud, proud, egotistical to a fault, and a genius — and he totally eats it up.

First it was the fashion world that didn't accept him, now he's hijacked their whole party, with Anna Wintour's blessing, and upstaged them at the largest venue in Manhattan for his own album-listening session disguised as a runway event. Then it was Nike that poured salt on his wound, which Adidas has stepped in to lick. Now it's Silicon Valley (among many others Kanye feels personally victimized by) that's insulted his vision. Kanye will never feel fulfilled until he's an innovator respected as highly as Picasso — and he isn't interested in waiting around to die for it to happen. "I'm only 38," he noted, sounding both giddy and frightened at the potential for so much more life left to live and create with. If what we saw at MSG is Kanye still testing his learning curve, imagine what'll happen when he's mastered all of this. I just hope that when he does, he's still able to surround himself with all his dudes and bask in their collective black excellence together the way he did at MSG. Like Ye says, "this shit ain't regular" — I wouldn't want it any other way.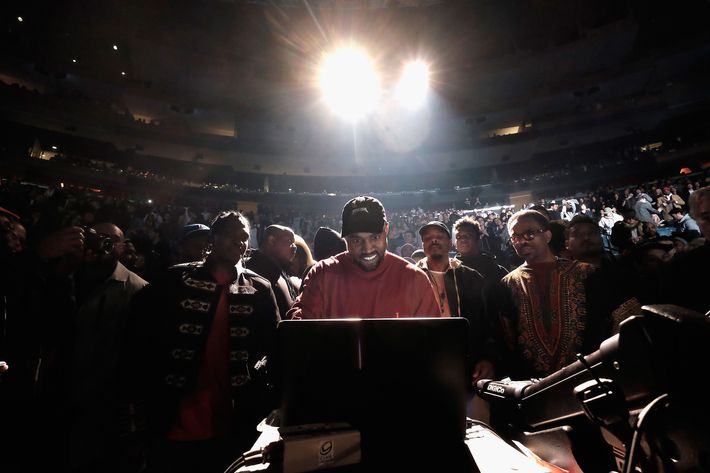 Lindsay: Okay, guys, to ensure that this conversation doesn't become as endless as the event itself, let's wrap things up. Any final thoughts? Given his umpteenth Twitter outburst that is basically going on as we write this, I feel like I can only sum up my Kanye feels right now by quoting Kendrick Lamar: Kanye, loving you is complicated.
Rembert: Again, let me say that I still have only heard one song from the afternoon's proceedings ("WOLVES" CDQ — AND WAS IT EVER SO GLORIOUSLY CDQ), but there is one very clear thing. Kanye is getting more cultish. And by cultish, I mean 2016 Kanye reminds me a lot of 2016 Donald Trump. I love Kanye and I have zero love for Trump, but sometimes I wonder why I still love Kanye, outside of the music he's made. As in, I give him passes that I don't give anyone else, to the point where I've been flat-out disgusted by him, but still, just one sentence prior said "I love Kanye" in the present tense. The comparison with Trump is that he says things and doesn't explain them. He just throws unsupported controversy into the ether and lets people decide what to do with the comment. "Bill Cosby is innocent" isn't followed by "because …" It's just thought followed by next thought. "Bill Cosby is innocent" isn't that much different from "I will build a great, great wall on our southern border. And I will have Mexico pay for that wall." Is that followed by a how, the Donald? Nope, just on to the next topic. It's not cute. I think Kanye thinks it's cute. But it's not.
I'm excited for the album. Because I love Kanye music, as he is still my favorite current musical artist. And to some degree, his level of filterless Kanye is something I've admired since "George Bush doesn't care about black people." I used to be in the cult of Kanye the person. But my fatigue is beginning to show. Maybe I'm simply on my Kanye rumspringa. Or maybe, for this version of Kanye the dude (because there have been many, and there will be many more), I'm taking a seat, not because I'm through with him but because, long-term, I actually care.
Kevin: Acknowledging the fact that the Cosby garbage is reprehensible, I respect the hell out of Kanye's demand to be heard, even if it might be as narcissistic as it is revolutionary. (When have we as a civilization ever been able to separate the two?) But Lindsay, I agree that there isn't really anyone else who could and would want to put on this sort of performance. Drake is too smooth, too poreless; his appeal comes in large part from his weird, birdlike beauty, and this was distinctly a loud, dirty, pugilistic event, more public rally than curated art show. Beyoncé has far too much finesse and statesmanship to bother, and besides which, she's got the Super Bowl to stunt on. And I'm not sure anyone else is in the conversation. Weirdly, I think the artist whom Kanye has the most in common with now is Father John Misty: They both fully understand the power and pliability of the public persona, especially when it intersects with the public, and it's hard to tell when either of them is being honest versus full of shit — with each one, the balance is probably tipped far more in favor of the side that would surprise us. But 20 million people aren't watching a Tidal livestream of Father John Misty, as happy as that would make me — in my opinion, they're our two most interesting (and most gifted) male musicians currently working anywhere near the mainstream.
Dee: No matter what becomes of TLOP, I'm happy we got to see a mad scientist at work. I think my favorite moment was any time the audio would glitch, or an Apple sound effect would interrupt the stream, reminding you, damn, this dude really is playing this shit off his MacBook. This album is clearly not done, or at least not mixed yet — he even played new, unfinished versions of "All Day" and "Facts" — but I loved seeing him workshop it in front of a sea of his worshippers. When he asked what they thought or if he delivered on his "greatest of the life" promise, it wasn't rhetorical. The man wants your feedback, just as much as Hov probably wanted to gauge the reception to new Vic Mensa (which, uh, didn't end well). You think that kid just showed up with a new track at the odd chance he got handed the aux cord? Please, he's not Thugger. Now that I've heard the first draft, I'm willing to give Kanye as much time as it takes (a day, apparently) to get into his manic zone ("Name one genius that ain't crazy") and finesse this thing till it meets his standard of perfection.