Occupying a persona somewhere between her Tony Bennett collaborator phase and her dark American Horror Story countess phase, Lady Gaga stopped by the Super Bowl today to grace the world with her pipes. Gaga rocked a red pantsuit and red eyeliner, but was otherwise a little more restrained than she might have been earlier in her career. This is an artist who's learned how to work what she's got, and what Gaga has is a layered, smoky lower register. As if to complement it, she took a slow tack with the national anthem, light on ornamentation — aside from a rolling, syncopated "Oh, say, can you see," this was no Baroque, Christina Aguilera rendition — and heavy on sustained, powerful vibrato.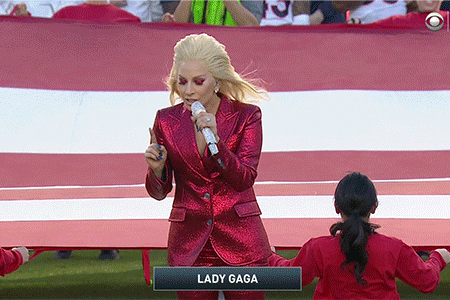 Of course, when Gaga feels the moment, she really feels the moment, so brace for some dramatic pointing and one chest-pounding closing run.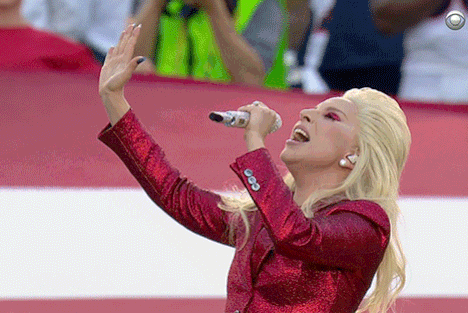 Gaga's performance went over just as well as you might expect, even with those just now discovering that the Lady has some pipes.
Though, of course, we can all still have our fun.
We have a feeling that red pantsuit's going to be an icon of sorts.