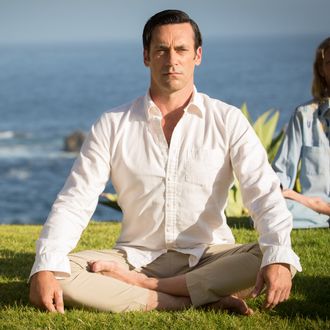 Zen.
Photo: Justina Mintz/AMC
The WGA Awards are the last major guild award before the Oscars (those are coming soon!), but don't look to them for much clarity on the film side this year. Twin front-runners Spotlight and The Big Short split the Best Original and Best Adapted Screenplay categories at the ceremony last night, meaning very little for the future of the race. Things were more exciting on the TV side, however, as the writers awarded Man Men in its final season in Best Drama, gave Mr. Robot a thumbs-up for Best New Series, and reassured everyone that Veep's perfectly crafted beltway profanity is still hitting the mark with a Best Comedy win.
Read the full list of winners below.
ORIGINAL SCREENPLAY
Spotlight
Written by Josh Singer & Tom McCarthy; Open Road Films

ADAPTED SCREENPLAY
The Big Short
Screenplay by Charles Randolph and Adam McKay; Based on the Book by Michael Lewis; Paramount Pictures

DOCUMENTARY SCREENPLAY
Going Clear: Scientology and the Prison of Belief
Written by Alex Gibney; HBO Documentary Films

DRAMA SERIES
Mad Men
Written by Lisa Albert, Semi Chellas, Jonathan Igla, Janet Leahy, Erin Levy, Tom Smuts, Robert Towne, Matthew Weiner, Carly Wray; AMC

COMEDY SERIES
Veep
Written by Simon Blackwell, Jon Brown, Kevin Cecil, Roger Drew, Peter Fellows, Neil Gibbons, Rob Gibbons, Sean Gray, Callie Hersheway, Armando Iannucci, Sean Love, Ian Martin, Georgia Pritchett, David Quantick, Andy Riley, Tony Roche, Will Smith; HBO

NEW SERIES
Mr. Robot
Written by Kyle Bradstreet, Kate Erickson, Sam Esmail, David Iserson, Randolph Leon, Adam Penn, Matt Pyken; USA

ORIGINAL LONG FORM
Saints & Strangers
Written by Seth Fisher, Walon Green, Chip Johannessen, Eric Overmyer; National Geographic Channel

ADAPTED LONG FORM
Fargo
Written by Steve Blackman, Bob DeLaurentis, Noah Hawley, Ben Nedivi, Matt Wolpert, Based on the film Fargo; FX

ORIGINAL SHORT FORM NEW MEDIA
"Back to Reality" (Weight)
Written by Daryn Strauss; weighttheseries.com

ADAPTED SHORT FORM NEW MEDIA
"Chapter Two: Phoebe" (Heroes Reborn: Dark Matters)
Written by Zach Craley; nbc.com

ANIMATION
"Housetrap" (Bob's Burgers)
Written by Dan Fybel; Fox

EPISODIC DRAMA
"Uno" (Better Call Saul)
Written by Vince Gilligan & Peter Gould; AMC

EPISODIC COMEDY
"Sand Hill Shuffle" (Silicon Valley)
Written by Clay Tarver; HBO

COMEDY / VARIETY TALK SERIES
Real Time with Bill Maher
Writers: Scott Carter, Adam Felber, Matt Gunn, Brian Jacobsmeyer, Jay Jaroch, Chris Kelly, Bill Maher, Billy Martin, Danny Vermont; HBO

COMEDY / VARIETY SKETCH SERIES
Inside Amy Schumer
Head Writer: Jessi Klein Writers: Hallie Cantor, Kim Caramele, Kyle Dunnigan, Jon Glaser, Kurt Metzger, Christine Nangle, Dan Powell, Tami Sagher, Amy Schumer; Comedy Central

COMEDY / VARIETY SPECIALS
Jimmy Kimmel Live: 10th Annual After The Oscars Special
Written by Jack Allison, Tony Barbieri, Jonathan Bines, Joelle Boucai, Greg Dorris, Gary Greenberg, Josh Halloway, Sal Iacono, Eric Immerman, Jimmy Kimmel, Bess Kalb, Jeff Loveness, Molly McNearney, Danny Ricker, Joe Strazzullo, Bridger Winegar; ABC

QUIZ AND AUDIENCE PARTICIPATION
Hollywood Game Night
Head Writer: Grant Taylor; Writers: Michael Agbabian, Alex Chauvin, Ann Slichter, Dwight D. Smith; NBC

DAYTIME DRAMA
General Hospital
Writers: Ron Carlivati, Anna Theresa Cascio, Andrea Archer Compton, Suzanne Flynn, Kate Hall, Elizabeth Korte, Daniel James O'Connor, Elizabeth Page, Jean Passanante, Katherine Schock, Scott Sickles, Chris Van Etten; ABC

CHILDREN'S EPISODIC
"Gortimer, Ranger and Mel vs. The Endless Night" (Gortimer Gibbon's Life on Normal Street)
Written by Gretchen Enders & Aminta Goyel; Amazon Studios

CHILDREN'S LONG FORM
Descendants, Written by Josann McGibbon & Sara Parriott; Disney Channel

DOCUMENTARY SCRIPT – CURRENT EVENTS
"American Terrorist" (Frontline), Written by Thomas Jennings; PBS

DOCUMENTARY SCRIPT – OTHER THAN CURRENT EVENTS
"The Great Math Mystery" (Nova), Written by Daniel McCabe; PBS

TV NEWS SCRIPT – REGULARLY SCHEDULED, BULLETIN, OR BREAKING REPORT
"Cuba" (60 Minutes), Written by Scott Pelley, Nicole Young, Oriana Zill de Granados, Andy Court and Robert Anderson; CBS News

TV NEWS SCRIPT – ANALYSIS, FEATURE, OR COMMENTARY
"The Storm After the Storm" (60 Minutes), Written by Sharyn Alfonsi, Michael Rey and Oriana Zill de Granados; CBS News

RADIO DOCUMENTARY
"Marking the End of Vietnam: 40 Years Later"
Written by Andrew Evans; ABC News Radio

RADIO NEWS SCRIPT—REGULARLY SCHEDULED, BULLETIN, OR BREAKING REPORT
"Remembering New York Icons"
Written by Thomas A. Sabella; CBS Radio News

RADIO NEWS SCRIPT – ANALYSIS, FEATURE, OR COMMENTARY
"Passages"
Written by Gail Lee; CBS Radio News

ON-AIR PROMOTION (TELEVISION, NEW MEDIA OR RADIO)
"The McCarthys and Under the Dome Promos"
Written by Erial Tompkins; CBS

OUTSTANDING ACHIEVEMENT IN VIDEOGAME WRITING
Rise of the Tomb Raider
Lead Narrative Designer John Stafford; Narrative Designer Cameron Suey; Lead Writer Rhianna Pratchett; Additional Writer Philip Gelatt; Microsoft

*There were no nominees in the Television Graphic Art and Animation category this year.