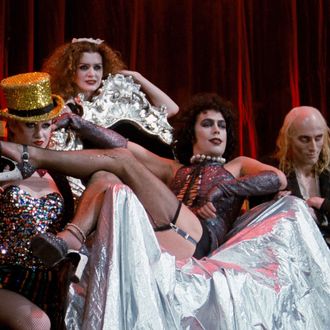 Photo: Twentieth Century Fox
Each month, several films and TV shows leave HBO Now's catalogue. We provide a list of titles leaving the platform so you can watch them all before they're gone forever (or just available on a different site). For more comprehensive coverage of the best titles available on HBO Now and elsewhere, check out Vulture's What to Stream Now hub, which is updated throughout the month.
Murderous chaos: Burn After Reading (2008)
One of the Coen brothers' bleakest movies, Burn After Reading tracks the progress of a disk that contains apparent government secrets after it falls into the hands of a pair of gym rats. The film starts off as a screwball comedy with the full spectrum of total Coen-brand oafs — from Brad Pitt and George Clooney to John Malkovich and J.K. Simmons — but veers into increasing darkness as the twin forces of neoliberalism and stupidity take control of the narrative. Leaving March 31.
Touch-a touch-a touch-a: The Rocky Horror Picture Show (1975)
Have you heard that Fox is making a Rocky Horror TV remake? Do you want to be prepared to feel superior to everyone else watching the show while it airs? Do you harbor a deep and secret shame because you've only ever watched Glee's "Rocky Horror Glee Show" episode? Are you me up until two months ago? Watch this. Leaving March 31.
Oscars prep: Birdman or (The Unexpected Virtue of Ignorance) (2014)
Alejandro G. Iñárritu's stunt of a film is shot as if in one take and follows a former blockbuster actor as he preps for his Broadway debut. Birdman won Best Picture last year, and Iñárritu's similarly attention-grabbing Revenant stands a good chance of winning this year. What better to watch before the Academy Awards than last year's victor? Leaving March 31.
Infernal affairs: The Departed (2006)
Martin Scorsese dives into the South Boston crime scene with the film that probably should have won Leo the Oscar he's about to get for The Revenant. The Departed traces the intersecting paths of a mole in the police force (Matt Damon) and an undercover cop in the mob (Leonardo DiCaprio). Also, there's tons of good rock music, scenery chewing from Alec Baldwin and Mark Wahlberg, and accents galore. Leaving March 31.
Let the river run: Working Girl (1988)
Every few months or so, Working Girl makes its way on or off HBO's catalogue (who knows exactly what Time Warner's deal is with 20th Century Fox), but there's always good reason to give it a shout out. Giant hair! Beefcake Harrison Ford! Carly Simon! What more could you want? Leaving March 31.
Leaving earlier in March:
Bad Words (2013)(March 29)
Leaving March 31:
Beetlejuice (1988)
Birdman or (The Unexpected Virtue of Ignorance) (2014)
Burn after Reading (2008)
Kill the Messenger (2014)
Life is Beautiful (1997)
Rio 2 (2014)
The Departed (2006)
The Hobbit: Battle of the Five Armies (2014)
The Rocky Horror Picture Show (1975)
The Theory of Everything (2014)
Transcendence (2014)
Working Girl (1988)
For more details on the best film and television available online, consult Vulture's What to Stream Now hub.