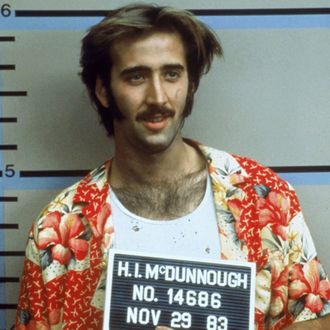 At the beginning of (and during) every month, HBO adds new movies and TV shows to HBO Go and HBO Now. We figure you might want to know about them. For more comprehensive coverage of the best titles available on HBO and elsewhere, check out Vulture's What to Stream Now hub, which is updated throughout the month.
Bringing up baby: Raising Arizona (1987)
An ex-con (Nicholas Cage) and former cop (Holly Hunter) get together, and after discovering they can't have children, decide to kidnap a baby. Since its release, the Coen brothers' early black comedy has become a cult classic, with its bevy of memorable supporting characters and surprisingly real dose of pathos. In fact, Bilge Ebiri ranked Raising Arizona first among the Coen brothers' film work earlier this year — not that Coen brothers rankings are ever controversial. Available March 1.
Family values: The Birdcage (1996)
An adaptation of La Cage Aux Folles, The Birdcage follows a gay couple (Robin Williams and Nathan Lane) that pretends to be straight to appease their son's girlfriend's conservative parents. Somewhat a relic of the "Don't Ask, Don't Tell" era, The Birdcage is a gleeful farce with just enough heart to make the antics all work. Available March 1.
Melissa McCarthy at her best: Spy (2015)
The funniest film of last year, Paul Feig's spy comedy lets Melissa McCarthy do whatever she wants, and it pretty much always works. Plus, Jude Law does a send-up of the classy British spy, Jason Statham proves he has comedy chops, and Rose Byrne laps the competition as a spoiled villain dressed like a dolphin trainer. Available March 5.
Broadway on TV: Lady Day at Emerson's Bar & Grill
Audra McDonald brings her Tony Award–winning performance as Billie Holiday in Broadway's Lady Day at Emerson's Bar & Grill to HBO with a taped special, filmed before a live audience at Cafe Brasil in New Orleans. The play itself imagines a performance from Holiday in 1959, when the legendary singer was strung out on heroin and just four months from her death. In McDonald's hands, this becomes a chance to reflect on Holiday's past in a series monologues, and, of course, to sing the blues so very well. Available March 12.
The story of Nora Ephron: Everything Is Copy
A documentary about Nora Ephron by her eldest son, Jacob Bernstein, Everything Is Copy pieces together the late writer and director's life from archival footage and interviews with her close friends, who just happened to be people like Mike Nichols, Meryl Streep, Meg Ryan, and Tom Hanks. Available March 21.
TELEVISION
A Girl in the River: The Price of Forgiveness (March 7) (Oscar short)
Lady Day at Emerson's Bar & Grill (March 12)
Ebola: The Doctors' Story (March14)
Body Team 12 (March 14) (Oscar short)
Orphans of Ebola (March 14)
Gonzaga: The March to Madness Finale (March 16)
Everything Is Copy (3/21)
Psi (Season 2 Finale) (3/25)
Only the Dead See the End of War (3/28)
MOVIES
Available March 1:
Antwone Fisher (2002)
Barbershop (2002)
Barbershop 2: Back in Business (2004)
Beauty Shop (2005)
Charlotte's Web (1973)
Friday Night Lights (2004)
The Gallows (2015)
I Think I Love My Wife (2007)
Keeping the Faith (2000)
Kiss the Girls (1997)
Kung Pow: Enter the Fist (2002)
Me and Earl and the Dying Girl (2015)
Ouija (2014)
Raising Arizona (1987)
Remember the Titans (2000)
Saving Silverman (2001)
Snatch (2000)
Super Troopers (2001)
Tammy (2014)
The Birdcage (1996)
The Uninvited (2009)
Available later in March:
Kamikaze (2014) (March 4)
Los Contreras Familias (2014) (March 4)
Spy (2015) (March 5)
Refugiado (2014) (March 11)
Max (2015) (March 12)
Pitch Perfect 2 (2015) (March 19)
Vacation (2015) (March 26)
For more details on the best film and television available online, consult Vulture's What to Stream Now hub.