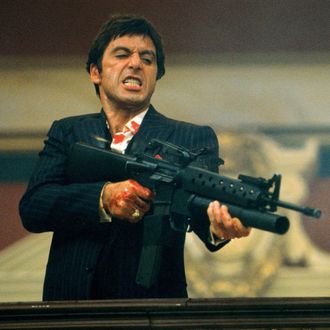 At the beginning of (and during) every month, Netflix adds new movies and TV shows to its library. We figure you might want to know about them. For more comprehensive coverage of the best titles available on Netflix and elsewhere, check out Vulture's What to Stream Now hub, which is updated throughout the month.
Phil? Hey, Phil? Phil! Groundhog Day (1993)
Harold Ramis's film about a weatherman stuck in the same day over and over again is half a charming Bill Murray comedy and a half a … Buddhist allegory on escaping a cycle of suffering? (People have argued this). More important, it's a chance to enjoy Stephen Tobolowsky, who kills every scene he's in (again, and again, and again). Available March 1.
Say hello to: Scarface (1983)
It's a crime that the site that gave us Narcos didn't already have Scarface on file — then again, maybe that was a strategic move, as the TV show pales in comparison to Brian De Palma's red-blooded epic. As he rises to the top of Miami's drug trade, Al Pacino says all the lines you've heard teenage boys misquote elsewhere. A reboot was in the works a while back, but why would you want that? Just watch this. Available March 1.
Underwood 2016: House of Cards (Season 4)
It will be hard for House of Cards' fake politics to top the craziness of our own election, but the team behind Netflix's sudsiest Beltway drama will surely try. Frank and Claire Underwood start to turn against each other this season, as the sex and corruption remain as gloriously convoluted as ever. Available March 4.
Netflix does comedy: Flaked (Season 1), Netflix Presents: The Characters (Season 1)
In Flaked, Will Arnett plays his latest handsome dirtbag, a man roaming through Venice, California, reflecting on the various dirtbag choices he's made in the past. In The Characters, Netflix gave eight different comedians their own episode of a TV show. The former will give you one long dose of comedy-drama, while the latter's going to be a grab bag of styles. Available March 11.
Back to the Marvelverse: Marvel's Daredevil (Season 1)
In season two of Daredevil, we return to Marvel's version of Hell's Kitchen, which is a den of crime and inequity instead of, as in real life, a place to get pricey Italian food and go clubbing. This time around, there'll be more Marvel characters stopping by (and probably a few cameos from sister show Jessica Jones). Watch out for Elodie Yung's Elektra and Jon Bernthal's Punisher, who just may get his own show. Available March 18.
TELEVISION
March 1
Aldnoah.Zero (Season 2)
Midsomer Murders (Series 17)
March 4
House of Cards (Season 4)
Lab Rats (Season 4)
LEGO: Bionicle: The Journey to One (Season 1)
Louie (Season 5)
March 7
Cuckoo (Seasons 1-2)
March 8
Digimon Fusion (Season 2)
March 9
The Returned (Season 1)
March 10
Comedy Bang! Bang! (Season 4, part 3)
March 11
Dinotrux (Season 2)
Flaked (Season 1)
Netflix Presents: The Characters (Season 1)
Popples (Season 2)
March 16
Happy Valley (Season 2)
March 18
Marvel's Daredevil (Season 2)
The Mr. Peabody and Sherman Show (Season 2)
March 25
VeggieTales in the House (Season 3)
March 28
Trailer Park Boys (Season 10)
March 31
Yu-Gi-Oh! Zexal (Seasons 1-2)
MOVIES
March 1
Adult Beginners (2015)
Ahora o Nunca (2015)
American Pie Presents: Beta House (2007)
American Pie Presents: The Naked Mile (2006)
Before We Go (2015)
Blue Mountain State: The Rise of Thadland (2016)
El Desconocido (2015)
Fresh Meat (Series 2)
Frog Kingdom (2013)
Good Burger (1997)
Groundhog Day (1993)
Heaven Knows What (2015)
Hot Sugar's Cold World (2015)Narcopolis (2015)
Road Trip: Beer Pong (2009)
Robin Hood: Prince of Thieves (1991)
Scarface (1983)
Star Trek: The Motion Picture (1979)
Star Trek II: The Wrath of Khan (1982)
The Young Kieslowski (2014)
March 2
For Grace (2015)
March 4
LEGO Friends: The Power of Friendship (2016)
March 5
Hell & Back (2015)
March 7
Halo: The Fall of Reach (2015)
Sin Filtro (2016)
March 10
Hateship Loveship (2013)
March 12
Shelter (2015)
March 15
10,000 Saints (2015)
4GOT10 (2015)
The Falling (2015)
Final Girl (2015)
Finders Keepers (2015)
Power Rangers Dino Charge (Season 1, part 2)
War Pigs (2015)
March 16
Are You Here (2014)
Charlie St. Cloud (2010)
Gridiron Gang (2006)
Larry Crowne (2011)
Promised Land (2012)
March 18
He Never Died (2015)
Jimmy Carr: Funny Business (2016)
My Beautiful Broken Brain (2016)
Pee-wee's Big Holiday (2016)*** (Joe Manganeillo)
March 22
The Art of Organized Noize (2016)
Ouija Experiment 2: Theatre of Death (2015)
March 24
The Forbidden Kingdom (2008)
A Promise (2013)
March 31
Bachelor Party 2: The Last Temptation (2007)
Fright Night 2 (2013)
Murder Rap: Inside the Biggie and Tupac Murders (2015)
Sunshine Superman (2015)
Yu-Gi-Oh! Bonds Beyond Time (2011)
For more details on the best film and television available online, consult Vulture's What to Stream Now hub.