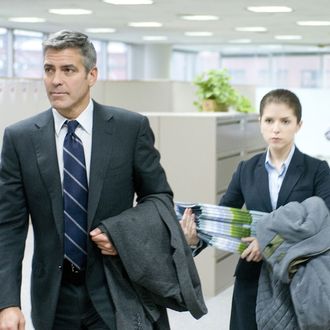 Photo: Paramount Pictures
At the beginning of (and during) every month, Showtime adds new movies and TV shows to its library. We figure you might want to know about them. For more comprehensive coverage of the best titles available on Showtime and elsewhere, check out Vulture's What to Stream Now hub, which is updated throughout the month.
You're fired, but not in a Donald Trump way: Up in the Air (2009)
George Clooney travels around the country firing people and racking up frequent flyer miles in Jason Reitman's take on Walter Kirn's novel. The film comes with the antiseptic mildew of airport lounges and empty post-recession corporate offices, but finds its warmth in Clooney's romance with Vera Farmiga and in his banter with upstart hire Anna Kendrick. Available March 1.
Kitsch horror: Big Eyes (2014)
Tim Burton homes in on kitsch history in Big Eyes, the story of Margarent Keane, who painted those eerie images of big-eyed children, and her husband, who took the credit. Led by Amy Adams and Christoph Waltz, the film travels from exploitation tale to magical-realist suburban horror story. It may not connect for everyone, but like Keane's paintings, it still unsettles. Available March 5.
Docs gone wild: Spring Broke (2016)
A documentary about the rise of spring-break expeditions to Daytona Beach, which started in the early '60s and became a full-fledged cultural fixture by the 1980s with the rise of MTV. The doc doesn't have James Franco whisper-crooning "spring breeeaak," but it does have sociological historical analysis from director Alison Ellwood, who has also worked on a history of the Eagles with Alex Gibney. So there's that. Available March 25.
New Films
Up in the Air (2009)(March 1)
Becoming Bulletproof (2014)(March 1)
U-571 (2000)(March 3)
Steve McQueen: The Man & Le Mans (2015)(March 4)
Big Eyes (2014)(March 5)
The Forger (2014)(March 12)
Steve-O: Guilty As Charged (2016)(March 18)
Spring Broke (2016)(March 25)
For more details on the best film and television available online, consult Vulture's What to Stream Now hub