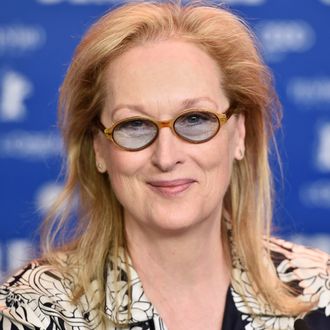 She is the one who cleans.
Photo: Pascal Le Segretain/Getty Images
The Guardian recently launched a Hollywood column written by an anonymous actress, and its second installment, about the Oscars, is a doozy. (Sample line: "Honestly, anyone who tells you [a nomination] isn't a thrilling, wonderful moment in their life is probably a bit of an ass-hat.") Of most interest is our narrator's story of being saved from a batch of nerves by the woman with the most Best Actress nominations in Oscar history. " I do remember getting hugely sweaty armpits and Meryl Streep helping me dry them under the hand-blower thing in the ladies room," she writes. "Clearly the woman is a saint, as she also reminded me to take the blotting tissues out from under my arms before I went back to my seat." Can you even imagine? Of course, this raises the pressing question: Who was the nominee who got her armpits cleaned up by Meryl, and was it Kate Winslet?
Here are our clues:
Per her bio, our author has been nominated for both an Oscar and a Golden Globe.
There's no word on whether she won, which is likely an attempt to muddy the waters. Still, that leaves off people like Emily Blunt, a prime candidate whom we swore had an Oscar nomination. Kate Winslet has been nominated for seven Oscars (winning one) and 10 Golden Globes over the course of her career.
She got an Oscar nomination in a year Leonardo DiCaprio was nominated as well.
The anonymous nominee remembers Meryl giving her a post-armpit cleaning tip: Bet on Leo. (This marks the only time Meryl Streep has ever been wrong about something.) Kate Winslet's Oscar nominations overlapped with Leo twice: In 2005, when he was up for The Aviator and she was up for Eternal Sunshine; and in 2007, when he was up for Blood Diamond and she was up for Little Children. Meryl Streep was also in attendance at the 2007 Oscars, where she was nominated for Devil Wears Prada.
Her father is still alive.
On the night in question, our author says, "My dad cried when he saw me in my dress, and he gave me $20 to put in my purse in case I had to get a cab home." Winslet's father, Roger, an actor who appeared on British cop procedural The Bill, is still with us.
She says things like "a bit of an ass-hat" and "shitloads of money."
Come on, it's Winslet.