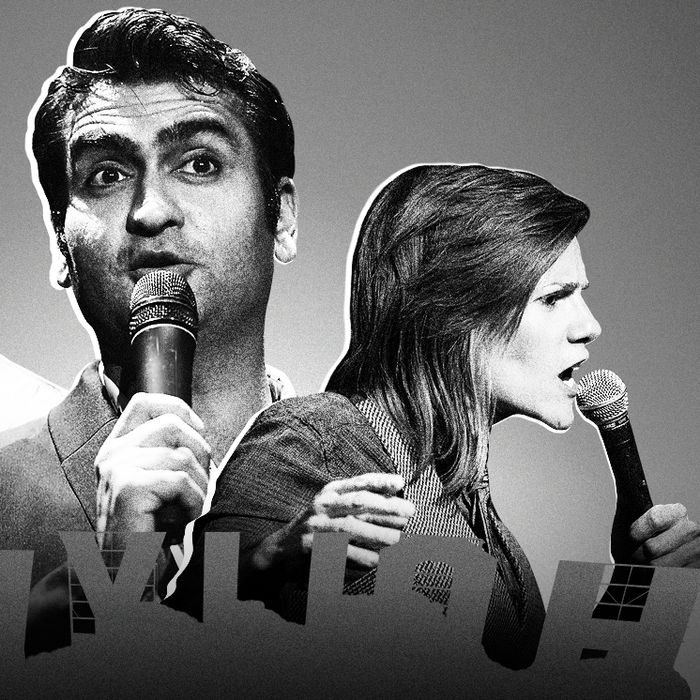 Photo-Illustration: Vulture and Photo by Getty
This week Vulture is running a series of stories about the comedy produced in, and inspired by, New York and Los Angeles. Yesterday comedian Chris Gethard wrote about his decision to stay in NYC. Today we have guides for comedy fans seeking good shows in each city. Here is the NYC guide.
Where the New York comedy scene is defined by an extreme density of shows, the Los Angeles comedy scene is vast. From Santa Monica to Downtown L.A., there's comedy happening every night — though it's not always easy to know where it's happening and what's worth attending. One solution? Let your other entertainment preferences guide you. Here's the comedy to see and where to see it in Los Angeles, based on your TV, movie, or … card game … tastes.
If you like The Late Late Show's "Carpool Karaoke," you'll like the Goddamn Comedy Jam.
Some of the best comedians around do a set, then sing their hearts out to a song of their choice. Host Josh Adam Meyers and house band the Goddamn Band are equipped to cover almost any tune imaginable, making for an epic night of comedy and song.
The Lyric Theatre, 520 N. La Brea, Ave.; monthly.

If you like Transparent, you'll like Put Your Hands Together.
Cameron Esposito and Rhea Butcher host this stellar stand-up showcase and podcast at UCB Franklin with a vibe that's inclusive and enlightening while still being warm and funny. Esposito, as the host, often gets deep and candid about various issues of our time, which sets this show apart from so many other L.A. showcases.
UCB Franklin, 5919 Franklin Ave.; Tuesdays at 8 p.m. 
If you like Old School, you'll like Brew Haha.
Host Brad Silnutzer wanted to mix a stand-up-comedy show with a drinking game: The result is Brew Haha. Packed since it started — and it has only grown in popularity — Brew Haha looks like one of those unbelievable house parties you usually only see in movies.
Various locations; monthly.
If you like Nathan for You, you'll like Tomorrow! With Ron Lynch.
The weekly midnight show remains a hidden gem while also being an L.A. comedy institution. Originally hosted by Metalocalypse's Brendon Small, Craig Anton, and Ron Lynch, it now features Lynch as the sole ringleader of the experimental variety show, currently in its tenth year of wrangling acts from the fringes of comedy.
Trepany House at Steve Allen Theater, 4773 Hollywood Blvd.; Saturdays at 12 a.m. 
If you like Comedy Central Roasts, you'll like Roast Battle.
The show, which now has an NYC offshoot as well as a Sundance documentary directed by Jason Reitman, was born in the Belly Room of the Comedy Store. Brian Moses hosts two comedians roasting each other à la rap battles with jokes instead of bars in front of a panel of veteran comedian judges, who sometimes roast the competitors worse than they roast each other. It's a phenomenon.
The Comedy Store Belly Room, 8433 W. Sunset Blvd., West Hollywood; Tuesdays at 10:30 p.m.

If you like The Comedians of Comedy, you'll like Largo at the Coronet Theatre.
Tig Notaro, Paul F. Tompkins, Patton Oswalt, Sarah Silverman, John Mulaney, Nick Kroll, Pete Holmes, and Judd Apatow (just to name a few) all have monthly shows at one of L.A.'s most highly regarded venues. Over the last few years it's become the home away from home for the top tier of alternative comedians.
Largo at the Coronet Theatre, 366 N. La Cienega Blvd.; Nightly 
If you like Cards Against Humanity, you'll like Set List.
Comedians are forced to improvise stand-up, as if it's their tried-and-true material, based on topics they've never seen before. As with Cards Against Humanity, the topics are usually very obtuse and/or dark. Since its birth a few years ago from the mind of creator Troy Conrad, Set List has toured the world and even become a TV show overseas.
Various locations; monthly.
If you like Unlikely Animal Friends, you'll like the Best Friends Show.
It's a monthly storytelling show hosted by real-life best friends Aliya Kamalova and Kim Seltzer where comedians and their best friends attempt to tell a story onstage together. While simple in concept, the stories are, almost by default, presented in a very heartwarming way.
Nerdmelt Showroom, 7522 W. Sunset Blvd.; monthly.

If you like porn parodies, you'll like Competitive Erotic Fan Fiction.
Many cringe at the idea of fan- or slash fiction, but in the hands of comedians gold can be found. Bryan Cook leads a cadre of funny people as they write uncensored erotic stories, in the process twisting any and all perceptions you've had about your favorite pop-culture icons.
The Virgil, 4519 Santa Monica Blvd.; third Sunday of the month at 7 p.m.
If you like Flight of the Conchords, you'll like Drennon Davis's Imaginary Radio.
Drennon Davis makes various clever radio shows, complete with songs, commercials, etc, all ahead of time with guests, like his frequent collaborator Karen Kilgariff. All of this is brought together under the umbrella of an "imaginary radio" that allows Drennon to "tune" from any song or bit to the next like you would with an old-fashioned dial radio.
The Satellite LA, 1717 Silver Lake Blvd.; monthly.
If you like Mystery Science Theater 3000, you'll like Doug Benson Movie Interruption/How Did This Get Made?/Horrible Movie Night.
MST3K might be coming back thanks to Kickstarter, but for the last few years riffing on bad movies has been alive and well thanks to a handful of different events. In his eponymous show, Doug Benson has friends join him for the traditional yelling-jokes-during-the-movie bit. Elsewhere, Paul Scheer, June Diane Raphael, and Jason Mantzoukas go deep in analysis of bad movies in the live performance of their popular podcast How Did This Get Made? And Horrible Movie Night actually puts the audience in the riffing seats and encourages viewers to shout out their best heckles.
Doug Benson Movie Interruption, Cinefamily, 611 N. Fairfax Ave.; monthly.
How Did This Get Made?, Largo at the Coronet Theatre, 366 N. La Cienega Blvd.; monthly.
Horrible Movie Night, Nerdmelt Showroom, 7522 W. Sunset Blvd.; monthly.
If you like Jackass, you'll like Power Violence.
Best friends Whitmer Thomas, Budd Diaz, and Clay Tatum figured out how to take hanging out, pulling pranks on each other, and occasionally skating and make it into a cohesive, positively vibed comedy show. The gang is at their best pulling off physical stunts with a smile.
The Satellite LA, 1717 Silver Lake Blvd.; monthly.

If you like Whose Line Is It Anyway?, you'll like Shitty Jobs.
Those with the slightest interest in improvisational comedy will be dazzled by what's probably the most popular weekly improv show in all of L.A. An audience member's titular shitty job is the basis of improv performed by UCB heavyweights Ben Schwartz, DC Pierson, Dominic Dierkes, Sean Clements, Eric Appel, and Ben Rodgers. Though they perform long-form improv, it's so bit-heavy that it can resemble the quick-hitting high of short-form improv such as Whose Line.
UCB Franklin, 5919 Franklin Ave.; Sundays at 9:30 p.m.
If you like Portlandia, you'll like Good Heroin.
It's a stand-up show in Echo Park (a.k.a. the Portland of L.A.) inside the back patio of an independent neighborhood bookstore and café. Beyond just the setting, hosts Dave Ross and Matt Ingebretson manage to cultivate a show that is comparable to the fun, sweet, and absurd tone of Portlandia.
Stories, 1716 W. Sunset Blvd.; Saturdays at 8 p.m. 
If you like Saturday Night Live, you'll like the Groundlings … Come Out to Play-aaay!
Will Ferrell, Will Forte, Jan Hooks, Kristen Wiig, Taran Killam, Maya Rudolph, Phil Hartman — the list of Groundlings alumni goes on. While other theaters — most notably Chicago's Second City — have long been a major part of SNL's feeder system, none seemed to better prepare future cast members than Groundlings. Focusing on big characters, its main company show is the closest you'll get to seeing in person the sort of sketches you expect from SNL, short of being in Studio 8H.
The Groundlings, 7307 Melrose Ave.; Fridays and Saturdays at 8 p.m.

If you like The Meltdown With Jonah and Kumail, you'll like, well, the Meltdown With Jonah and Kumail.
The Meltdown is one of the, if not the, greatest depictions of stand-up ever on television. This is largely because the show is able to capture the intimacy and energy of the live show it grew out of. With a pitch-perfect mix of up-and-comers showcasing their best stuff and established comics doing new or silly bits, there's a reason the Meltdown has been the definitive L.A. comedy show for years.
Nerdmelt, 7522 W. Sunset Blvd.; Wednesday at 8:30 p.m.