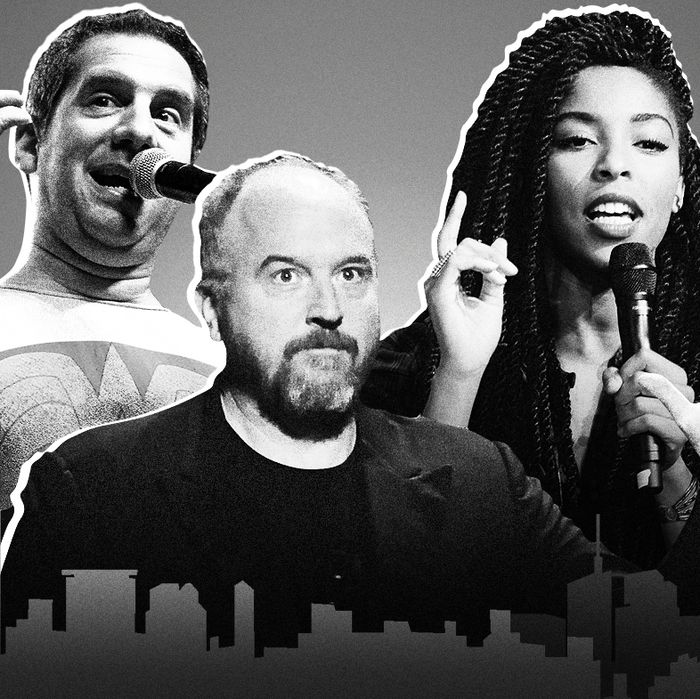 Photo-Illustration: Vulture and Photo by Getty
New York City is home to some of the best stand-up comedy in the world. And improv. And sketch. And this one show where they use Tinder in real time. Point is, as a comedy fan, it can be hard to decide which comedy shows to check out, especially when there are consistently funny, surprisingly cheap shows going on every night of the week.
One solution? Let your binge-watching guide you. Here is what comedy to see and where to see it in New York, based on your televised or streamed comedy preferences.
If you like The Nightly Show, you'll like Two Beers In.
Political roundtables can be great with the right balance of host, panelists, and topics, but they're always more fun with booze. Charlie Todd and Cody Lindquist invite comedians, journalists, and various thinkers to chug a couple of beers onstage and get into politics. Only a few months old, the show has already included guests like Daily Show correspondent Hasan Minhaj and NY1's Pat Kiernan; who knows what brave, familiar faces will step up next.
UCB East, 153 E. 3rd St.; every other Tuesday at 9:30 p.m. 
If you like Adult Swim, you'll like Murderfist.
Do you prefer your comedy weird, dark, and/or gross? Murderfist is the sketch group you want. "We are Murderfist and we are here to fuck you!" they declare over thumping music and strobe lights at the beginning of every show. Sketches often involve violent deaths and dildos, cast members in various states of undress, and a descent into the darkest corners of humanity.
The People's Improv Theater, 123 E. 24th St.; one Saturday per month at 9:30 p.m. 
If you like WTF With Marc Maron, you'll like Employee of the Month.
A comedian and writer, Catie Lazarus has been hosting talk shows for nearly a decade, and each month, her late night-style show welcomes guests to talk about their careers, whether glamorous or just unusual. She almost always features a comedian (recent guests include Sarah Silverman and David Cross), and she has the amiable curiosity of a fellow comic with the research and well thought-out questions of a serious interviewer.
Joe's Pub at the Public Theater, 425 Lafayette St.; last Thursday of the month.
If you like The Daily Show, you'll like 2 Dope Queens.
Can't get enough of The Daily Show's smart take on the issues of the day? 2 Dope Queens will hit the spot. Hosted by stand-up comedian and Vulture contributor Phoebe Robinson and Daily Show correspondent Jessica Williams, the duo mix up their social and political commentary with personal stories and invite a selection of their favorite comics to perform in their bi-monthly shows. A recent New York Times article said the duo's "onstage chemistry suggests they have the potential to be the next formidable breakout team."
Union Hall, 702 Union St., Brooklyn; every other Wednesday at 8 p.m. 
If you like @midnight, you'll like Punderdome 3000.
Puns are often disparaged in comedy, but done well, they can be exquisite. Punderdome 3000 not only showcases some of New York City's finest punsters, it turns wordplay into a competitive sport, with audience applause determining who moves forward in this multi-round contest. Hosted by the father-daughter duo of Fred and Jo Firestone, it's become a huge hit, selling out every month to a pun-loving Brooklyn crowd.
Littlefield, 622 Degraw St., Brooklyn; first Tuesday of every month.
If you like Louie, you'll like the Comedy Cellar.
If watching the opening credits to Louie hasn't already made you want to make a trip to the Cellar, maybe the reminder that you can actually see Louis C.K. perform there will convince you. It doesn't really matter which show you see —  the lineups are well curated — though the late-night show is known for seeing bigger drop-ins. After the show, you can usually see a huddle of comics you'll recognize hanging out at the Olive Tree Café upstairs or running to do another set at the Cellar's sister club, the Village Underground, around the corner.
The Comedy Cellar, 117 Macdougal St.; nightly showcases at 7:30, 9:30, and 11:30 p.m. 
If you like Comedy Central Roasts, you'll like Roast Battle.
The popular L.A. show has found an East Coast home thanks to the show's former co-host, Rell Battle. Two comedians go head to head with thoroughly researched (and thoroughly brutal) insult jokes — just like a rap battle, but with comedy. Not for people who are offended by jokes about 9/11, abortion, or just about any other controversial reference possible.
New York Comedy Club, 241 E. 24th St.; every other Thursday at 10 p.m. 
If you like BoJack Horseman, you'll like Picture This.
If you like animated comedies, how about animated stand-up comedy? Picture This pairs some of your favorite comedians with animators who illustrate jokes on the spot. Hosted by Peggy O'Leary, it's just like having your portrait drawn at a fair, only instead of mildly insulting caricatures, you get to see one-of-a-kind depictions of what's going on inside funny people's heads.
Union Hall, 702 Union St., Brooklyn; monthly.
If you like Curb Your Enthusiasm, you'll like Gravid Water.
Professional theater actors are given a scene from a play and told to memorize their half of the lines, only to be paired with an improv comedian who doesn't even know what play they're in. Created and directed by Stephen Ruddy, it's the perfect combination of skilled acting and totally off-the-cuff comedy that any fan of scripted improvised Curb will appreciate.
The Upright Citizens Brigade Theater, 307 W. 26th St.; last Monday of every month at 8 p.m.
If you like Comedy Bang! Bang!, you'll like Sweet.
Hosted by comedian and Tonight Show warm-up comic Seth Herzog, along with Jimmy Fallon's Late Show President Obama impersonator Dion Flynn, this weekly stand-up showcase has the same fluid weirdness of Comedy Bang! Bang! (and the strong host/sidekick combination doesn't hurt the comparison). The alternative vibe flows through both sets and weird interstitial bits, which can sometimes involve Herzog's mother coming onstage, or end in a dance party with a bunch of comedians.
The Slipper Room, 167 Orchard St.; Tuesdays at 9 p.m.
If you like Saturday Night Live, you'll like ASSSSCAT 3000.
If SNL is the pinnacle of weekend comedy on TV, ASSSCAT is that of the New York Comedy scene. A staple of the Upright Citizens Brigade since its inception, the lines around the block will tell you that this is where the best come out to play. Top UCB improvisers (sometimes including Amy Poehler) do their thing while a celebrity monologuist provides inspiration for scenes based on a single suggestion from the audience. To get into the free late show at 9:30, grab a book and a snack and plan to be in line for at least an hour. It's always worth it.
The Upright Citizens Brigade Theater, 307 W. 26th St.; Sundays at 7:30 and 9:30 p.m.
If you like live-tweeting The Bachelor, you'll like Tinder Live!
Comedian Lane Moore hosts this show that captures all the magic of this truly ridiculous era in app-based dating in real time. If you take The Bachelor about as seriously as your own hapless quest for romance, you'll relate to Moore's live-swiping and laugh at her reactions and messages to would-be suitors. It's also a great place to take a date — maybe not a Tinder date, but perhaps a second or third OKCupid date, so you can look down on the people still trying to find love on Tinder.
The Bell House, 149 7th St., Brooklyn; or Union Hall, 702 Union St., Brooklyn; monthly.
If you like Inside Amy Schumer, you'll like the Stand.
If you're looking for something to tide you over until the new season of Inside Amy Schumer, the Stand is the perfect solution. Like that show, a night of stand-up at the Stand will hit topics across the board, with smart political material, quirky alternative ideas, and hilarious filth. It's a place where big names like Louis C.K., Jim Gaffigan, and Tracy Morgan love to drop in, as well as plenty of writers and performers from Inside Amy Schumer. You'll almost surely walk away with a new favorite up-and-coming comedian.
The Stand, 239 Third Ave.; nightly starting at 7 p.m.
If you like The Meltdown With Jonah and Kumail, you'll like Whiplash.
If you're a fan of Comedy Central's iteration of this popular weekly comedy show in Los Angeles, you'll love Whiplash, one of New York's most consistently funny stand-up shows. Hosted by Aparna Nancherla since original host Leo Allen moved to L.A., Whiplash, like the Meltdown, has the benefit of combining newer comics doing their best material with unannounced, famous guests dropping by to experiment. The combination pretty much guarantees you're going to see a good show every time.  
UCB Chelsea, 307 W. 26th St.; Mondays at 11 p.m.
If you like Jimmy Kimmel Live, you'll like Running Late With Scott Rogowsky.
Everyone thinks they could host a late-night talk show, but very few actually put that belief to the test. Scott Rogowsky has been running his live late-night show since 2011, and five years in, he's got it down. Just as Kimmel often brings his cousin Sal into the mix, Rogowsky's co-host is his own father, Marty, and Running Late delivers TV-quality guests; recent shows have featured Amy Sedaris, Jon Hamm, Jerry Springer, Morgan Spurlock, and Janeane Garofalo.
Various venues; monthly.