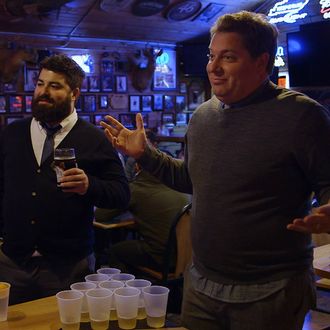 Pour one out for Sean and Jay.
Photo: Esquire Network
Best Bars in America is a funny and well-liked show on the Esquire Network that features hosts Sean Patton and Jay Larson traveling around our fine country to, you guessed it, explore the best available bar offerings in America. Throughout the two seasons, the duo would banter, drink, and be merry, all while exploring the culture of a different bar-centric city in each episode. However, a third season will not be happening, at least not with Patton and Larson — in a recent interview on SiriusXM's Bennington talk-radio show, Patton discussed that he and Larson quit the show because of some rather unusual circumstances. They were asked by the production company to act more "bro"-ish, and they refused.
"A lot of people don't realize — and I feel like Jay and I have been hesitant to tweet about it or anything — but the show … we walked away," he said. "It was fun, and we did two seasons, and it still airs … [But] it got to a point where you wanted to say to them, 'You guys should have hired two 21-year-old hosts,' not because we couldn't handle the drinking, but 'cause of some of the things they were really pushing for us to do." This included unbecoming interactions with women they would meet in bars. "They would pull us aside and be like, 'Well, guys, she's a supermodel. Maybe give her a little ogle, or be like, "Wow, you're so hot."' And I'm like, 'I'm in my 30s!' And Jay was like, 'I have a wife and two children. You want me to ogle another woman for television? No, I'm not doing it.'"
Patton also said they were asked to change their hosting style to fit this juvenile image:
They wanted us to be way "bro"-ier, which we're not bro-y at all. But they wanted us to have a lot of like "Yo, dude! I bet you can't pound eight shots of tequila, bro, 'cause I'll take that challenge!" And we were like, Who the fuck talks like that? No one actually talks — they wanted us to be cartoons. They wanted us to be two 25-year-olds skateboarding in every bar, except while wearing a cardigan and an ascot, you know, 'cause it's Esquire.
Maybe GQ will offer them a new, totally sophisticated bar show they deserve instead.