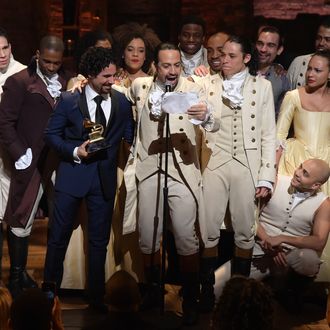 Photo: Theo Wargo/2016 WireImage
It's a well-known fact that Hamilton is a massively popular Broadway show, with tickets currently selling out a year in advance and going for over a grand on the street. 29-year-old Danielle Posner wanted to see Hamilton very badly, so she went on Craigslist and bought tickets for her and her boyfriend, dropping $350. But it turns out they were fake, so she went to the police, who didn't care very much. "We have murders around here," they said. "Well, he murdered my dream of going to Hamilton," she retorted.
So Posner put on her Serpico hat. As the New York Post reports, Posner set up a sting to catch this nefarious Killer of Dreams, this Buffalo Bill of ticket-scalping. Posner's boyfriend "responded to the same deceptive Craigslist ad and planned a ticket-pickup rendezvous with the fraudster that very afternoon." The police eventually agreed to help and assigned ten anti-crime unit officers to the sting. They caught the guy, who had a history of selling phony tickets.
"I was so happy," Posner later said. "Losing $350 to get somebody who has probably done this to so many people was worth it."
Posner wasn't the only one duped by Craigslist counterfeiters, though she was the only person who caught her perpetrator: