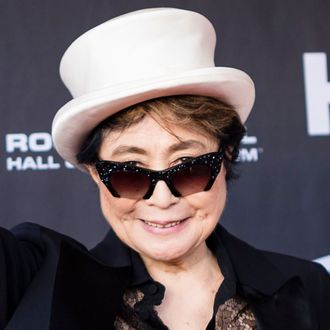 Peace.
Photo: Angelo Merendino/Corbis
Yoko Ono, conceptual artist, musician, activist, and John Lennon's widow, has written the most Yoko Ono thing ever for Us Weekly, "25 Things You Don't Know About Me (I Prefer Doing the Dougie to Krumping!)" (Well, you know, other than, like, Grapefruit.) Even in the well-worn format of the listicle, Ono infuses her characteristic verve into this list of 25 facts about herself. For instance, did you know that she has always had the hots for French hottie Alain Delon? (I mean.) There are plenty of little gems like this, including her favorite Beatles album:
Fact No. 10: "John and I wasted 15 years eating macrobiotic and drinking soy milk, when all I wanted was a little half-and-half."
Fact No. 18: "I know Mozart is supposed to be the greatest, but I prefer listening to Stravinsky underneath a gray sky."
Fact No. 22: "I don't know if people will hate me for saying this, but I always preferred The White Album to Sgt. Pepper's Lonely Hearts Club Band. Don't get me wrong, I love Pepper's too, but …"
Fact No. 23: "If I had to be reincarnated as an animal, I would choose a sparrow."
And finally, she ends with this: "Maybe people already know this, but I miss John every day." Our hearts.
You can read the full list here.