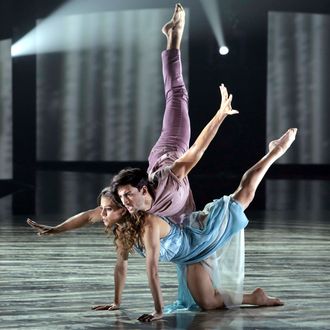 Okay, now just imagine them a lot younger.
Photo: Adam Rose/Fox
Are you a 9-to-13-year-old who thinks she can dance? Well, limber up, because Fox's So You Think You Can Dance is doing a kid's season for its 19th iteration called The Next Generation (hmmm). The same judging panel from last year returns: head British Nigel Lythgoe, a mood-stabilized Paula Abdul, and the surprising curmudgeon Jason Derulo return to give these adolescents feedback on their pas de bourrées and tutting. Cat Deeley, the most underrated reality-television host, will also return to emcee. The season begins May 30, which means auditions are coming up soon, beginning in Los Angeles February 27. (Dance moms can sign their tweens up for auditions here.) The young dancers will then compete in "the Academy" (Las Vegas week, basically), from which the top ten will emerge and be paired with "all-stars" — faves from seasons past — for the next ten weeks. We can envision the psychedelic Kidz Bop–fueled Sonya Tayeh contemporary routine now.