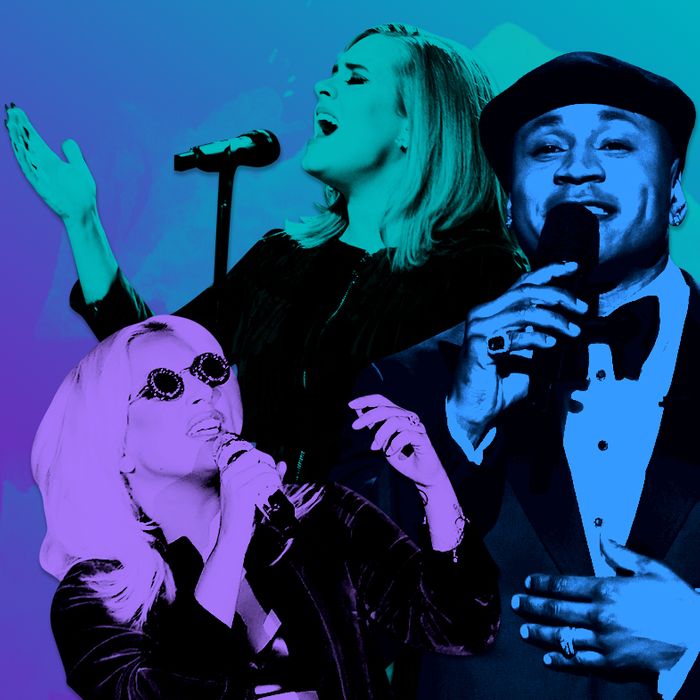 Photo-Illustration: Vulture and Photo by Getty
Ah, the Grammys: The year's best in music that ruled the charts and our Spotify playlists. We've got diss tracks, Hamilton (!), and tons of Kendrick up for awards next week — and it's all set to go down when you least expect it: a Monday. Thanks to a double-holiday weekend, this year, the Grammys have bucked the awards-season tradition of rounding up celebs on a Sunday night and instead opted for their first-ever Monday broadcast. The 58th Grammys will air live from the Staples Center — in all time zones now! — on February 15 on CBS at 8 p.m. EST. Here's your guide to music's biggest night.
New for 2o16
The West Coast often draws the short stick when it comes to watching live television, but this year, CBS is throwing Los Angeles (where the Grammys are actually presented) a bone: For the first time, the program will broadcast in the Pacific and Mountain time zones at the same time it airs in Eastern zones — finally catching up to what every other major awards show has been doing for years. Tape delay be gone! Set your alarms, West Coast: The Grammys will be coming to you live at 5 p.m. PST.
Taking another cue from the Oscars, this year's Grammys will use technology to improve the winners' onstage experiences. While the Oscars plan to give the orchestra a break by introducing scrolling acceptance speeches, the Grammys will livestream from inside its golden gramophones. The idea is to stick a GoPro camera inside the base of each statue so you, too, can know what it's like to watch Taylor Swift bust a move from the vantage point of someone onstage. It's called the GrammyCam, and will be livestreamed from the Grammy Live hub beginning five hours before the show starts, all the way up until the last award is handed out.
Another first for this year's Grammys: TV's first-ever live music video. The YouTube Music Awards arguably originated the idea of the live music video three years ago (though Death Cab for Cutie claim to be the first), but that was a digital-only show. The Grammys say they'll be the first to air a live music video when Gwen Stefani acts in, films, and live-broadcasts a video for her new single "Make Me Like You" during a four-minute Target-sponsored segment (not to be confused for a Target ad, though you'll likely spot the product placement). Kicking that immersive experience up another notch, Lady Gaga's performance (which is now a David Bowie tribute) will be brought to you by Intel and has been described as a "ground-breaking collaboration that inspires to remind the world of the seed of innovation." Under pressure, indeed.
Showrunners
Perennial Grammy producer Ken Ehrlich (36 years and counting!) will be back behind the wheel for the 2016 edition. Ehrlich, who signed on two years ago to produce the Grammys through 2017, is also the man behind A Very Grammy Christmas, the Grammys holiday special that aired in December 2014. It was Ehrlich who handpicked Lady Gaga, who had already been booked to sing that night, to perform the Bowie tribute. He recently told EW that Gaga won't also perform the In Memoriam interlude, but another unannounced artist will, and that Ehrlich wants whoever does it to sing Natalie Cole's "Miss You Like Crazy," since the late singer died at the beginning of the year. Louis J. Horvitz will direct the show; Ehrlich and David Wild will write.

Host
Extending his seemingly exclusive Grammy hosting reign, LL Cool J will be back to host the Grammys for the fifth (!) consecutive (!) time. Given Grammy-hosting isn't really about sophisticated bits (no offense), you can expect more filler and dad-joke one-liners that all the ladies (and many men) will love despite the cheese. (If you'd like to see more of LL's hosting chops, catch him on Lip Sync Battle doing just that every week.)
Nominees
Two years after Macklemore shut him out, Kendrick Lamar enters the 2016 Grammys as the favorite — he leads this year's nominations with 11, just one short of tying Michael Jackson's record-setting 12 in one year. Both Taylor Swift and the Weeknd trail him with seven each. Up for Album of the Year are Kendrick Lamar's To Pimp a Butterfly, Taylor Swift's 1989, the Weeknd's Beauty Behind the Madness, Alabama Shakes' Sound & Color, and Chris Stapleton's Traveller.

Performers
Though there was originally some confusion over who will open this year's show, Taylor Swift will once again do the honors, performing a song off Album of the Year nominee 1989. Initially, some thought Hamilton would open the Grammys — but what Lin-Manuel Miranda meant was that the nominated cast will perform Hamilton's opening number, "Alexander Hamilton," at some point in the show. The cast won't actually be there, instead livestreaming their performance from the Richard Rodgers Theatre in front of an audience (a first for a Broadway musical at the Grammys) while the show is on a break on Monday. Another artist who won't be coming to you live from the Staples Center: Drake, who, despite being named in a Super Bowl Grammys promo as one of the many artists appearing in the show's first hour, later tweeted that he isn't performing.
Not that you'd notice, because also set to perform, in addition to Taylor Swift and Hamilton, are: Adele, Rihanna, Kendrick Lamar, Lady Gaga, Justin Bieber with Diplo and Skrillex, Pitfall with Robin Thicke and Travis Barker, Chris Stapleton, Bonnie Raitt, Gary Clark Jr., James Bay, Andra Day, Ellie Goulding, Sam Hunt, Tori Kelly, Little Big Town, Carrie Underwood, the Weeknd, the Hollywood Vampires (Alice Cooper, Joe Perry, and Johnny Depp), John Legend, Demi Lovato, Luke Bryan, Meghan Trainor, the Eagles, Jackson Browne, Joey Alexander, Miguel, and Alabama Shakes.

Tributes
2016 started out rough, with the deaths of David Bowie and Glenn Frey, coupled with last year's loss of Lemmy Kilmister and B.B. King — all four of whom will be honored at this year's Grammy ceremony. As previously noted, Lady Gaga will perform the Bowie tribute, covering at least three or four of his songs and paying homage to his fashion legacy. Chris Stapleton, Bonnie Raitt, and Gary Clark Jr. will honor King with a performance for the blues icon. Members of the Eagles — Don Henley, Bernie Leadon, Timothy B. Schmit, and Joe Walsh — are set to perform one of the band's songs for their late founder, Glenn Fry, along with the band's close collaborator Jackson Browne. And Hollywood Vampires, the supergroup of Johnny Depp, Alice Cooper, Duff McKagan, and Joe Perry, will make their TV debut to pay tribute to Lemmy with a Motörhead song. (They'll also debut a new song of their own.)
Billed as an homage, John Legend, Meghan Trainor, Demi Lovato, and Luke Bryan will perform a medley of Lionel Ritchie songs in honor of his 2016 MusiCares Person of the Year award. This year's Lifetime Achievement Awards will go to Run-DMC, Ruth Brown, Celia Cruz, Herbie Hancock, Linda Ronstadt, Earth, Wind & Fire, and Jefferson Airplane. No announcements have been made about tributes to EW&F's co-founder Maurice White or Jefferson Airplane's co-founder Paul Kanter and original singer Signe Anderson, who each recently passed away. However, EW&F have been announced as presenters for Record of the Year and are expected to "salute" Maurice White.
Lastly, Miguel has been tapped to perform Michael Jackson's "She's Out of My Life" to commemorate the upcoming reissue of Off the Wall and its Spike Lee documentary.
Presenters
Since the Grammys recognize most categories before the show, there aren't a whole lot of awards to actually hand out during the broadcast — and we don't yet know which ones will appear during the TV broadcast. But those that do will be presented by Ice Cube, O'Shea Jackson Jr., Selena Gomez, Ariana Grande, Cam, Common, Seth MacFarlane, Ed Sheeran, Stephen Colbert, James Corden, Kaley Cuoco, Anna Kendrick, Ryan Seacrest, and Sam Smith. Earth, Wind & Fire will present Record of the Year.
If it's the lesser-publicized categories you care about, tune into the Grammys livestreamed pre-telecast at 3:30 EST for the 70 awards you won't see handed out on the actual show.