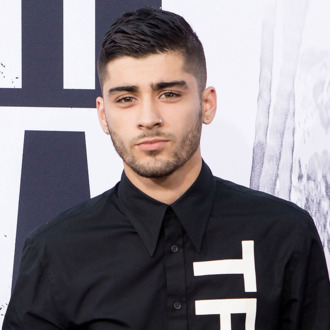 Maybe you saw Zayn's solo TV debut last night. Maybe you also saw his album cover. And maybe — just maybe — you thought something along the lines, Hey, who is this guy? Lil Zayn? If you did, you weren't alone. Many viewers and initial reports pointed out the similarities between the art on Mind of Mine and Tha Carter III. Namely, the composition, baby selves, and tattoos. Fans seemed divided, as some liked the move and others hinted at imitation.
Zayn's response to all that:
The former One Direction member kind of elaborated on his album art Thursday, with the cryptic tweet that he's "not tryna be no rapper, my album is me a child … My ideas have been with me a long time." An Us Weekly report has a source explaining that the work was done as an homage to Lil Wayne and Notorious B.I.G., both of whom famously used babies on certain covers. (Surprise: A lot of other people have done so, too.)
But the homage idea would also make sense considering there have been teases of a possible Wayne collab on the "Pillowtalk" remix:
Though it's unknown when that's coming out, keep your eyes peeled here for something else new coming soon. Something that probably has nothing to do with kids or babies, but something Zayn will want you to appreciate nonetheless:
And get ready for the whole solo album, contentious cover and all, to drop March 25.