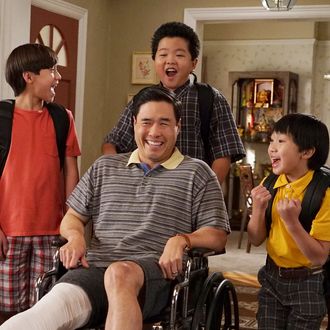 Fresh Off the Boat.
Photo: Eric McCandless/ABC
As her first official duty as head of the network, ABC Entertainment president Channing Dungey announced early renewals on Thursday: Once Upon a Time is getting a sixth season, Fresh Off the Boat is getting a third, and newbie Quantico will return for a second, which is good news if you are a fan of all those shows. After its hundredth episode, Once continues to pull in viewers, averaging about eight million. The Nahnatchka Khan–produced Fresh Off the Boat has had a rougher time with ratings, but it is a favorite among critics. And Quantico has been one of ABC's biggest breakouts of the season. News has yet to come about Grey's Anatomy (which will probably get renewed because it has never not existed), Scandal, How to Get Away With Murder (Shonda's so busy!), Castle, Modern Family, The Middle, Black-ish, The Goldbergs, Nashville, Galavant, Agents of SHIELD, Agent Carter, American Crime, and Last Man Standing. That's a lot of shows. Dear shows, some of you will get to stay, and some of you will have to go. That's just the way it is. But Channing Dungey, please don't take away Black-ish. We love Black-ish. Hashtag keep Black-ish on TV forever!
Update 6PM EST: ABC announced it was giving early pickups to the following shows for the 2016-2017 as well — America's Funniest Home Videos, The Bachelor, Black-ish, Dancing With the Stars, The Goldbergs, Grey's Anatomy, How to Get Away With Murder, Marvel's Agents of S.H.I.E.L.D., The Middle, Modern Family, Scandal, and Shark Tank.