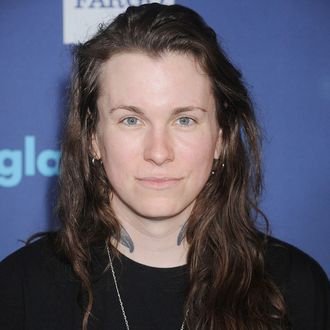 Photo: Gregg DeGuire/Getty Images
Against Me! frontwoman Laura Jane Grace is releasing a memoir titled Tranny: Confessions of Punk Rock's Most Infamous Anarchist Sellout. Grace worked on the book with Noisey editor Dan Ozzi, who told EW, "The book mixes narrative about Laura's life — growing up with dysphoria and playing in our generation's most influential punk band — with amazing journal entries she's been keeping since she was a kid." After Grace came out as transgender in 2012, Against Me! released Transgender Dysphoria Blues, which explored Grace's experiences, in 2014. Tranny will arrive November 15 via Hachette.
Grace revealed Tranny's cover art, by Christopher Norris, on Twitter.