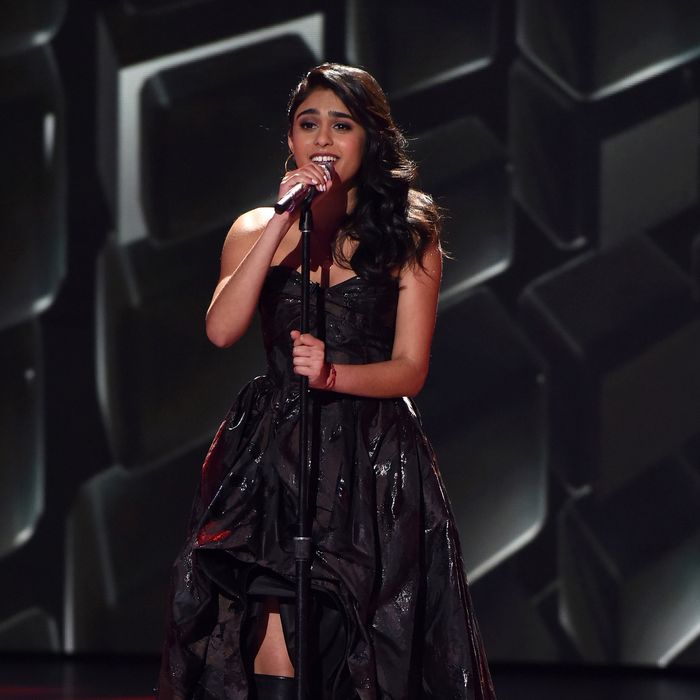 Sonika Vaid.
Photo: Ray Mickshaw/ FOX
I am on the West Coast, which means that last night's episode of American Idol began after I had an opportunity to check out all of the most recent GOP presidential debate. I watched the audience throw up Katy Perry heart-hand signs and hit the dab. I got to watch Ted Cruz spit something from deep inside his mouth onto his lip and then swallow it back down. I saw the current Republican front-runner assure us he has a big dick. Remember in the first few seasons of American Idol, when Simon and Ryan would teasingly accuse each other of being gay? That was Gore Vidal and William F. Buckley compared to what I saw in the debate.
What I'm saying is that I begin this show crabby and pessimistic about my country, and MacKenzie Bourg better wear something that reveals his arms or I quit.
So now we're down to one episode a week, which is a relief and a puzzle all at once. I mean, this is the part of the show where the stakes are high, where you actually want to have more time with these kids; if Fox was going to free up some prime-time real estate, why not get us through those audition episodes a little more quickly, and let these moments breathe? They debuted this new style of elimination last season, when I was blissfully unaware, but the deal is that they reveal a bottom three, who all perform, and then the judges choose who to save. Seems like they'd want America to have more power in the FAREWELL SEASON of American Idol, but what do I know? I'm just a middle-aged viewer half-planning a permanent move to Iceland.
One thing is clear, though: Whether this show is on one hour a week or four, there will always be time for a long, clunky Ford promo.
So let's get into it. Ten remain, eight will continue, and the theme is the Grammys.
The first person through to the top eight is Dalton Rapattoni, because of course it is, and he does Imagine Dragons' "Radioactive," because of course he does. The key is a little too low for him, and it's just not as interesting a song as he thinks it is. Without a band to play off of, there's nothing for him to do except make come-hither eyes in front of computer-generated pearly gates. In other words, he'll be safe. The judges love it, but I'm going to need to see some versatility. Still, it's nice to hear that song outside of a CrossFit context.
Next one through is Lee Jean, which is actually a bit of a surprise. He bristles at the comparisons to MacKenzie Bourg, which I think are apt, although Mack is miles more polished. Tonight, he comes out of his shell a bit on Kings of Leon's "Use Somebody," taking the mic out of the stand and working the audience just enough. Lee has the beginnings of a discernible personality, plus the start of a truly epic Jean-Michel Basquiat hairdo if he sees it through its awkward stage.
The group numbers are much more clever now: They make the kids sing some backup lines with the special guests. The girls sing with Demi Lovato, and there is one I don't recognize, who ends up being Gianna Isabella. It feels like when they turned The Brady Bunch into a musical variety show and replaced Jan.
Tonight, Sonika Vaid is going to release her inner angry girlfriend, even though she's never had a boyfriend. Really, she is more a listless girlfriend in her version of "Since U Been Gone," until she hits the big chorus. The lack of heartbreak is fairly obvious here, but that's what you get in a singing competition for children.
Have you ever wondered what it would look like if Rachel Maddow had opted for guitar lessons instead of debate club? MacKenzie Bourg is here to show you. He does Whitney Houston's "I Wanna Dance With Somebody," and I'm so glad it's him and not Thomas Stringfellow swooning and hiccuping all over it. It is a very Vance Joy take on the material, and Harry and I are the only ones who are lukewarm about it. (But he'll be just fine.)
La'Porsha Renae is dressed like a space princess in a sci-fi Blaxploitation film. She calls her Afro "Kokomo," and she's never had it done professionally, but I am here to tell you that this brand-new Kokomo is looking mighty fine. She reworks Beyoncé's "Halo" into a gospel throw-down that ends with "I CAN FEEL IT! I CAN BREATHE IT!" The judges faint dead away at the table and have to be revived by EMTs. If she doesn't win, it won't matter; she's already the Jennifer Hudson of the gang.
And then it's time for Harry Connick Jr. to perform, during which I assume the boys will join him, but they don't. The new song is just fine, but nobody mentions the big news here, which is that ALLISON IRAHETA is one of the permanent Idol backup singers now. We don't get a chance to check in with her? Not even in the FAREWELL SEASON? Unacceptable. Give that woman some screen time. Also, Harry's writing and performing with Butch Walker, who should really be a bigger star than he is. Let's get on that.
Next through is Trent Harmon, who sings "When a Man Loves a Woman," and you can tell he's making an effort to dial back the face dancing. He does just fine until the song's crescendo, when his mouth cannot be held back any longer, and he looks like some of Jim Carrey's less subtle work from The Mask. He sounds great, and he's in a suit, and there are no dippy hats. Tonight is the best he's ever been, if you ask me.
So there are two spots left, and Olivia, Avalon, Tristan, and Gianna are still waiting. Two will have to go, and they will definitely both be women. Idol is desperate for a female winner, but America refuses to play along.
I'm convinced Tristan will be one of the women who's cast off, but she makes it through. She wants to do Zedd's "Clarity," and when Scott Borchetta says he's not feeling it, she says "My face just went blank," and I'm like, "How can you tell?" She cries over it, but he's right, and instead she goes with a Vince Gill song that will endear her to the country audience that is sure to embrace her when she goes home next week.
So that means I'm definitely losing either Olivia or Avalon, which will hurt. Avalon sings "Earned It," and actually makes the song enjoyable, which not even the Weeknd himself has been able to do so far. Also, she doesn't switch up the gender — it's all still sung to "girl," etc. — and if that's a sly coming-out maneuver, I am HERE for it. She's growing and evolving and I think what we are seeing her do is really what the show is all about, and if they let her go, they're idiots. But I also can't see them getting rid of Olivia.
Well, Olivia goes and drops the ball by choosing Pink's "Trouble," which is out of her range, and wrong for her lyrically, and the arrangement is plodding. The whole thing is one long setup for a falsetto run and a very Vegas coda, and it does her no favors. And really, pink hair streaks notwithstanding, there is nobody who is less trouble than Olivia Rox. It's curtains for her, I'm afraid. If only she had a chance to come back and try this again when she's not, you know, in high school.
Gianna is our big finish, and she does "If I Ain't Got You," which has been done roughly one billion times on this show. It's rough right from the start, which I would chalk up to nerves, and also to being a child. She botches the last note, and she knows it, and it's hard to watch. Harry says he didn't recognize her until Ryan introduced her, and here again, Harry and I are on the same wavelength. I am available for a full-time sidekick position when your show debuts this fall, Harry.
Avalon makes it through to the top eight. My faith in America is restored, at least until the next Trump rally.
Next week, we go from eight to six. I think Lee, Sonika, and Tristan are our bottom three. Your thoughts?