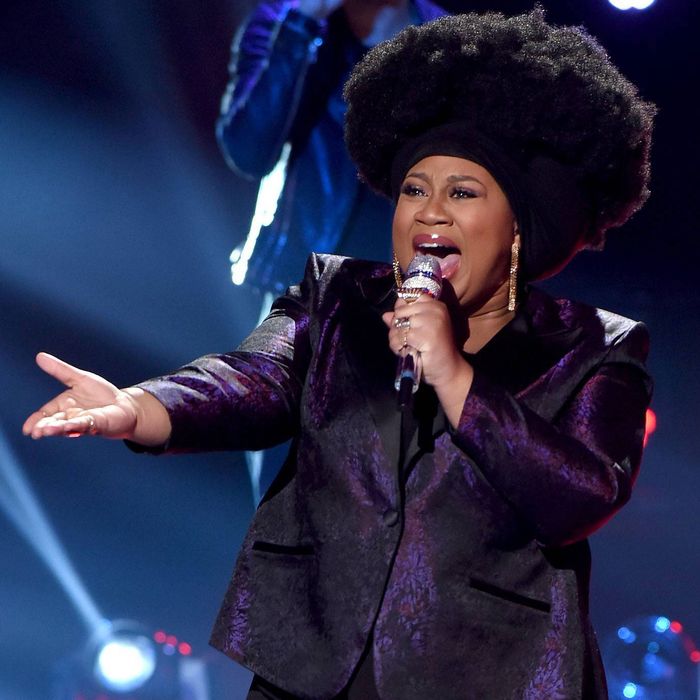 La'Porsha Renae.
Photo: Ray Mickshaw/FOX
Adam Lambert opens tonight's episode by reprising his tarted-up version of Gary Jules's stripped-down version of Tears for Fears' "Mad World," which serves to remind you that he's the last — and maybe the only — unpredictable contestant on American Idol. I mean, the guy was miles ahead of his competition, and you didn't know what he was going to do or choose or wear from week to week. I know he's working, and I know he's touring with Queen, and I'm sure he's happy, but we could have done better by him. I think we've failed Adam Lambert, America.
Actually, America, let's just get comfy with our heads bowed. In the first round of tonight's double-header, the songs are chosen by Idol viewers, who might be idiots. The first hour of this episode is misfire after misfire, and knowing it's not the fault of the contestants makes it that much more frustrating to watch.
You know the deal by now: One by one, the four singers who've made the top five will perform, then the judges will choose one of the bottom two to save. Somehow, we've gone from Hollywood Week to the top five in just over a month, and although I have a couple of favorites, I don't feel an emotional connection to anyone. I'm not in love, guys. I feel like we're rushing things.
First to perform and be safe: Trent Harmon, with OneRepublic's "Counting Stars." This is the best choice of the first round, as it gives him an opportunity to be all aggressive with his vibrato, and he's for sure the most likely to have chosen a OneRepublic song on his own anyway. He does a good job, especially given that the song is a zero. But his look is simple, and his shoes are on point, and therefore I am impressed.
Dalton is up next, with a folksy ol' intro package from his hometown. How folksy? This folksy: Three elderly women say hello while sitting under giant hair-dryers and say, "It's the girls from the beauty shop!" I want to imagine that he hangs out with elderly women as they get their blue rinses. I want Dalton to be the Poochie in a Steel Magnolias reboot. Anyway, we as a nation have chosen Linkin Park's "Numb," on which he zigs when we might have expected him to zag. He de-aggro-izes it a little bit, turning it into the quiet, reflective number that Chester and the gang never meant to write. Jen says she misses the oomph. I miss the girls from the beauty shop.
La'Porsha is through, because of course she is. America assigns her India Arie's "Ready for Love," which she makes quite lovely. There are as many runs as you would expect, and although she is a viciously talented singer, I have no idea what the show would do with her. Where, really, is the spot for another belter? The judges don't know what to tell her beyond, "You are great." Neither do I.
So that leaves MacKenzie, Tristan, and Sonika to compete for the last two spots, the first of which obviously goes to sweet Mack. America has bestowed upon him the maybe-too-perfect and definitely too-familiar gift of Cat Stevens's "Wild World." It's fine, but there doesn't seem to be anything for him to sink his giant, perfect teeth into.
Tristan and Sonika are our bottom two, and mercifully, they have their choice of songs to sing for their survival — either America's choice or their own, which they would have performed in round two. Tristan's up first, and she goes with Martina McBride's "Independence Day," which is a stodgy, big-country number for a much older singer, and that's how I know she chose it for herself. She does with it exactly what she's done with everything for the last few weeks. Harry thinks she needs to get some more experience; I think she needs to be 15 years old for five minutes.
Oh, also: During the contestants' first-round intro packages, we meet the top six's "Superfans," which means "fans who are clearly auditioning for slots on The People's Couch."
Sonika has the choice of "Clarity" (by which I think she means the Zedd one, not the John Mayer) and "Let It Go." Because she is a smart young woman, she goes for the latter. And here's the thing: This is a song I have purposely never listened to, yet I have heard it 1 million times, and somehow she makes me listen to the lyrics in a way nobody has done before. (The lyrics are about letting it go.) I'm also impressed that she didn't blow clean through the back wall of the soundstage and out into the parking lot, as she is in front of a wind machine that could test the integrity of an airplane fuselage.
The judges take about two seconds to pretend to deliberate before they send Tristan packing. It was her time. Three weeks ago.
There is MASS CONFUSION at the start of the second half, as Dalton is up first, and his intro package from the first half replays. They cut to a wide shot as a director shouts "JUST KEEP GOING" and people scurry about the stage. You know, it's amazing that there haven't been more moments like this in the history of the show. Never let it be said that the Idol production team is not the best in the business. Anyway, Dalton reveals that he has bipolar disorder, and then he sings "The Sound of Silence," and it's everything his round-one performance wasn't: raw and emotional and the stage lighting really accentuates the eyeliner. He probably won his spot in the finals with this.
And then a performance from Adam Lambert reinforces all of my aforementioned misgivings. Why can't Adam Lambert get better material? Why is there no market for a flashy, fun male belter like him? And why do so many prominent gay guys dress like European space tourists?
Oh, good lord! MacKenzie reveals that in high school, he caught a virus that gave him congestive heart failure. I'm glad he survived, and I think it gives him a Fault in Our Stars kind of edge at just the right time. I do wish he'd gone a different way with Michael Jackson's "Billie Jean," since we've already seen the very-slowed-down acoustic version on this show a few times. It's not as broody as the one David Cook borrowed from Chris Cornell, but it's still pretty predictable. At least it shows his voice off well.
Damn, Trent Harmon! Back at it again with the big hats! He does Lynyrd Skynyrd's "Simple Man," which is a fine choice, though there's a little disconnect between the lyric about simplicity and Trent's very tricky vocal runs and face dancing. And here's the thing: Trent is a very "straight Adam Lambert," and if he wins, and if he succeeds afterwards, there are going to be 5 million think pieces about homophobia in popular music. Can your conscience handle that?
Sonika comes back from her brush with death in a golden disco headband and pleather overalls. And on "Clarity" (it was the Zedd one after all), she looks like she's having fun for the first time this season. We are watching Sonika become a more confident, joyful performer, and I wish we were spending more time on the meat of the show so we could enjoy it more. (Also: I don't think it matters, but she's the only one in the top five without a massive, upsetting sob story. Mack has his heart issue, Trent has a dead best friend, Dalton has bipolar disorder, La'Porsha we'll get to in a minute, but Sonika's just like, "I'm happy to be here!" It's kind of refreshing, honestly.)
Last, but so very much not least, La'Porsha. As she's mentioned on the show before, she's just coming out of an abusive relationship, so her choice of Mary J. Blige's "No More Drama" is absolutely perfect. She's simply styled, she cuts back slightly on the runs and licks, and just nails the emotional content of the song. It's convincing. Somehow in a two-hour show, there's only time for Jennifer's critique, which is basically: "You go, girl." She also says she was in a similar relationship, so please visit the gossip website of your choice for wild, irresponsible speculation on that story.
For the first time this season, I have no idea who's going home next week. I'm tempted to say Sonika, since she's been in the bottom twice in a row, but one cannot deny the power of "Let It Go."
Your thoughts?