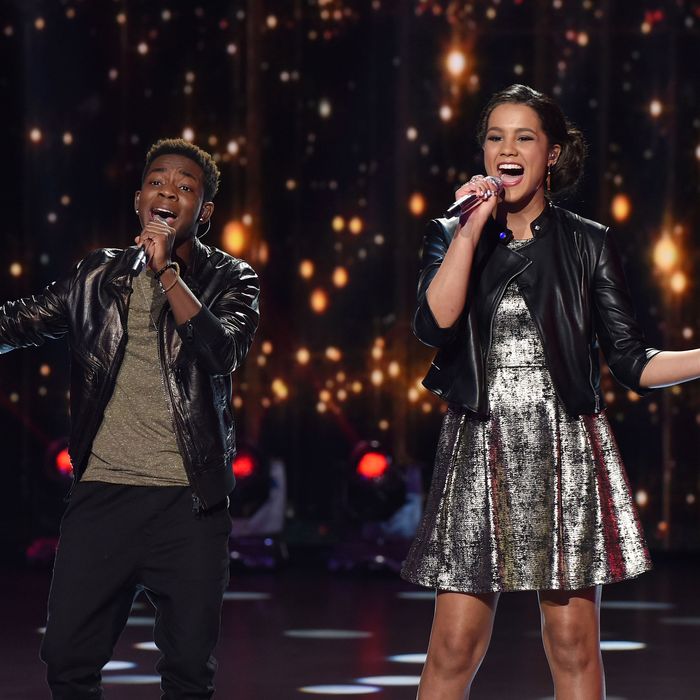 Lee Jean, Tristan McIntosh.
Photo: Ray Mickshaw/FOX
Yep, it's another two-hour episode that wastes an enormous amount of time, yet somehow still feels rushed! We lose two singers and get to our top six, which is still only partially ours — the judges pick one to save out of the bottom three.
It's frustrating, but I think I get it. In season 13 — the last time I recapped this show — they took extra time with the show's most interesting and diverse top 24 ever, then let the viewers whittle it down to the top 12, which ended up being such a dull assortment that Caleb Freaking Johnson won. We cannot risk such a gruesome outcome in Idol's FAREWELL SEASON.
Here's the way it goes: The top eight sing in duets, and then each does a solo performance. This episode is so overstuffed with song that I actually long for a Ford music video. I'm not kidding.
Up first: La'Porsha and Trent, whose vocal styles blend sort of perfectly. On the other hand, they decide on that dull "See You Again" song from Furious 7. This requires them to rap, and us to consider the absurd fiction that Wiz Khalifa, Charlie Puth, and Paul Walker would all have been pals. But they work well together, and the judges love it, and Trent's essential Trentiness seems to have been dialed back enough that we can notice his voice rather than his antics and Scottsdale fashion sense. I'm into it.
Avalon and Sonika are up next, which also seems like a nice pairing; the studious girl and the chill young skater gal bonding over song is a thing you might have seen if Glee had lasted another few seasons. Their version of Andra Day's "Rise Up" does them both some good: Avalon loosens Sonika up a little, and Sonika forces Avalon to stretch out of her comfort zone a bit. The judges love it.
Team Dreamboat Dalton and MacKenzie take on the Backstreet Boys' "I Want It That Way," which would seem to be a genius move. But they Jason Mraz it up, rather than make it the big cruise-ship crowd-pleaser it should be. Also, they skip the crucial "don't wanna hear you SAAAAY" moment at the end of the bridge, which is just suicide. Harry asks the boys what the song means, and they look at each other like they've just been asked a question that reveals they've only read the CliffsNotes on the assigned reading, and they literally say nothing. It's delicious. In a two-hour episode, surely we could have lingered on this moment for a few more minutes.
Tristan and Lee do "I Don't Want to Miss a Thing," which is up there with "I'll Be" and "Hallelujah" as one of the most overdone songs in Idol history. It's too dull for Lee, too exciting for Tristan. There are bum notes all over the place. The judges don't like it, and I remember that these two are actual children, and that the pressure under which they are operating must be intense, and that a minimum age of 18 was probably a thing that American Idol should have stuck with.
And that's it for the duets. Sort of interesting, sort of enlightening, but also a colossal waste of time. Two of these people won't even be around at the end of the night, so if they really blew your mind in that last segment, you can't vote for them or express your appreciation in any way. The FAREWELL SEASON is screwy.
On to the individual performances. I believe the theme has to do with the most popular Idol songs in the show's history, a.k.a. "Songs This Show Has Made Me Resent."
La'Porsha gets a surprise visit from the influential high-school algebra teacher who urged her not to follow her family into the military. Which, strictly from a hair perspective, makes Algebra Lady a national hero. La'P's song is "Come Together," one of the more inexplicably popular songs in this show's run, and her look is very "Mama Morton in a 'Rhythm Nation' military prison." Oddly, nobody asks her what she thinks this song is about, which after a lifetime of hearing it a couple dozen times a year, I would honestly love to know.
Up next is MacKenzie, with a take on Joe Cocker's "You Are So Beautiful." It is such a good choice; although this song generally sounds better with a ragged, desperate voice, he infuses it with enough yearning and clarity to make the young girls vote. The judges are into it. I am into it.
Nearly a year after his win, Nick Fradiani premieres his debut single "Get You Home." They are trying for an "Ed Sheeran meets Justin Timberlake" thing here. He has nice teeth. I have a fast-forward button.
Next up: Trent! Trent won't allow his family to watch his Idol journey in person, which is a move I respect. I understand it: I have a memoir coming out in June, so I sent my parents a galley, and though they told me they loved it, privately they are telling the rest of the family that the book's few mild, soft-PG sexual situations are fictional and were put in at my editors' urging, because "that's what sells books." In artistic matters, parents must be brought to heel. I feel you, Trent Harmon. Anyway, he does "Stand by Me," and it is very, very corny, and I'm not even sure that's not a compliment. He settles into the song with more confidence than anyone else tonight, he works the audience just well enough, and if Idol doesn't work out — I say this with love — he will do extraordinarily well in Branson, Missouri. Also, his look has evolved: He now calls himself "Trent 2.0," which, if the update resolves the scarf-and-floppy-hat issue, I think is a success.
Shockingly, Tristan makes it through to the top six. She is not only showing us the same side over and over; she needs this competition less than anyone else does. There is a clear lane toward young-country stardom for her, so let's just get that party started already. Her song choices do get slightly more down-home every week, to the point where tonight she's doing Martina McBride's "A Broken Wing." She has great potential, but this is all just a bit too big for her right now. Someone take the time to develop her into a newer, younger, mixed-race-er Kelsea Ballerini already.
That leaves Dalton, Avalon, Lee, and Sonika, with only one guaranteed spot in the top six remaining. Of course, it goes to Dalton. In his intro package, we meet his mother, who was "into the punk scene" in late-'80s Dallas, where all you needed to be "into the punk scene" was a lot of hair spray. She raised her kids to love music: "When the kids were young, we got them MP3 players," she tells us, and boy is that a sobering thing to hear. He does a Hot Topic take on "Eleanor Rigby." Hasn't Sir George Martin been through enough this week? The judges love it.
Our bottom three, then, is Lee, Sonika, and somehow, Avalon again. What is wrong with you, America? Avalon has OCD, which manifests as a facial tic. It goes away when she sings, though, which she does first. Her choice of Michael Jackson's "P.Y.T." is absolutely perfect, unless you wanted to see her try something new, which I totally didn't. And again, it is sung to a "lady," with no fanfare or winking or self-importance. It is so frank and sexy and fun-young-lesbian that I want to gay-marry it, but if your problem with Avalon is that she's too relaxed, this won't change your mind. Ultimately, as pleasing as the tone of her voice may be, she just is not the belter this show wants in its FAREWELL SEASON. The judges tell her to stretch a bit, or move more, or something. I just want to hang out with her. Is that weird?
Lee Jean has probably reached the end of what he is capable of doing here. As I've said before: If he were a year or two older, he might have had a few more tricks up his sleeve, but he's just a kid. He does "Let It Be," and his confidence is clearly shaken, and the judges all notice it. Even Mother Mary can't save him tonight.
Sonika is taking a brief detour from her educational career to give singing a chance, and I can't imagine she'll ever go back. Why should she? Her voice and her eyebrows are perfect; let other people be doctors or science people or whatever. Her performance of "I Have Nothing" is not anything we haven't seen a million times before on Idol, which is either great news or terrible news for her. Harry loves it, Jen likes it, Keith says a whole lot of words that add up to nothing.
Sonika gets the save. Lee has nothing to fall back on except nearly bottomless potential. Avalon gets to be a cool kid forever. (Seriously, Av: We can rent Times Square! I'll bring pizza! Get at me!)