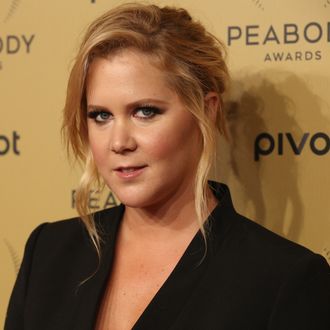 Schumer.
Photo: Jemal Countess/2015 Getty Images
Amy Schumer, tips, and Hamilton go well together: While enjoying the musical with family and friends on Saturday, the comedian added $1,000 to a $77 bar bill. "At intermission, a member of her party came to the bar with another order and when he handed the receipt to my co-worker, he said, 'Amy wants to make sure you get this,'" Hamilton bartender Madeleine DeJohn told Gothamist. Schumer has seen the show before, and during a previous visit left an $80 tip, reportedly saying, "I've been there, I get it, you guys are great." (Schumer waited tables and tended bar in New York while auditioning for her earliest gigs.)
Pics-or-it-didn't-happen proof:
"We've served a lot of celebrities at Hamilton, and we've received some nice tips," added DeJohn, "but never before had I seen a tip that even came close to this one." Your move, other celebrities.