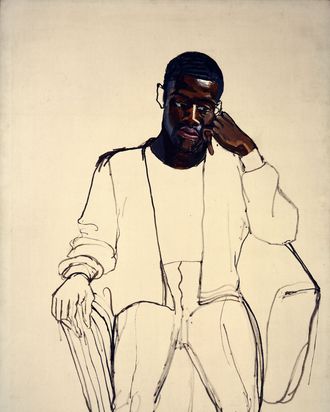 Photo: COMMA Foundation, Belgium
The Met Breuer (or the MetNey, as Jerry Saltz has decided it would be better called) opens to the public next week. But one work from the housewarming show, "Unfinished: Thoughts Left Visible," remains a kind of mystery — like, an actual mystery. The exhibition features works which, for various reasons, either never were finished (there's more than one piece in the show which was the last thing left on the artist's easel), or (yes, slightly confusingly) explore the notion of "unfinishedness." There's often an interesting story behind this incompleteness, which the Met's curators walked us through last week. But the unfinishedness of one of the paintings, James Hunter Black Draftee (1965) by Alice Neel, is especially striking, since nobody knows what happened to its subject.
"She would ask people she didn't know off the street to come in and sit for her," says Kelly Baum, curator of postwar and contemporary art at the Met. "She asked this man, James Hunter, to pose and he told her he had been drafted for the war. He never came back for his second sitting. She decided she was going to call this painting finished anyway. She signed the back and showed it in the Whitney here in her retrospective in 1974. We don't think he died because his name is not on the Vietnam Veterans Memorial, in D.C. But we don't know what happened to him."
If you know him — or you are him— the Met wouldn't mind hearing from you! Let us know in comments.