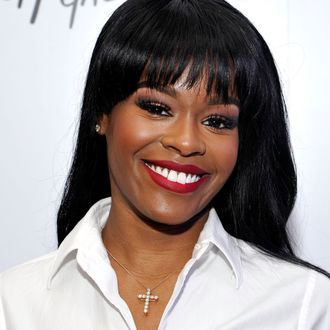 Azealia Banks.
Photo: John Sciulli/2014 Getty Images
Azealia Banks's much-anticipated Slay-Z mixtape dropped unexpectedly via social media Thursday, following the release of a couple singles and an even more surprising Twitter hiatus. "Hey Guys, so i recently fired my engineer because every time i came to the studio he was under the influence and he's spitefully leaking slay-z, but guess what," she explained in a now-deleted tweet. "YOU GUYS GET SLAY-Z NOWWWWWW YAAAAAAAY !!!!!" Yay, indeed: The free tape, which includes Rick Ross ("Big Talk") and Nina Sky ("Riot"), features eight tracks total. Fans will recognize the already-pushed "Big Big Beat" and "Used to Being Alone," and can expect a diverse amalgam of dance-inducing numbers with the other six, especially "QOC."
Here's the current download link (cover art available here, but NSFW):
And the full track list:
As Banks said, enjoy (finally).