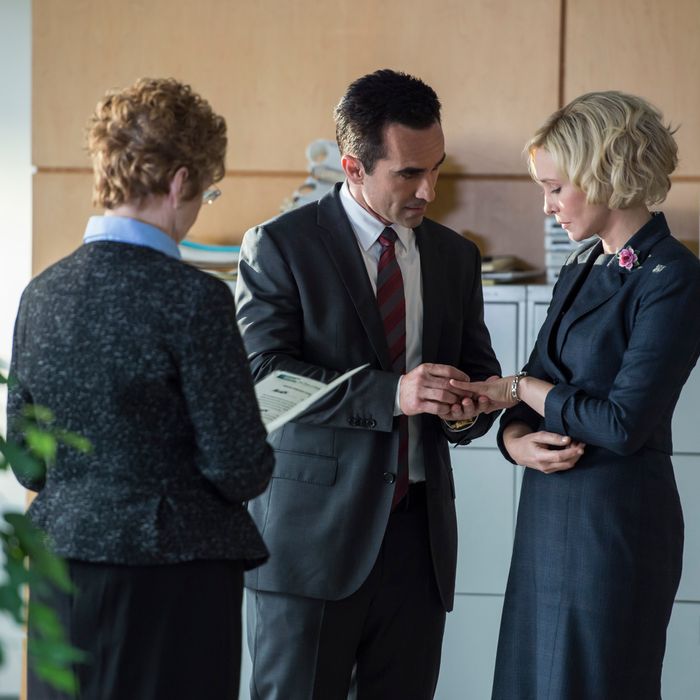 Nestor Carbonell as Alex, Vera Farmiga as Norma.
Photo: Cate Cameron/A&E
"'Til Death Do You Part" is about two men who go to extreme measures to play savior to the women in their lives. In one case, Sheriff Alex Romero (Nestor Carbonell) has decided to marry Norma Bates (Vera Farmiga), just so her son Norman (Freddie Highmore) can get the medical help he so clearly needs. In another, Dylan (Max Thieriot) sees a future with Emma (Olivia Cooke) now that she has successfully received a lung transplant, but he'll have to go straight first. While Dylan and Norma inch toward happiness, Norman finds himself alone.
The man who will someday murder Marion Crane is sitting in a vacant room at Pineview Institute looking lost and sad. The door is locked with a keypad code, he isn't allowed to have a belt, and his calls are monitored. He can't even see "mother" for the first 72 hours, although given what he now thinks of her — that Norma committed the murders being pinned on him — that may actually be for the best.
Meanwhile, Norma and Alex are going through the nuptial routine. Clearly distracted by Norman's situation, she takes their wedding about as seriously as picking up a gallon of milk. She rests her head on his shoulder, and Carbonell has a great moment in which his eyes express Alex's fascinated need to save her. After the brief legal ceremony, they kiss, and Norma looks a little happier than I expected, although she's still surprised when Alex mentions he has to move in. Their marriage needs to look real; people need to trust the sheriff. Could it become real, too?
Norman meets with Dr. Gregg Edwards (Damon Gupton). Will he discover the depths of Norman's psychosis? Norman talks around the specifics, but clearly blames his mother. Highmore's performance is more aggressive this season, more like Anthony Perkins. It's a very clear acting decision, especially as the show develops the teen Norman into the adult we know from Alfred Hitchcock's timeless thriller. Dr. Edwards and Alex are in positions to really discover the depth of the Bates dynamic this year. Will they? And what will they do then?
Norma, who recently discovered that she can't even call Norman for 72 hours, is cutting something in the kitchen, which gives me a flash of her killing Alex to get enough money to afford Norman's expensive health care. Put that knife away, Norma. Alex takes her out for dinner while Norman is eating at Pineview. He's interrupted by another patient named Julian, and the actor who plays him, Marshall Allman, has a distinct enough résumé (Prison Break, True Blood) that I have to believe we'll see him again. Norma is out drinking and laughing while Norman is struggling. Will his growing resentment be the reason why he kills her? Alex puts a tipsy Norma to bed without consummating their marriage. Good guy, this Alex. She's too drunk or too fragile, or maybe it's just all a bit too weird. She smiles.
While Norman stares out the window like he's practicing for a life of monitoring the motel from the Bates house on the hill, they're finally filling the pit that likely holds the body of Emma's mother, Audrey. Norma better hope that she's in the pit and not the pile of dirt next to it, especially after one of the construction workers finds a suspicious earring.
Dylan finally makes it back from Portland, ready to fire Gunner (Keenan Tracey) and give up his life in the drug trade. Before he can do so, Gunner quits to head off to Cali, and Chick (Ryan Hurst) shows up at the door, badly hurt and gaunt. He's a threat, but he's mostly looking for Caleb (Kenny Johnson), who beat him within an inch of his life and left him for dead last season. He tells Dylan, "I thought you ought to know what your father is capable of," and I wonder if that means that Dylan's uncle/father will be back soon.
Making the parallels even clearer, just as Dylan is confronted by someone from his past, Alex returns home to find his own visitor, Rebecca (Jaime Ray Newman). It turns out that Alex has a girlfriend, or at least a friend with benefits. He drops the marriage bomb, and she's not too happy about it. She works at the bank, and people have been asking questions about Bob Paris (Kevin Rahm), the man Alex killed at the end of last season. Is she in trouble? Will she get him in trouble? She gives him back his key, but this is clearly foreshadowing for future problems. And I'm not sure burying his money in the Bates basement is the best strategy.
After Dylan comes home to find out about the marriage — everyone in the Bates family conveys big news face-to-face, I guess — we find Norman back in therapy. Dr. Edwards wants to help, but he has no idea what he's getting into. Norman is still convinced that it was Norma, not his alter-ego personality in which he imagines himself to be "Norma," who killed Blair Watson, Bradley Martin, and Emma's mother. Norma ignores instructions and shows up at Pineview, but Norman isn't exactly happy to see her. "I have never been so disappointed in anyone," he says, upsetting Norma enough to drive her into Alex's arms. He's supportive. They kiss. Could she actually be falling for him? Is this what life is like without Norman? He really cares for her, carrying her up the stairs to consummate their odd union.
Finally, Norman tries to barge into Dr. Edwards's office to reveal his suspicions about Norma. He's physically restrained, then put in a room with a barred window in the door, reminiscent of the last scene in Psycho. Dr. Edwards comes to visit him and Norman drops the bomb: "I have reason to believe that my mother is insane and might be killing people."
Other Notes:
After their first night out as a married couple, Norma is a bit drunk when she walks upstairs in the Bates home, saying, "Sooner or later, I'm going to break my neck on those stupid stairs." Those stupid, deadly stairs.
"'Til Death Do You Part" is directed by Phil Abraham, a wildly influential director of photography who worked every season of The Sopranos. He also worked to help define the look of Mad Men. Abraham has an incredible eye and it shows in this episode's fluid, engaging direction.
Great to see Hurst back and the always-great Newman in the mix. Bates Motel can sometimes feel a bit limited in its ensemble, so I'm happy to see Carbonell getting more screen time this year alongside familiar faces in the supporting cast.