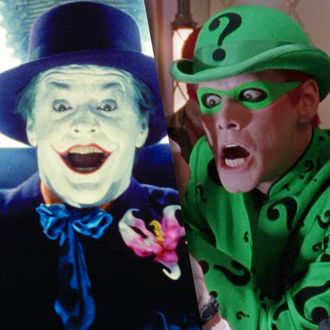 The Joker and the Riddler, in previous screen incarnations.
Photo: Warner Brothers
To the consternation of movie-theater sign-writers everywhere, Batman v Superman was almost Batman v Superman v the Riddler v the Joker. As Zack Snyder told Collider over the weekend, he originally knocked around the idea of including the two infamous Batman villains in the film, before deciding that would have been a case of putting a (dark and brooding) hat on a (dark and brooding but in a heroic way) hat. "The Joker and the Riddler both came close to being in this movie. We talked about the possibility of putting them in," he explained. "[BvS screenwriter] Chris Terrio and I talked about it a lot and felt that their mythological presence is felt in the movie and that's cool, but I didn't want to get my eye too far off the ball because I needed to spend the time, frankly, with Batman and Superman to understand the conflict." This marks the only time in his career that Zack Snyder has showed restraint.